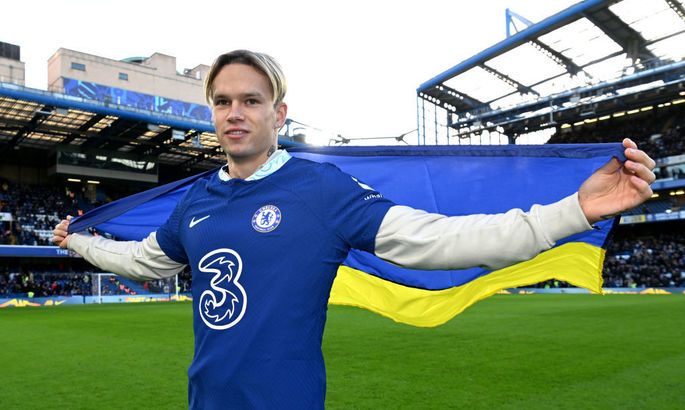 LONDON, ENGLAND - JANUARY 15: New Chelsea FC signing, Mykhaylo Mudryk is introduced to the fans on the pitch at half time during the Premier League match between Chelsea FC and Crystal Palace at Stamford Bridge on January 15, 2023 in London, England. (Photo by Darren Walsh/Chelsea FC via Getty Images) 
The owner and president of Ukrainian football club Shakhtar, former Ukrainian oligarch Rinat Akhmetov, after completing the transfer of Mykhailo Mudryk to Chelsea for a record sum for Ukraine (70 million euros and 30 million bonuses), announced the launch of the Heart of Azovstal project allocating 1 billion UAH (27 million euro) to help the defenders of Mariupol and the families of fallen soldiers.
Shakhtar Football Club has signed a final agreement with London Chelsea: Ukrainian football player Mykhailo Mudryk will continue his career in the strongest national championship – the English Premier League.
"I have mixed feelings today. On the one hand, I am happy for Mykhailo and proud of him. On the other hand, I have never hidden that my dream is to win European trophies. This means that players like Mudryk should be invited to our club, our Ukrainian championship, and win European trophies with such players, and not cheer for them, even when they play in the best clubs in the world. Unfortunately, this is not possible now, because there is a vile, unjust war waged against us by the Russian Federation in Ukraine. But I am convinced that we will win. And we will play a friendly match with Chelsea at the Donbas Arena in Donetsk, Ukraine," Akhmetov said.
The funds in Heart of Azovstal project will be directed to various needs – from treatment, psychological assistance, prosthetics to the implementation of targeted requests. "In order to comply with the principles of transparency, a professional, independent team will be formed that will interact with the defenders of Azovstal, their families, patronage services, and volunteers," the billionaire added.
Akhmetov's companies and foundations claim that at the end of November, they spent about $100 million to help fellow citizens and the Armed Forces, Forbes writes.