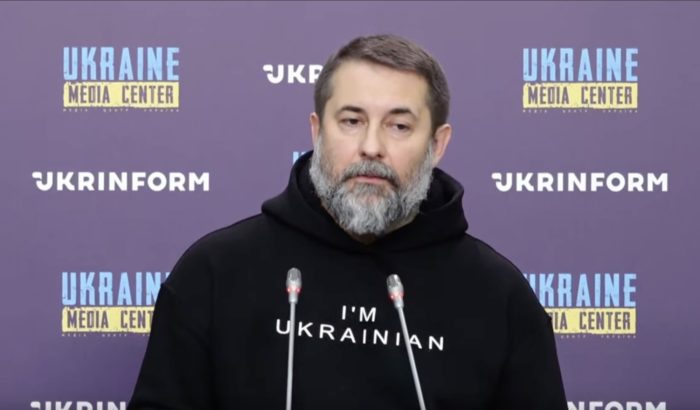 The head of the Luhansk Regional Military Administration, Serhii Haidai, at the 12 January briefing, a screenshot of a video/ Source: YouTube 
The head of the Luhansk Regional Military Administration, Serhii Haidai, stated at the 12 January briefing that the Russian occupiers practically destroyed the settlements of Bilohorivka, Popasna, Kreminna, Rubizhne, Zolote, Hirske, and Lysychansk after more than four months of heavy fighting.
"The territory of Luhansk Oblast can be roughly divided into three sections: one section was occupied in 2014, the second section was occupied without heavy fighting after 24 February 2022, and there is a section of the Oblast where a line can be drawn from Kreminna: Kreminna, Rubizhne, Zolote, Hirske, Lysychansk, and Popasna," stated Serhii Haidai.
According to Haidai, there have been active hostilities for about four and a half months. Some settlements, including Bilohorivka and Popasna, have vanished entirely due to thousands of daily attacks and constant hostilities.
There is no vital infrastructure there. The entire water utility and distribution system has been destroyed, including pumps, compressors, and treatment facilities.
Russian occupiers destroyed electricity substations. The modern, high-cost Kreminna substation, one of the best in Europe, was also destroyed. It met the needs of the entire oblast.
Furthermore, Russian occupiers have purposefully destroyed everything related to sewage and gas supply. The occupants attempted minor repairs here and there, but mainly for the cameras. Due to infrastructure damage, houses began exploding after being connected to the gas supply.
"None of the major cities have any water. They reopened the wells, but many residents were killed in fierce fighting. For a long time, no one removed the bodies. It was summer, and the temperature was between 32 and 34 degrees. The corpses contaminated the groundwater, making those who drank it sick," explained Serhii Haidai.
According to Haidai, rural areas have fewer issues due to infrastructure independence. However, collecting firewood is challenging. Numerous individuals are being blown up by mines while searching for wood due to a lack of supply.
Haidai added that fierce battles are currently occurring on the Svatovo-Kreminna front and the second front near the Bilohorivka area.
Haidai urged people not to anticipate a decisive military breakthrough. He stated that the Russian occupiers had constructed a strong defense line and thoroughly mined the entire territory.
"Here, literally every meter of the Luhansk Oblast is being liberated under extremely difficult conditions," said Haidai.
Read also:
Russia will likely prioritize holding the line at Luhansk's Kreminna – British intel
Russia transfers paratroopers from Kherson direction to Luhansk Oblast – Oblast Head Haidai
Ukrainian troops liberate Donetsk's Torske, attack Russian forces at Luhansk's Kreminna – OpCommand East
Svatove-Kreminna highway "practically under control of Ukraine's Armed Forces" – Luhansk Oblast Head
Tags: destruction of infrastructure, Haidai, Luhansk Oblast, Russian aggression