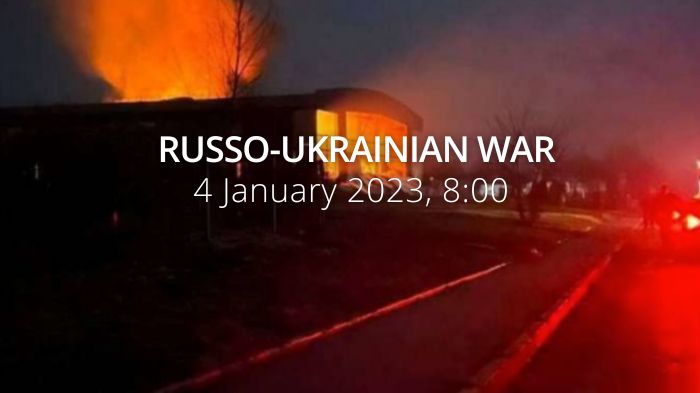 Over the month of December Ukrainian army liberated approximately 70 square km of Ukraine. Warm weather in Ukraine is easing demand on the country's electricity grid. Russia destroys an ice arena in Donetsk Oblast.
Daily overview — Summary report, January 4, 2023
The General Staff's operational update regarding the Russian invasion as of 18.00 pm, January 4, 2023 is in the dropdown menu below:
The three hundred and fifteenth day of the Russian large-scale invasion has begun.
During the past 24 hours, the enemy launched 7 missile strikes, 18 air strikes and carried out more than 85 attacks from rocket salvo systems, in particular, on the civilian infrastructure of the cities of Kramatorsk, Donetsk region, Zaporizhzhia, and Kherson. There are victims among the civilian population.
The threat of enemy air and missile strikes remains on the entire territory of Ukraine.
The occupiers are concentrating their efforts on conducting offensive actions in the Bakhmut area and are trying to improve the tactical position of their troops in the Kupyansk, Lymansk, and Avdiivsk directions. The enemy is defending itself in the Novopavlovsk, Zaporizhzhia, and Kherson directions.
Over the past 24 hours, units of the Defense Forces of Ukraine repelled the attacks of the occupiers in the areas of the settlements of Stelmakhivka and Bilogorivka in the Luhansk region and Soledar, Krasna Gora, Bakhmut, Mayorsk, Maryinka, Novomykhailivka, Pobieda and Krasnohorivka in the Donetsk region.
In the Volyn, Poliske, Siversky and Slobozhansky directions, the situation has not changed significantly, the enemy maintains a military presence in the border areas, and no signs of the formation of his offensive groups have been detected. Shelled the areas of Karpovychi, Leonivka and Gremyach settlements of Chernihiv region; Romashkove and Rozhkovichi – Sumy and Strelech, Krasne, Zelene, Ternova, Staritsa, Ohirtseve, Vovchansk and Ambarne in Kharkiv Oblast.
More than 15 settlements were affected by fire in the Kupyansk and Lymansk directions. Among them are Novomlynsk, Dvorichna, Kupyansk, Kotlyarivka and Tabaivka in the Kharkiv Oblast and Makiivka, Ploshanka and Dibrova in the Luhansk Oblast.
On the Bakhmut and Avdiiv directions, the enemy shelled the areas of more than 25 settlements. In particular, Kramatorsk, Spirne, Belogorivka, Yakovlivka, Soledar, Bakhmut, Klishchiivka, Vodyane and Maryinka of the Donetsk Oblast.
Vremivka, Velyka Novosilka, Neskuchne, Vugledar and Mykilske in the Donetsk Oblast were damaged by fire in the Novopavlovsk direction.
Areas of more than 25 settlements were affected in the Zaporizhzhia and Kherson directions. The enemy does not stop shelling the civilian infrastructure of cities and towns along the right bank of the Dnipro River. The civil infrastructure of Zaporizhzhia and Kherson was affected.
The enemy continues to suffer losses. In particular, the defeat of the enemy was confirmed on January 2 in the areas of Tokmak, Melitopol, Berdyansk, Pology and Vasylivka settlements of the Zaporizhzhia Oblast: 2 ammunition depots, up to 10 units of military equipment of various types were destroyed, 2 deployment points of the occupiers were damaged, and up to 260 servicemen of the armed forces were eliminated and wounded Russian Federation.
During the day, the aviation of the Defense Forces made 12 strikes on the areas where the invaders were concentrated and struck the position of the enemy's anti-aircraft missile complex.
Ukrainian rocket launchers and gunners hit 2 control points, 5 areas of concentration of manpower and military equipment, an ammunition depot and the control point of the occupying UAVs.
Military Updates
On the evening of Jan 2, Russians launched 2 missile attacks on the town of Druzhkivka, Donetsk Oblast destroying the Altair ice arena. "As a result of a missile strike, the Altair ice arena was destroyed. It was this site that had been hosting the Donbas Hockey Club since 2014. At the Druzhkivka-based venue, the largest hockey and figure skating schools operated in Ukraine. The arena hosted championships of Ukraine, international competitions, art and mass events, being a favorite leisure site for the residents and guests of Druzhkivka," reads a statement posted on the website of Donbas HC.
I invite all sports officials who want to allow Russian athletes to compete in international events because, as they say, "politics should be kept out of sports", to visit the Altair ice arena in Druzhkivka ruined by Russia's "politically neutral" shelling. pic.twitter.com/gOTN1JlcML

— Dmytro Kuleba (@DmytroKuleba) January 3, 2023
Russia has ground-, air-, sea-based nuclear weapon carriers in Crimea – Ukrainian intel, Andrii Cherniak, a representative of the Main Intelligence Directorate of the Ukrainian Defense Ministry, told Ukrinform.
According to British Defence Intelligence, (last 48 hours): 
On 31 December 2022, Ukraine struck a school building in the Russian-held town of Makiyivka near Donetsk city, which Russia had almost certainly taken over for military use. The building was completely destroyed and, as the Russian MoD confirmed, 89 Russian personnel were killed.
Given the extent of the damage, there is a realistic possibility that ammunition was being stored near to troop accommodation, which detonated during the strike creating secondary explosions.
The building was only 12.5km from the Avdiivka sector of front line, one of the most intensely contested areas of the conflict. The Russian military has a record of unsafe ammunition storage from well before the current war, but this incident highlights how unprofessional practices contribute to Russia's high casualty rate.
Losses of the Russian army 
According to the Ukrainian military, the Russian army lost about 720 servicemen, 2 tanks, 6 artillery systems and 6 armored combat vehicles, as well as an air defense system, in the past 24 hours.
Source: General Staff of the Armed Forces of Ukraine on Facebook
Details: Total combat losses of the Russian forces between 24 February 2022 and 4 January 2023 are estimated to be as follows [figures in parentheses represent the latest losses – ed.]:
approximately 108,910 (+720) military personnel
3,038 (+2) tanks
6,106 (+6) armored combat vehicles
2,039 (+6) artillery systems
424 (+0) multiple-launch rocket systems
215 (+1) air defense systems
283 (+0) fixed-wing aircraft
270 (+0) helicopters
1,842 (+3) operational-tactical UAVs
723 (+0) cruise missiles
16 (+0) ships/boats
4,745 (+10) vehicles and tankers
181 (+0) special vehicles and other equipment
The data is being confirmed.
Humanitarian 
Kherson – a city of undefeated and courageous people!
Kherson residents have decorated their city for the Christmas season.

Sites and buildings struck by Russian missiles and drones were ornamented with Christmas baubles, photos and toys.

Photo: IRS-Kherson Media Center pic.twitter.com/9QyEFLpRgb

— Euromaidan Press (@EuromaidanPress) January 4, 2023
Ukraine finds Russian torture chamber in Mykolaiv Oblast. Ukrainian law enforcement officers have discovered another torture chamber in the Mykolaiv Oblast, in the village of Oleksandrivka, liberated from Russian invaders. Investigators found that Russian troops detained and tortured residents of the region who refused to cooperate with the invaders.
https://twitter.com/EuromaidanPress/status/1610298156813631488
https://twitter.com/EuromaidanPress/status/1610418771348393984
Environmental
European wholesale gas prices fell Jan 2 to their lowest level since Russia invaded Ukraine

A mild winter has enabled countries to tap less gas from stocks that were built up in anticipation of cuts in supplies from Russia, Europe's main pre-war supplierhttps://t.co/3KBQk0CTFZ

— Euromaidan Press (@EuromaidanPress) January 3, 2023
Unseasonably warm weather eases Ukraine's electricity demand – Ukrenergo. Unseasonably warm weather in Ukraine is easing demand on the country's electricity grid, the country's state-owned electricity operator Ukrenergo said on 3 January, although still urging Ukrainians to "consume electricity wisely," CNN reports.
https://twitter.com/mindovkillya/status/1610266404560814080
Legal 
In Memory #Viktor_Fainberg, courageous #Soviet dissident, defender of #Kremlin #Ukraine political prisoners who warned of #Russia plans for war #StandWithUkraine #StopRussia https://t.co/rSSOq9PLqB pic.twitter.com/DR7hVzHmjN

— Halya Coynash (@halyapuff) January 4, 2023
In Memory: Viktor Fainberg, courageous Soviet dissident, defender of Russia's Ukrainian political prisoners. Viktor Isaakovych Fainberg, one of the courageous men and women who came out onto Red Square in 1968 in protest at the Soviet Union's invasion of Czechoslovakia, has died in Israel, aged 91.  Over recent years, Viktor isaakovych, who was himself born in Kharkiv, had spoken out in defence of the Kremlin's Ukrainian political prisoners, in particular Crimean filmmaker Oleh Sentsov and abducted military pilot Nadiya Savchenko.   Long before Russia began its full-scale invasion of Ukraine, Viktor Fainberg warned of the "shadow of Munich hanging over Europe" and came out once again in protest, this time over Russia's aggression against Ukraine.
Support
https://twitter.com/EuromaidanPress/status/1610392192308101121
Netherlands to help Ukraine win the war, prime minister says. On 3 January, Prime Minister of the Netherlands Mark Rutte said he had a telephone conversation with Ukrainian President Volodymyr Zelenskyy, during which he promised to provide military aid to Ukraine to help defeat Russia. According to Zelenskyy, they discussed the risk of escalation at the front and the potential challenges and Ukraine's defense needs.
Ukraine to receive 15 mln LED lamps in January as part of EU humanitarian initiatives. During a telephone conversation on 2 January, Ukrainian President Volodymyr Zelensky briefed the President of the European Commission, Ursula von der Leyen, on the situation that is developing on the battlefields with Russia and on the consequences of regular Russian shelling of civilian infrastructure, Interfax Ukraine reports.
New Developments 
KYIV
2023 HONORARY BEST CITY

The historic Ukrainian capital is the urban beacon of courage&resilience leading a defiant nation vs murderous aggression
Like the rest of Ukraine, a place of courage in the face of daily tragedy
Rating published by Resonancehttps://t.co/m1UqK5vg0h

— Euromaidan Press (@EuromaidanPress) January 4, 2023
Bonduelle accused of gifting 10,000 food kits to Russian troops; French office denies. The French company producing canned vegetables Bonduelle greeted Russian troops with the New Year and gifted them food packages, the Russian local VKontakte page Yartsevo LIVE reported. In a now-deleted post, Yartsevo published photos of Russian soldiers with Bonduelle kits (here is the archived version).
French Bonduelle gifts 10,000 food kits to Russian troops, wishes them "victory"

the company noted that the action is an integral part of the "social responsibility of the @Bonduelle_Group business."https://t.co/VISAEWDoSq pic.twitter.com/kwVOvB6d0t

— Euromaidan Press (@EuromaidanPress) January 2, 2023
Ukrainian nanosat among 114 satellites deployed into Earth's orbit in SpaceX's Transporter-6 mission
Assessment 
On the war. 
The Institute for the Study of War has made the following assessment as of  January 3, 2023:
Russian President Vladimir Putin approved a series of instructions for Russian agencies and high-level officials on January 2 likely to address criticisms of the Kremlin's treatment of military personnel and portray the Kremlin as an involved war-time apparatus.[1] These instructions are ostensibly an effort to address grievances voiced by mothers of servicemen during a highly staged November 25 meeting with Putin.[2] The 11 instructions direct several high-ranking members of the Russian government—including Defense Minister Sergei Shoigu, Prime Minister Mikhail Mishustin, and Moscow Mayor Sergey Sobyanin—and government agencies (including the Russian Ministry of Defense) to collaborate with other agencies and non-government organizations to generate a list of recommendations for addressing and improving supply, benefits, and healthcare processes for military personnel.[3] Putin instructed the Ministry of Culture to assist the nongovernmental organization "Committee of the Fatherland Warrior's Families" to help create documentaries and other material to showcase the "courage and heroism" of Russian forces in Ukraine and to screen domestic documentaries to "fight against the spread of neo-Nazi and neo-fascist ideology." These instructions are unlikely to generate significant changes and will likely take significant time to implement.
Russian President Vladimir Putin confirmed that Russia is using a variety of social schemes to justify the transfer of Ukrainian children to Russia. In his annual New Year's speech, Putin thanked Russians for their efforts to send children from occupied Ukrainian territory on "holidays."[4] ISW has previously reported instances of Russian officials using the guise of "holidays" and vacation schemes to justify the transfer of Ukrainian children to Russia and Russian-occupied Crimea.[5] Putin's list of instructions also directs Russian Commissioner for the Rights of the Child Maria Lvova-Belova and the occupation heads of Kherson, Zaporizhzhia, Donetsk, and Luhansk oblasts to "take additional measures to identify minors…left without parental care" in occupied areas to provide them with "state social assistance" and "social support."[6] The Kremlin may seek to use this social benefit scheme to tabulate the names of children it deems to be orphans to identify children for deportation to Russia and potentially open avenues for their adoption into Russian families. ISW continues to note that the forced adoption of Ukrainian children into Russian families may constitute a violation of the Convention on the Prevention and Punishment of the Crime of Genocide.[7]
Systemic failures in Russia's force generation apparatus continue to plague personnel capabilities to the detriment of Russian operational capacity in Ukraine. Russian milbloggers claimed on January 3 that the Russian military has sent recently mobilized personnel trained as artillerymen and tankers following their mobilizations to infantry divisions in Ukraine with no formal infantry training.[8] Although the use of personnel in non-infantry branches in infantry roles is not unusual, the Russian military's practice in this case is likely very problematic. The Russian Armed Forces devoted too little time to training mobilized personnel for use in the branches they had previously served in before sending them to the front lines. They certainly did not have time to train them in additional specialties.
Russian forces have suffered significant losses of artillery systems and armored vehicles in operations in Ukraine since the start of partial mobilization in September of 2022, and, therefore, likely have excess personnel trained in the use of specific military equipment.[9] Ukrainian Eastern Group of Forces Spokesperson Colonel Serhii Cherevaty reported that Russian forces in eastern Ukraine are currently firing artillery shells at roughly one-third the rate of the summer of 2022.[10] The reduced rate of Russian artillery fire is likely a result of the depletion of ammunition stocks, given reports that Russian forces are deliberately transferring ammunition from one sector of the front to another.[11] Putting poorly-trained artillerymen into infantry units without training them for infantry combat operations will likely make them little more than cannon fodder.
Degraded Russian military personnel capabilities will likely further exacerbate Russian milblogger criticism of Russian force generation efforts and the Russian Ministry of Defense (MoD). One Russian milblogger argued that Russian Defense Minister Sergei Shoigu's proposals to create five new artillery divisions and the recent creation of an artillery division in the Luhansk People's Republic (LNR) 2nd Army Corps will be a waste of personnel and artillery munitions if the Russian MoD continues to train these personnel in just an artillery capacity without infantry training.[12] Another Russian milblogger argued inaccurately that putting a tanker or an artilleryman in service as a simple infantryman is a war crime that even Soviet commanders did not commit in the most difficult months of the Second World War in 1941.[13] (It certainly is not any sort of crime to allocate individuals with certain specialties to perform different roles and missions in war, and tankers and gunners in all armies at war have sometimes fought as infantry when their systems were destroyed or unavailable.) The Russian milblogger compared the current situation to a similar incident in 2015 when the Russian deployment of an artillery unit as infantry in the operation to capture Debaltseve, Donetsk Oblast, led to the death of 80 percent of the unit to argue that Russian commanders who make such decisions should face criminal prosecution.[14] Russian milbloggers have routinely criticized the Russian MoD for the poor conduct of partial mobilization and will likely continue to do so as Russian force generation efforts produce degraded personnel capabilities that will likely further constrain the Russian military's ability to achieve any operational success in Ukraine. The hyperbole of milblogger criticism of the MoD's personnel practices highlights the ever-increasing hostility toward and skepticism of the MoD among elements of the milblogger community.
Wagner Group financier Yevgeny Prigozhin attempted to justify the Wagner Group's lack of progress in Bakhmut, partially supporting ISW's assessment that Russian forces in Bakhmut are culminating.[15] Russian state media outlet RIA Novosti amplified a December 31 interview with Prigozhin on January 3 in which Prigozhin stated that Wagner Group forces in Bakhmut are unable to break through Ukrainian defenses in Bakhmut.[16] Prigozhin stated that Wagner's offensive operations in Bakhmut are highly attritional because each house in Bakhmut is a "fortress," that Ukrainians have defensive lines every 10 meters, and that Russian forces must clear building-by-building.[17] This is a significant inflection for Prigozhin and the first time he has framed Wagner forces in Bakhmut as making effectively no gains. Prigozhin previously stated in October 2022 that Wagner forces operating in the Bakhmut area advance 100–200 meters a day.[18] The Wagner Group conducted information operations to assert that Wagner Group forces exclusively made gains in Bakhmut without the assistance of other Russian elements in December.[19]
Prigozhin is likely setting information conditions to blame Wagner Group's failure to take Bakhmut on the Russian Ministry of Defense or the Russian industrial base. Wagner Group soldiers told Prigozhin that they were unable to break through Ukrainian lines in Bakhmut due to insufficient armored vehicles, ammunition, and 100mm shell supplies during a likely scripted segment in the clip. This statement seeks to absolve the Wagner Group and Prigozhin of personal responsibility by attributing their failure to capture Bakhmut to the larger Russian resource allocation problems that Russian and Ukrainian sources have been increasingly discussing since late December.[20]
Key Takeaways
Russian President Vladimir Putin approved a series of instructions for Russian agencies and high-level officials likely aimed at appeasing widespread criticisms of the provisioning and payment of benefits to Russian military personnel and propagandizing the war.
Putin confirmed that Russia is using a variety of social schemes to justify the transfer of Ukrainian children to Russia.
Systemic failures in Russia's force generation efforts continue to plague Russian personnel capabilities to the detriment of Russian operational capacity in Ukraine.
Degraded Russian military personnel capabilities will likely further exacerbate Russian milblogger criticism of Russian force generation efforts and the Russian Ministry of Defense (MoD).
Wagner Group financier Yevgeny Prigozhin attempted to justify the Wagner Group's lack of progress in Bakhmut, partially supporting ISW's assessment that Russian forces in Bakhmut are culminating.
Russian forces continued limited counterattacks along the Svatove-Kreminna line as Ukrainian forces continued to strike Russian military logistics in Luhansk Oblast.
Russian forces continued offensive operations near Bakhmut and Avdiivka and may be reinforcing their grouping in western Donetsk Oblast.
Ukrainian forces have reportedly established positions on the Velikiy Potemkinsky Island in the Dnipro River delta as of January 2.
Russian President Vladimir Putin signed a decree that promises additional benefits to Russian forces personnel and Russian National Guard (Rosgvardia) who defend the Russian-Ukrainian border.
Tags: Russian invasion