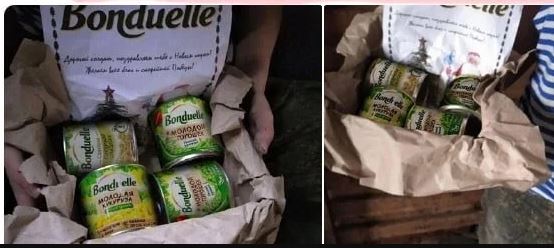 The French company producing canned vegetables Bonduelle greeted Russian troops with the New Year and gifted them food packages, the Russian local VKontakte page Yartsevo LIVE reported.
In a now-deleted post, Yartsevo published photos of Russian soldiers with Bonduelle kits (here is the archived version).
In the greeting cards with each set, the company writes: "Dear soldier, we congratulate you on the New Year! We wish you all the best and a speedy victory!"
In total, 10,000 such food kits with greeting cards were distributed, according to the post.
A closeup of the photos
In the same post, the company noted that the action is an integral part of the "social responsibility of the Bonduelle business."
At the same time, the publication quoted the director of the Bonduelle representative office in Russia, Ekaterina Eliseeva, who said that "sincere wishes for a speedy victory are no less important than the food kit itself."
Yartsevo's post is now deleted.
In Ukraine, Bonduelle's actions caused outrage, and netizens call to boycott the company's products.
Notably, according to a 2019 article in Russian Forbes, Ekaterina Eliseeva studied interpreting at the FSB Academy.
In May 2022, Bonduelle said it would continue to work in Russia because it "considers it its duty to provide people with access to basic food and do everything possible to avoid food shortages."
"As part of its mission, the company ensures the continuity of its activities in Russia to feed not only 145 million Russians, but also 90 million inhabitants of neighboring countries, who are supplied with products of the group's Russian plants," the company said in a statement.
At the same time, Bonduelle announced its intention to direct all profits from the sale of its Russian segment to the future "reconstruction of the damaged infrastructure of agricultural and food ecosystems in Ukraine."
UPDATE: the French office has issued a denial:
"On December 30th, Russian social media spread misleading information about our activity in Russia. The information and declarations assigned to Bonduelle company and its management are fake. Bonduelle Group is maintaining its activities in Russia with the only objective to ensure that the population has access to essential food-stuff in Russia and in the surrounding countries."
This article was updated with a link to the cached post of Yartsevo Live and the company's denial.
Tags: Business boycott, France