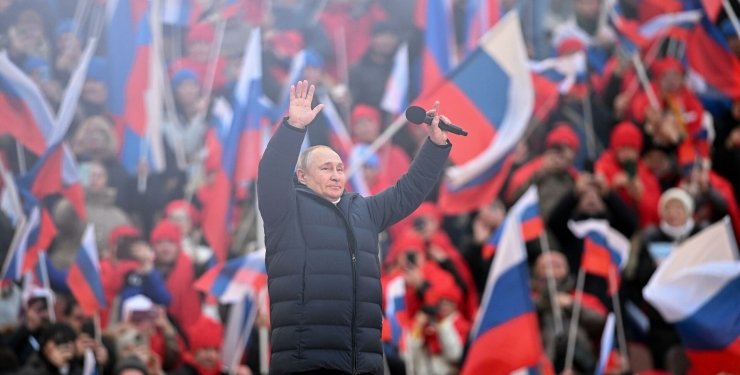 Russian President Vladimir Putin speaks at a propaganda concert dedicated to the 8th anniversary of the occupation of Crimea and current war against Ukraine at the Luzhniki stadium in Moscow. 18 March 2022.
Credit: ria.ru 
If the West allows Putin to save his face and find an off-ramp from the Russian invasion of Ukraine, the post-war order established after World War II will be destroyed completely, Polish Ambassador to the United Nations Krzysztof Szczerski said in an interview with PAP.
"According to the Russian leader, Russia does not wage the war against Ukraine, but rather tries to undermine the current model of international relationships based on Western dominance and values. Although the Russian-Ukrainian war is confined to one region in terms of a military conflict, it is the world war because of its repercussions for the global economy and politics," Szczerski said.
The Polish Ambassador to the UN claimed that the failure of preventive diplomacy made the Russian-Ukrainian war possible in the first place. Another factor that led to the war was the weakness of international organizations and international law. The signals of support that some superpowers sent to Moscow, which they considered to be a counterweight to the West, were also one of the key reasons that made the war possible, according to Szczerski.
Russia likely wants West's preemptive concessions offered it for entering negotiations with Ukraine – ISW
Close cooperation of European countries with Putin's Russia before the Russian large-scale invasion of Ukraine was also among the key factors that led to this war, Szczerski added.
Related:
Tags: anti-West, peace talks, Putin, Russian invasion of Ukraine, the West, Western diplomacy