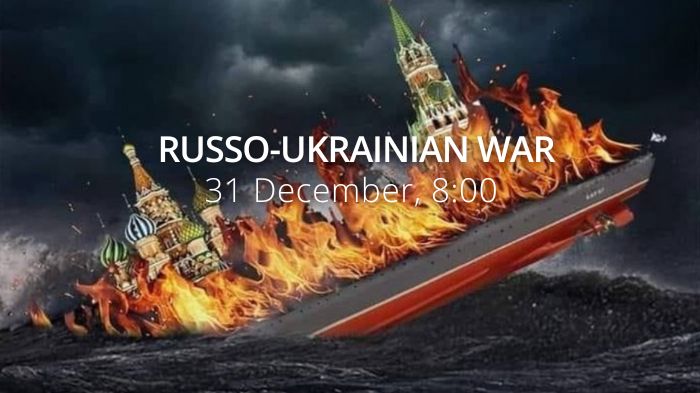 Source: https://uc.od.ua/columns/alexvelmozhko/1242259 
"We will liberate our land. We will win this war – I am sure of it. We will restore freedom and security to all Ukrainians, no matter where they live."–Zelenskyy.
2022 in numbers and facts
20 decisive battles by Forbes
👉Battle for Kyiv, February 24 – April 2 (37 days). Russia suffered losses on the outskirts of Kyiv and retreated
👉Battle for Kherson, February 24 – March 2 (6 days)
👉Battle for Kharkiv, 24.02 – 11.09 (220 days)
👉Battle for Chernihiv, February 24 – April 2 (37 days). The Russian army retreated with losses.
👉Battle for Mykolaiv, 24.02 – 10.11 (260 days)
👉Battle for Mariupol, February 24 – May 20 (85 days). The Ukrainian military defended the city but the Russian Federation had an advantage in people and weapons
👉Battle for airspace control, 24.02 – end of March (30+). Russia had an air superiority of 1:10 but after losing more than 100 planes and helicopters in the first weeks, it abandoned air operations.
👉Battle for Gulyaipole, 11.03 – present (290+). Remains under the control of the Armed Forces
👉 Attack on Kryvyi Rih and Zaporizhzhia, April -April – June (90+).
👉Battle for Popasna, 3.03 – 8.05 (66). Russia managed to capture the city, almost completely destroying it.
👉Battle for Sievierodonetsk, February 28 – June 24 (116). The Armed Forces managed to deplete the reserves of the Russians but the city is occupied.
👉 Attack on Sloviansk, 1.04 – 6.09 (160+). For the Russian Federation, heavy fighting north of Sloviansk did not end in success
👉Battle for control of the northwestern Black Sea, February 24 – October 29 (240+). Russia lost the cruiser "Moskva" and control over Serpentine
👉Counteroffensive in Kharkiv region (I phase), 09/06 – 09/12 (7 days). The Armed Forces of Ukraine released more than 10 thousand square meters. km.
👉Counteroffensive in the Kherson region, 27.08 – 11.11 (75 days). The attack on the Crimean bridge played an important role.
👉Counteroffensive in the Kharkiv region (Phase II – the battle for Lyman), September 12 – October 2 (20 days). Armed Forces of Ukraine broke through the defense of the Russian Federation for the Oskol reservoir and formed a springboard for an attack on Svatovo
👉Battle for Svatovo/Rubizhne, 2.10 – present (80+ days)
👉Battle for Vuhledar 3.11 – Present (50+ days)
👉Battle for Avdiivka, February 24 – present (300+ days)
👉Battle for Bakhmut, 1.08 – present (140+ days)
Russia launched 164 strikes on the Ukrainian energy system since the beginning of the full-scale invasion.
Russia has lost about 105,960 troops in Ukraine, according to the General Staff of the Armed Forces of Ukraine on Facebook.
Approximately 15,000 Ukrainian troops and civilians are missing.
1116 bodies of civilians killed by the Russian military found in liberated Ukrainian territories.
At least 185 civilians were killed by mines during the Russian war against Ukraine.
Ukrainian Defense Forces de-occupied 1,884 settlements since the beginning of the full-scale invasion of Ukraine.
At least 702 critical infrastructure facilities in Ukraine have been hit since the start of the full-scale invasion, including gas pipelines, electrical substations, and bridges. More than 35,000 objects destroyed, according to Yevhen Yenin, First Deputy Minister of Internal Affairs.
More than 25,000 km of roads damaged or destroyed, of which 9,000 km are state roads, Deputy Head of Ukravtodor Andriy Ivko reports. 15 regions close to the war zone suffered the most. More than 2,155 km of state, communal and local roads have already been cleared of the consequences of the war, according to Ukravtodor.
Russian oligarchs have lost more than $93 billion due to the war against Ukraine – Bloomberg. On February 24 alone, the day Russia launched its full-scale invasion, Russian billionaires lost $46.6 billion. Subsequently, the majority of Russian businessmen came under US, EU, and UK sanctions, which "made it almost impossible for them to maintain control over their assets in the West." In 2022, representatives of the Russian business community lost another $47 billion, analysts say.
Daily overview — Summary report, December 30
A map of the approximate situation on the ground in Ukraine as of 00:00 UTC 31/12/22.

There have been no notable changes to control since the last update. pic.twitter.com/zMIELue5X2

— War Mapper (@War_Mapper) December 31, 2022
https://twitter.com/EuromaidanPress/status/1608811800736464898
The General Staff's operational update regarding the Russian invasion as of 18.00 pm, December 30, 2022 is in the dropdown menu below:
The three-hundred-eleventh nth (310) day of the heroic resistance of the Ukrainian people to a russian military large-scale invasion continues.
During the past day, the enemy launched 5 missiles and 29 air strikes, 26 enemy airstrikes hit civilian infrastructure. In particular, the invaders used 10 Shahed-136 unmanned aerial vehicles, but all of them were shot down. In addition, the enemy carried out 80 MLRS attacks from rocket salvo systems, civilian settlements were also affected.
There is a danger of continued air and missile attacks on the entire territory of Ukraine.
The enemy continues to conduct offensive operations in the Lyman and Bakhmut areas and is trying to improve the tactical position in the Kupiansk and Avdiivka areas.
Over the past day, our soldiers repelled the attacks of the occupiers in the areas of the settlements of Stelmakhivka, Nevske, Chervonopopivka and Bilohorivka in the Luhansk oblast and Soledar, Bilohorivka, Bakhmutske, Pidhorodne, Bakhmut, Klishchiivka, New York, Krasnohorivka, Kamianka, Avdiivka and Maryinka in the Donetsk oblast.
The situation remains stable in the Volyn, Polissya, Siverskyi and Slobozhanskyi directions, the formation of enemy offensive groups has not been detected.
On the Siverskyi and Slobozhanskyi directions, the areas of Orlykivka, Semenivka, Zaliznyi Mist, Buda-Vorobiivska settlements of Chernihiv oblast were subjected to artillery and mortar shelling; Khodyne, Atynske, Zapsilya, Velyka Rybytsia, Pokrovka, Ryasne, Popivka in Sumy oblast, as well as Hlyboke, Morokhovets, Zelene, Ternova, Starytsa, Gatyshche, Vovchansk, Bochkove, Nesterne, Vilkhuvatka, Chuhunivka and Zarubinka in Kharkiv oblast. In the Kupyansk direction, the areas of Kamyanka, Novomlynsk, Dvorichna, Vilshana, Kupyansk, Orlyanka, Kurylivka, Kotlyarivka and Tabaivka settlements of Kharkiv oblast and Novoselivske and Stelmakhivka – Luhansk oblast were shelled.
In the Lyman direction, Ploschanka, Nevske, and Dibrova in the Luhansk oblast, as well as Chervonopopivka, Yampolivka, and Torske in Donetsk oblast came under the influence of fire from the occupiers.
In the direction of Bakhmut, the enemy fired from tanks, mortars, barrel and jet artillery in the areas of the settlements of Spirne, Berestove, Bilohorivka, Soledar, Bakhmutske, Pidhorodne, Yahidne, Bakhmut, Kostyantynivka, Klishchiivka, Andriivka, Bila Hora, Kurdyumivka, Diliivka, Druzhba, Zalizne, Mayorsk and New York of the Donetsk oblast. Vesele, Avdiivka, Nevelske, Krasnohorivka, Heorgiivka, Maryinka and Novomykhailivka were damaged by fire in the Avdiivka direction.
In the direction of Novopavlivsk, the enemy shelled Vuhledar, Prechystivka, Zolota Nyva, Velyka Novosilka, and Vremivka of the Donetsk oblast.
In the Zaporizhzhia direction, enemy fire was recorded in the areas of Temyrivka, Poltavka, Hulyaipole, Dorozhnyanka, Mala Tokmachka, Novodanylivka, Novoandriivka, Mali Shcherbaky, Stepove, Kamianske and Stepnohirsk in Zaporizhzhia and Nikopol and Primiske in the Dnipropetrovsk oblast.
In the Kherson direction, the enemy continues mortar and artillery shelling of populated areas along the right bank of the Dnipro River. In particular, the civil infrastructure of Kachkarivka, Naddnipryanske, Antonivka and Kherson was affected.
According to available information, military commissariats in the temporarily occupied territory of the Republic of Crimea have compiled lists of persons subject to conscription for mobilization in January 2023.
The enemy continues to suffer losses. Fire damage to the occupiers was confirmed on December 29 of this year. So, around 200 invaders were eliminated in the area of Fedorivka, Kakhovsky district, Kherson oblast, information about the wounded is being clarified. In addition, in the vicinity of Polohy and Velyka Bilozerka of the Zaporizhzhia oblast, the enemy lost 115 servicemen wounded, 5 units of military equipment of various types, an anti-aircraft missile complex and an ammunition depot were destroyed.
Aviation of the Defense Forces made 10 strikes on areas of concentration of the enemy, as well as 3 – on the positions of anti-aircraft missile systems.
An enemy reconnaissance UAV of the "Orlan-10" type was shot down.
Units of missile forces and artillery of the Defense Forces hit the control post, 7 areas of concentration of enemy manpower and military equipment, 5 ammunition depots, as well as 2 radar stations of the invaders.
Military Updates
Overnight into Dec 31, Russia hit Ukrainian military base in Chernihiv Oblast with Iskander missile – Oblast Head Vyacheslav Chaus,

"Fortunately, there were no casualties."https://t.co/nXYM2dwmAs

— Euromaidan Press (@EuromaidanPress) December 31, 2022
Russia to launch new wave of mobilization in January 2023 – Ukraine's spy chief. Russia's leadership has already taken the decision to start a new wave of mobilization of military reservists on 5 January 2022, the head of Ukraine's Defense Intelligence Kyrylo Budanov said in an interview with BBC News.
Ukraine ready to investigate stray air defense missile in Belarus. Ukraine's Ministry of Defense is ready to hold an international investigation of an alleged air defense missile crash over the territory of Belarus on 29 December, during Russia's massive missile strike on Ukraine.
Russia to launch a new wave of mobilization in January 2023 – Ukraine's spy chief Budanov

Russian leadership plans to mobilize conscripts when the New Year's holidays are over, Budanov said in his interview with BBC.
📷Screenshot from a BBC News videohttps://t.co/EFNxRIi2hB pic.twitter.com/h4GFM2YxTB

— Euromaidan Press (@EuromaidanPress) December 30, 2022
Russian capacity to launch massive missile attacks on Ukraine dwindles – Ukraine's Intelligence. Russia launches fewer missiles at Ukraine with every new massive missile attack, while the intervals between such attacks grow, according to Ukraine's Defence Intelligence of the Ministry of Defense official Andrii Yusov.
Ukraine shoots down all 16 Russian kamikaze drones launched at night – Ukraine's General Staff. Overnight into December 30, the Russian troops attacked Ukraine with 16 Iranian-made kamikaze drones Shahed-131 and Shahed-136, the Ukrainian air defenses shot down all of them, the General Staff of the Ukrainian Armed Forces reported.
According to British Defence Intelligence, (last 48 hours): 
On 29 December 2022, Russian forces launched another wave of long-range strikes across Ukraine, once again primarily targeting the power distribution network. Since October, Russia has sustained a general pattern of conducting an intensive wave of strikes every seven to ten days.
Russia is almost certainly following this approach in an attempt to overwhelm Ukrainian air defences. However, there is a realistic possibility that Russia will break this pattern to strike again in the coming days in an effort to undermine the morale of the Ukrainian population over the new year holiday period.
Losses of the Russian army 
Russia has lost about 105,960 troops in Ukraine (+710 over the past day), according to the General Staff of the Armed Forces of Ukraine on
Facebook
.
Between February 24, 2022 and December 31, 2022, the total combat losses of the Russian army:
3,029 tanks (+3 over the past day),
6,075 armored fighting vehicles (+16),
2,016 artillery systems (+6),
423 multiple launch rocket systems,
213 anti-aircraft warfare systems (+1),
283 aircraft,
269 helicopters (+1),
4,707 motor vehicles and fuel tanks (+24),
16 warships/boats,
1,746 unmanned aerial vehicles (+6),
180 special equipment units.
A total of 711 enemy cruise missiles were shot down.
Humanitarian 
Russia holds captive over 3,000 Ukrainian soldiers. Currently, Russia incarcerates 3,392 Ukrainian prisoners of war, Olena Verbytska, President's Commissioner for the Protection of the Rights of Defenders of Ukraine claimed in her interview with RedaktionsNetzwerk Deutschland. Approximately 15,000 Ukrainian troops and civilians are missing, according to Verbytska.
https://twitter.com/EuromaidanPress/status/1608946029038034946
In total, 1116 bodies of civilians killed by Russian invaders were found in all areas liberated by Ukraine so far — Police. It was reported by the head of the Department of Organizational Analytical Support and Operational Response of the National Police, Police General Oleksiy Sergeev during the press brief. He said that in total, 1116 bodies of civilians killed by Russian invaders were found in areas liberated by Ukraine in all four regions: Donetsk, Mykolayiv, Kherson, and Kharkiv Oblasts. 31 of the victims are children.
At least 185 civilians were killed by mines during the Russian war against Ukraine. Since the full-scale Russian war against Ukraine began on 24 February, 185 civilians died in Ukraine because of the mines. The highest casualties were in the areas liberated by Ukrainian troops from Russian occupation, where Russian troops left a lot of mines.
https://twitter.com/EuromaidanPress/status/1608930026908680194
Environmental
Zelenskyy held the 45th meeting of the Staff in 2022. The focus was Donetsk and Luhansk Oblasts, the situation in the south, on the border, supply of weapons and the strengthening of air defense. The energy sector and clean energy become the most important task for 2023.
More than 2,155 km of state, communal and local roads have already been cleared of the consequences of the war, according to Ukravtodor. "Today we are working on bridges: 40 artificial structures are already in operation, and 78 temporary crossings have already been built. I want to specify some areas in which we work directly.
Kharkiv region: 612 km of roads and 17 temporary crossings have been cleared, and we are working on 4 more.
Kherson region: 255 km cleared and 4 temporary bridges built.
Mykolaiv region: 700 km cleared, 4 temporary bridges installed.
Donetsk region: 50 km have been cleared, we are working on 2 temporary bridges.
The first priority now is the road to Bakhmut, we are restoring this road. According to the general figures: today we have already cleared more than 2155 km of state, communal and local roads and already 78 temporary crossings, 40 major repairs are underway," said Andrii Ivko, the First Deputy Chairman of Ukravtodor.
Legal 
Crimean Tatar civic journalist sentenced to 11 years for refusing to collaborate with Russia's FSB. Ernes Ametov has been sentenced to 11 years imprisonment two years after the 37-year-old Crimean Tatar civic journalist and recognized political prisoner was acquitted on identical charges and released from custody.  There were no new circumstances to justify a 'retrial', and it is unclear solely whether the acquittal was always intended as temporary, or whether Russia's FSB used its influence to get it overturned.  The original trial of Ametov and seven other civic journalists and activists had already attracted international condemnation, and it is possible that the acquittal was intended to imitate a real trial.
https://twitter.com/ZarinaZabrisky/status/1609171560333733893
Support
"We will be with you side by side as partners and friends in 2023," said US Ambassador to Ukraine Bridget Brink, congratulating Ukrainians on the upcoming New Year. "The spirit of Ukraine continues to inspire the world in our common pursuit of a better future," Bridget Brink said in the video.
Poland delivers more Starlink terminals to Ukraine – Ukraine's PM Shmyhal. The third batch of Starlink terminals that have come to Ukraine from Poland will support the medical and energy sectors of the country, Ukraine's Prime Minister Denys Smyhal said. Part of the Starlink terminals will be handed to Points of Invincibility all over Ukraine, according to Shmyhal. The Points of Invincibility are the shelters organized by the government of Ukraine to support Ukrainians during power outages caused by regular Russian attacks on the energy system. In these shelters, people can get access to the Internet, electricity, heating, and running water.
At least 46 countries/territories imposed total of >10,000 sanctions on Russia over the war, making it most sanctioned country, ahead of Iran, Syria, North Korea

8,613 sanctions placed on individuals, 1,658 agst entities, 92 agst vessels & 14 on aircraft https://t.co/3Wc6AJLsrj pic.twitter.com/RK4wqKd8gw

— Euromaidan Press (@EuromaidanPress) December 30, 2022
New Developments 
Putin plans to deploy nuclear weapons to Belarus – Belarusian politician. There are signs indicating that Russia is getting ready to deploy tactical nuclear weapons to Belarus in the near future, the Belarusian politician and former Minister of Culture of Belarus Pavel Latushko claimed in his interview with Radio NV.
Ex-Moscow chief rabbi calls on Jews to leave Russia immediately – Guardian. Jews must leave Russia before they become scapegoats for the hardships caused by the ongoing Russian invasion of Ukraine, the former chief rabbi in Moscow Pinchas Goldschmidt told the Guardian. Goldschmidt believes that Jews living in the Russian Federation are in danger, as antisemitism is rising in this country. The Russian government may redirect the frustration and anger of Russians towards the Jewish community, Goldschmidt assumed.
US drone observed explosions in Sevastopol, occupied Crimea. A powerful explosion was heard in Rusdian-occupied Crimea at around 10 AM, the local Telegram channel Krymskyi Veter reported. The channel says that, according to eyewitnesses, this was the most powerful explosion yet, and during the explosion, a helicopter and airplane were in the sky, while the missile carrier ship Bora was at sea.
Assessment 
On the war. 
The Institute for the Study of War has made the following assessment as of  December 29, 2022:
Russian forces targeted Kyiv using Iranian-made drones on the night of December 29 to 30, a continuation of an increased pace of drone attacks in Ukraine. TheUkrainian Air Force Command stated that Russian forces launched 16 Shahed-131 and -136 drones at targets in Ukraine on the night of December 29 to 30 and that Ukrainian air defenses shot down all of them.[1] Ukrainian officials reported that Russian forces launched seven of the drones at targets in Kyiv and that Ukrainian air defenses shot down all of them, but one of the drones' munitions hit an administrative building.[2] The Russian drone attacks follow a massive series of Russian missile and drone strikes against Ukrainian critical infrastructure on December 29 during which Russian forces launched 23 drones, the majority of which were Shaheds.[3] The Russian military's use of 39 drones in the past two days, its use of 30 Shahed 131 and -136 drones on the night of December 18 and 19, and its use of 13 Shahed drones on December 14 represent a significant increase in its recent use of these systems in Ukraine.[4] ISW assessed on December 10 that an increased pace of Russian drone attacks may indicate that Russian forces accumulated more Iranian-made drones after a three-week period (November 17 to December 7) of not using them or that Russia received or expected to receive a new shipment of drones from Iran.[5] Russian forces have likely further increased their pace of drone attacks in an effort to sustain their campaign against Ukrainian critical infrastructure given their likely depleted stock of precision missiles.[6] Ukrainian air defenses have recently proven to be highly effective at shooting down Shahed drones and the Russian military's use of these systems in attacks against civilian targets in rear areas is having diminishing impacts.[7] The Russian military will likely continue to commit an increased number of these systems to attacks on civilian targets in Ukraine in its misguided attempt to break the Ukrainian will to fight.
Russian President Vladimir Putin opened the door for further institutionalized corruption through the manipulation of the Russian domestic legal sphere. Putin approved a decree on December 29 that exempts all Russian officials, including members of the military and law enforcement services, from the requirement to make income declarations public.[8] The decree extends to military officials, employees of Russian internal affairs organs, those serving in Rosgvardia and law enforcement positions, employees of the Russian penitentiary system and Investigative System, and individuals seconded to positions in Luhansk, Donetsk, Kherson, and Zaporizhzhia oblasts.[9] The decree also notably lifts the ban on military officials receiving "charitable" gifts in connection with their participation in hostilities in Ukraine.[10] Russian independent newspaper The Insider noted that this decree could theoretically allow Russian officials involved in the war to seize the private property of Ukrainian residents of occupied areas because such property could be legally classed as "charitable gifts."[11] ISW continues to report on Putin's manipulations of domestic law to quash domestic opposition to the war and enable those who support it.[12]
Key Takeaways
Russian forces targeted Kyiv using Iranian-made drones on the night of December 29 to 30.
Russian President Vladimir Putin opened the door for further institutionalized corruption in the Russian Federation.
Russian forces continued to conduct counterattacks along the Svatove-Kreminna line.
Ukrainian forces struck Russian concentration areas in Luhansk Oblast.
Russian forces continued offensive operations in the Avdiivka area as well as in Bakhmut, where the pace of Russian offensive operations may have slowed compared to previous days.
A Russian source claimed that Russian forces conducted ground attacks in Zaporizhzhia Oblast.
Russian and Ukrainian sources continued to discuss whether and when an imminent second wave of mobilization in Russia will occur.
Russian officials continue to pursue the integration of occupied territories into the Russian Federation.
Tags: Russian invasion