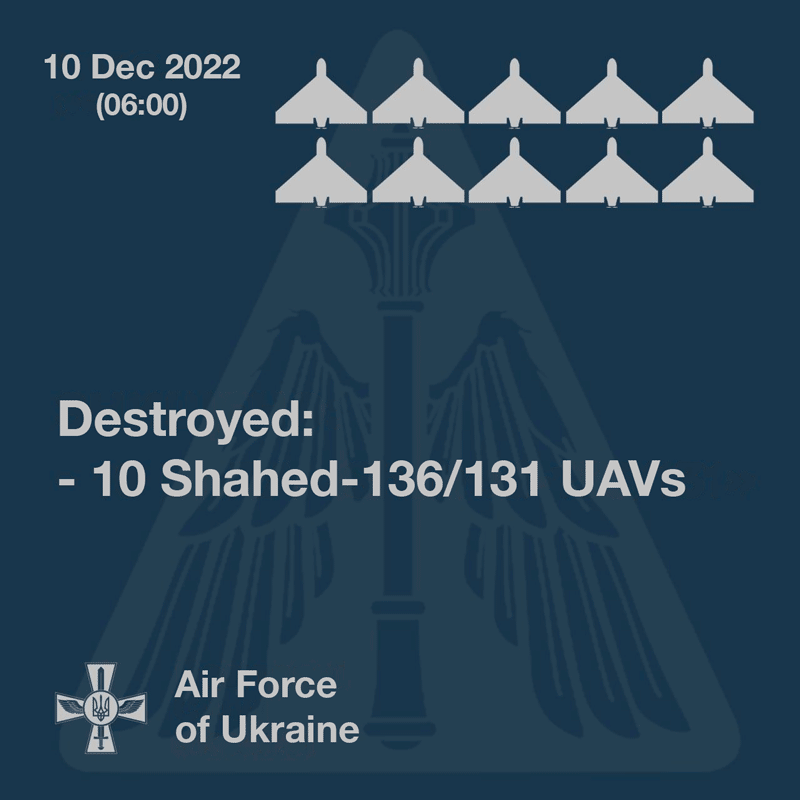 Overnight into 10 December, the Russian troops attacked the south of Ukraine with Iranian-made Shahed-136/131 kamikaze drones. Air Defense units of the Ukrainian Air Force's Air Command South shot down 10 enemy kamikaze drones over Kherson, Mykolaiv, and Odesa oblasts out of 15, the Air Force Command reported.
The air alert in Ukraine's south lasted from about 2:20 until 5:30 in the morning.
The Air Force Command South reported that four Shaheds were shot down in Mykolaiv Oblast, four over Kherson Oblast, and two more in the skies of Odesa Oblast, according to the Mykolaiv Oblast Administration.
"Last night, the enemy attacked [Odesa] Oblast with kamikaze drones. Energy infrastructure and housing stock were damaged. Two drones were shot down over the sea by our air defense units. As a result of the strike, there is no light in almost all districts and communities of our region. Energy workers are already working on restoring the damaged infrastructure," Odesa Oblast Head Maksym Marchenko reported.
It was the second Russian air attack using Shahed-series drones in recent days after a few-week-long pause that was needed to resupply the Shaheds from Iran, the Ukrainian Air Force spokesman and the British intelligence believe.
Read also:
Russia likely received resupply of Iranian Shahed-series kamikaze drones – British intel
Russia providing "unprecedented" military support to Iran in exchange for drones – NBC News citing sources
Iranian Shahed drones are ineffective in cold weather, says Ukraine
Tags: energy infrastructure, Kherson Oblast, Mykolaiv Oblast, Odesa Oblast, Shahed-131, Shahed-136