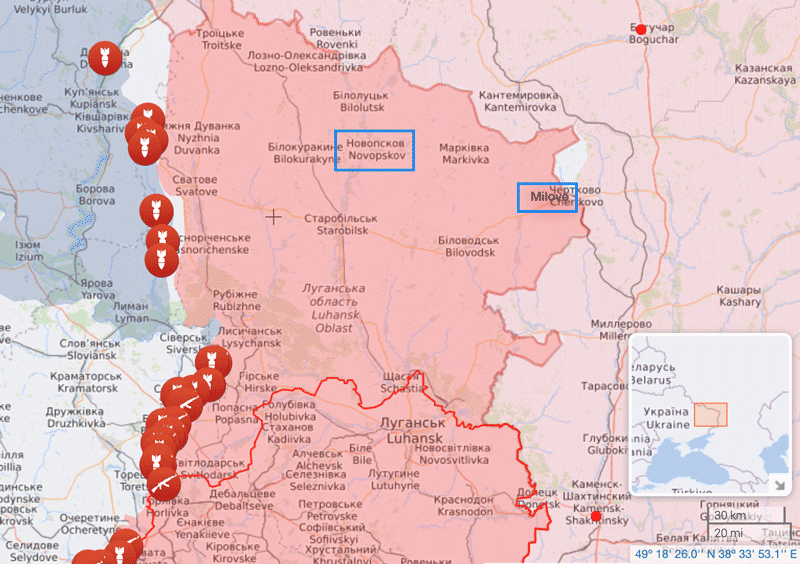 North of Luhansk Oblast as of 6 November 2022. Map: liveuamap.com 
The Luhansk Oblast Military Administration reported that it once again received information on the mass abduction of the residents of Novopskov and Milove hromadas (communities) in Luhansk Oblast's northern part, which was occupied months ago amid Russia's full-scale invasion.
Russia squashes dissent, imposes terror regime in newly-occupied lands of Luhansk Oblast
"Regarding the situation at the front: another Russian attack was repulsed from Bilohorivka. Using various types of weapons, the occupiers shelled the territory near Makiivka, Nevske, and Ploshanka," the Administration added.
Read also:
Demining occupied part of Luhansk Oblast will take at least ten years – Oblast Head
Russian troops are blowing up bridges in Luhansk Oblast and placing landmines to prevent Ukrainian advances
Svatove-Kreminna highway "practically under control of Ukraine's Armed Forces" – Luhansk Oblast Head
Russians announce 45% "referendum turnout" in Luhansk's ruined cities abandoned by most residents – Oblast Head
Tags: abduction, Luhansk Oblast, Milove, Novopskov