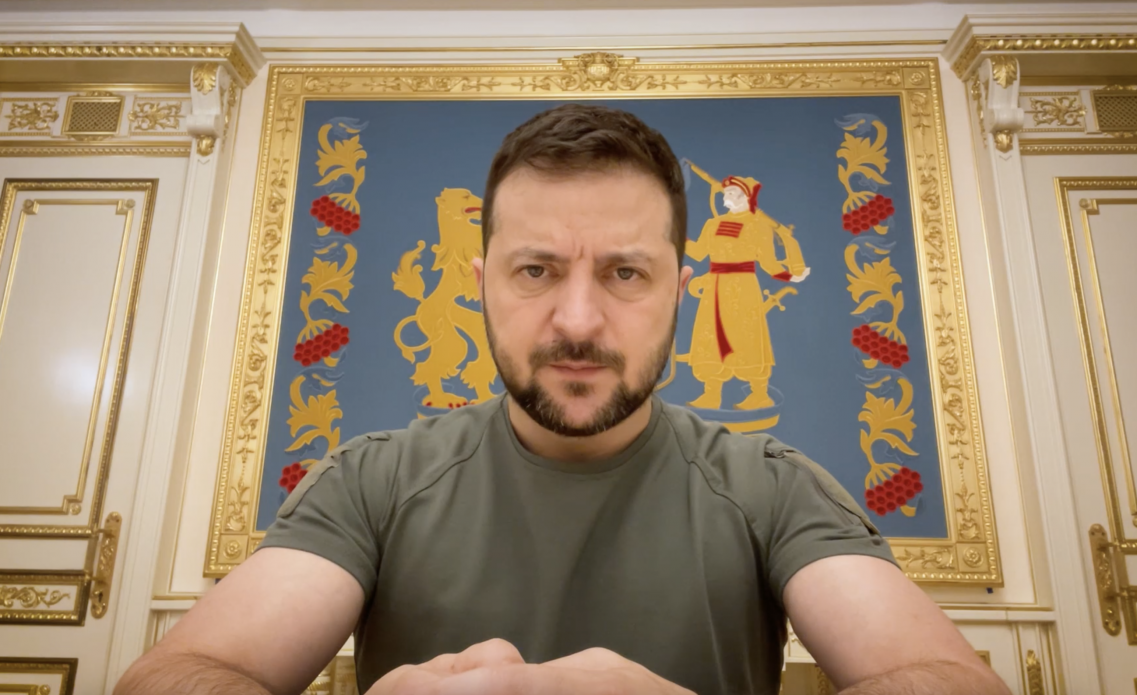 President Zelenskyy at his November 2 address to the nation. Photo: president.gov.ua 
In his November 2 evening address, Ukrainian President Volodymyr Zelenskyy said that the Russian missiles launched in the morning from the Black Sea towards Ukraine's south flew over the routes of the negotiated "grain corridor" used to export the Ukrainian grain. He said that he mentioned it in his call with the Turkish President:
"Today, I spoke with President Erdoğan, in particular, about the security of the grain corridor and the Black Sea in general, about the work of the Crimea Platform, about the return of Ukrainian prisoners of war and political prisoners – we remember each and every one who is in captivity, we will release everyone.
"We also talked in detail about constant Russian provocations, about Iranian drones, about missile strikes by the Russian army. For example, this morning a Russian plane launched cruise missiles near Zmiinyi (Snake) Island, and they actually flew over the grain corridor routes. And every such Russian launch – and they are almost daily – directly threatens food exports. And it is the partners' responsibility to work together to reduce the Russian threat," Zelenskyy said.
Ukrainian President Zelenskyy had a phone call with his Turkish counterpart @RTErdogan, key topics: grain deal, return of Ukrainian prisoners from russian captivity.https://t.co/HZ9ijKE5QC

— Euromaidan Press (@EuromaidanPress) November 2, 2022
On the morning of 2 November, Russia reportedly launched three air-based cruise missiles toward the southern city of Odesa:
Three Russian X-59 cruise missiles fired in the direction of Odesa were shot down
Zelenskyy talked to Erdoğan after Erdoğan's conversation with Russian President Vladimir Putin after which the latter said Russia would resume the UN-brokered grain deal allowing the safe passage of Ukrainian crop exports. A few days before Russia announced its pull-out from the deal after a Ukrainian attack on Russian navy ships near Sevastopol, occupied Crimea.
Despite the fact that Ukraine said it wouldn't use the grain corridor for military purposes a long time ago, Russia put out allegations that Ukraine ostensibly used the safe-passage "grain corridor" for the attack. Now Putin has said that Russia was resuming participation in the deal because it had received "written guarantees" from Ukraine not to use the grain corridor for military operations.
Zelenskyy's remark on the Russian missiles flying over the "grain corridor" implies that Russia itself violates the rules that it lays down.
Tags: Erdogan, grain corridor, grain deal, Putin, Volodymyr Zelenskyy (Zelenskyi / Zelensky / Zelenskiy)