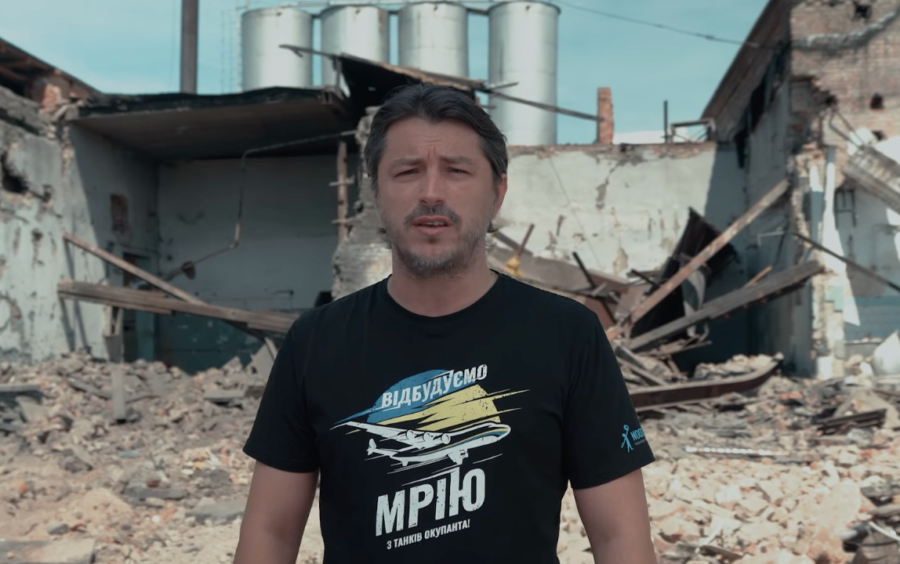 Serhiy Prytula Charity Foundation is launching NEST (NEST mobile houses). Source: Screenshot From NEST promotional video 
In response to the devastating effects of Russia's deadly war, a Ukrainian activist, Serhiy Prytula, has launched another charitable initiative to help those in need begin the process of rebuilding their homes and lives. Called NEST, it gives refugees who came back to rebuild their destroyed homes a temporary place to live.
"The Russians may have burned down our buildings, windows, and roofs and blasted our roads and schools, but we will rebuild and return home anyway."
The first month of the war, when Russia attempted to capture Kyiv but was forced to retreat from northern Ukraine, brought devastation to entire towns and villages, as the invading army purposefully destroyed civilian neighborhoods. Thousands of refugees want to return, but do not have a home to come back to. However, they are intent on rebuilding their homes with the resources they have.  
Ukrainian activist Serhiy Prytula has created the charity NEST so they have a place to live until they rebuild the homes that Russia destroyed. He uses social media to appeal to the global community, including multinational companies and international non-profits, to help rebuild the lives of Ukrainian families displaced by Russia's unjustified invasion by giving them temporary residences in their communities.
While several territories are still occupied, many others have been freed since the war's onset, leaving the remaining residents with a new challenge. They have their land but their homes are now rubble. 
That leaves the citizens in the de-occupied territories with a problem: they have land, but no home. To rebuild their homes, they must have somewhere to live in the process. NEST homes give them a place to live by constructing free, temporary dwellings on people's previous land, thus reinvigorating communities.
"It's not just about acceptable living conditions. Ukrainians want to come back to their towns and yards where their parents used to live and their kids were growing up, where they can cultivate the land and pick apples in their orchards as soon as the sun rises. We strive to provide decent, comfortable conditions housing for those who want to come back from forced evacuation to their land and community. Ukrainians are strong and invincible on their land!

Ukrainians who come back home will be able to develop communities and rebuild their towns at their level. We believe that Ukrainian towns and villages will revive: educational institutions and kindergartens where Ukrainians can study and teach, will open their doors. All farms, factories, and utility companies will start working and people will purchase their goods and services. People will drive communities to new heights, the project writes on its FB page.
Currently, the project helps Ukrainians who lost their homes in Makariv, but the project will expand to other regions. To be eligible for a NEST home, candidates need to meet three conditions:
to have had a house entirely destroyed by Russian army shelling
to not have alternative housing and be ready to return home and rebuild the house while living in the modular one
to have a land plot located in the de-occupied territories, namely — in Makariv.
In April, Makariv mayor Vadym Tokar said ​​that 40% of the town was destroyed by shelling: houses, hospitals, kindergartens, and almost all infrastructure. They were destroyed in February and March when there was a battle for Makariv and civilians spent a long time in basements, without water, heat, and mobile connection. 585 residential houses were fully destroyed because of shelling in Makariv.
Russian occupiers in Makariv shelled the civilian shelter "in an instant" – Dispatch from Ukraine
NEST houses have all amenities: essential household appliances, plumbing equipment, and furniture. They don't need a foundation and during the installation are connected to existing utilities. Future owners can connect to water or electricity either by themselves or with the support of the local government.
To support the NEST project providing temporary housing to civilians whose houses were destroyed by the Russian army, donate here
Related:
Tags: charity, fundraising, internally displaced persons, Refugees