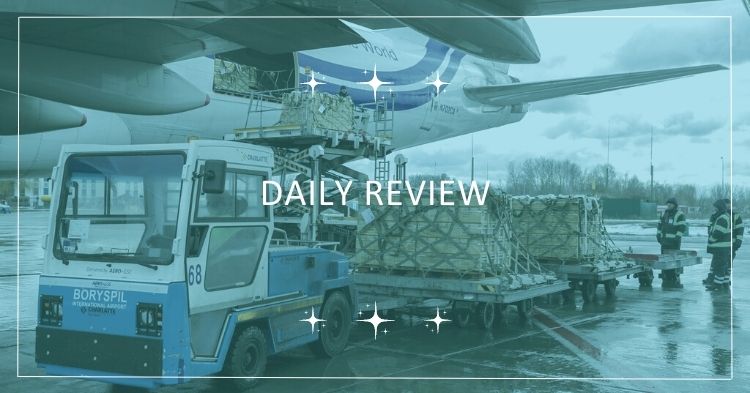 Catch up with the latest news from Ukraine in our Daily Review. Our patrons get this review as a newsletter delivered to their inbox; become one of them
here
.
Past 24 hours in the war zone
Russian hybrid forces launch 4 attacks on Ukrainian positions in Donetsk, Luhansk and Mariupol sectors, incl heavy artillery and weapons banned by Minsk.
As of 19:30 Feb 7, OSCE SMM recorded 76 violations, incl 23 explosions in Donetsk Obl; 25 violations, incl 20 explosions in Luhansk Obl.
SMM reports extensive recent damage to residential property in gov't-controlled Pavlopil, Donetsk Oblast.
Blizzard 2022, command & staff drills began in Armed Forces of Ukraine, reports Press office of the General Staff. Drills to continue throughout February all across Ukraine. Bayraktars, Javelins & NLAWs to be used. Maneuvers will be carried out in parallel with joint Belarusian-Russian drills.
"There's no certainty, but what we see is a military buildup, which continues; there's more forces, military hospitals & troop movement. The time to avoid it decreases & the risk of attack increases. We also see threatening rhetoric from Russia, which says that if we don't comply with their demands, there will be what they call military & technical consequences. And we have a history of Russia's use of force against Ukraine," NATO Secretary-General Stoltenberg says.
Ukraine prepares to unplug from Russian electricity amid invasion fears
Ukraine gets ready to unplug from the Russian and Belarusian power grid on 24-26 February ahead of its full synchronization with the European system in 2023.
$1.5 bn in military assistance, more planeloads of weapons from US & UK
Today, Kyiv's Boryspil airport received two batches of military aid.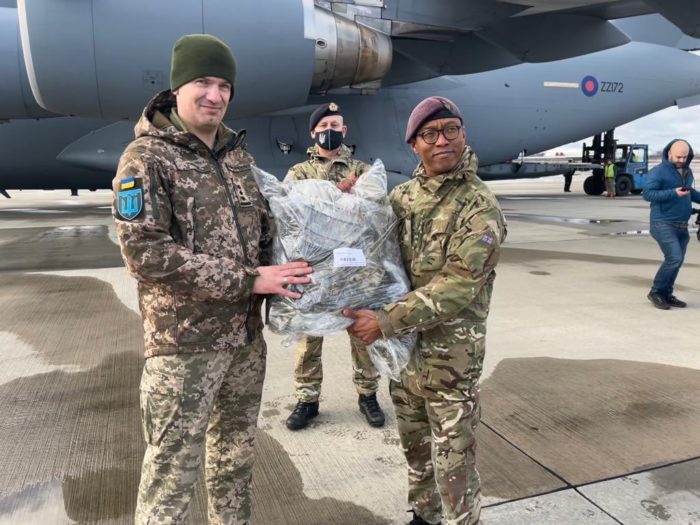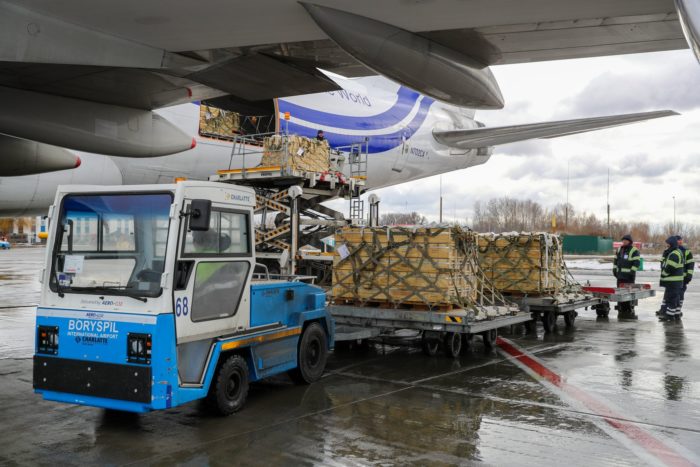 Defense Minister Oleksiy Reznikov posted photos from the batch arriving from the UK, stating that it contains military goods and equipment for the Territorial Defense Forces of Ukraine: bulletproof vests, helmets, etc. "Thanks to our partners for their unwavering political&diplomatic support&military assistance," he tweeted.
The second batch came from an airplane arriving from the US. Reportedly, it carries 80 tons of weapons and ammunition for the Ukrainian army. According to Mr. Reznikov, what arrived were planeloads of ammunition, part of $200 million in immediately usable security assistance announced in January by the United States.
Speaking at a government meeting on 9 February, PM Denys Shmyhal noted that Ukraine has already received $1.5 billion in military defense aid.
"A number of other countries are considering providing military and financial assistance to Ukraine. On behalf of the entire government, I thank the international partners once again for their significant contribution to strengthening our country's defense capabilities," he said.
Majority of EU citizens want EU & NATO to respond to a possible Russian invasion
A
poll
by the
European Council On Foreign Relations
shows:
Europeans believe another
invasion of
is likely
they see this as a problem for European security generally
they want Europe to respond, with majorities supporting a response from NATO and the EU in particular.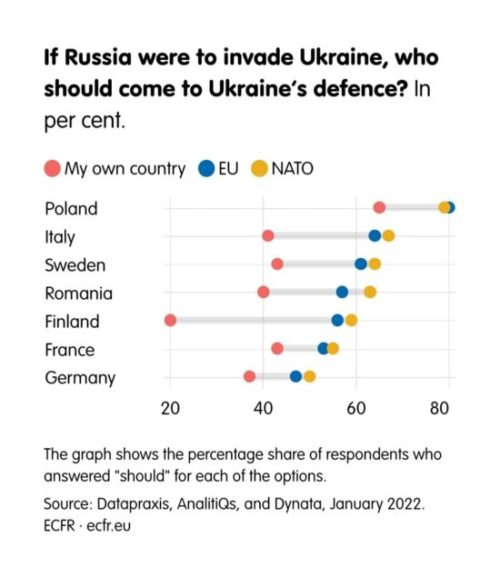 It also shows that people in Poland, Romania, and Sweden are much more willing to make sacrifices than those in France and Germany.
German chancellor shows signs of agreeing to stop Nord Stream 2 if Russia invades Ukraine
The first tepid signs that Germany is ready to stop Nord Stream 2 in case of a Russian invasion emerge: speaking to a group of Republicans over dinner, Chancellor Scholtz confirmed Biden's position that if invasion occurs, Nord Stream 2 will not go forward.
US, EU support Ukraine's energy security, condemn Russia's weaponization of energy
A statement by the US-EU Energy Council, a leading forum to guide bilateral energy cooperation, stressed the importance of bolstering energy security in the EU and Ukraine and slammed Russia's use of energy as a geopolitical weapon.
US, EU support Ukraine's energy security, condemn Russia's weaponization of energy
Crypto donations soar to groups backing Ukraine's government – report
Bitcoin donations have soared to Ukrainian volunteer and hacking groups, some of which have supplied equipment to government forces; these groups received more than $550,000 worth of cryptocurrency in 2021
Ukraine city flies White-Red-White flag amid Lukashenka's threatening rhetoric and launch of joint war drills with Russia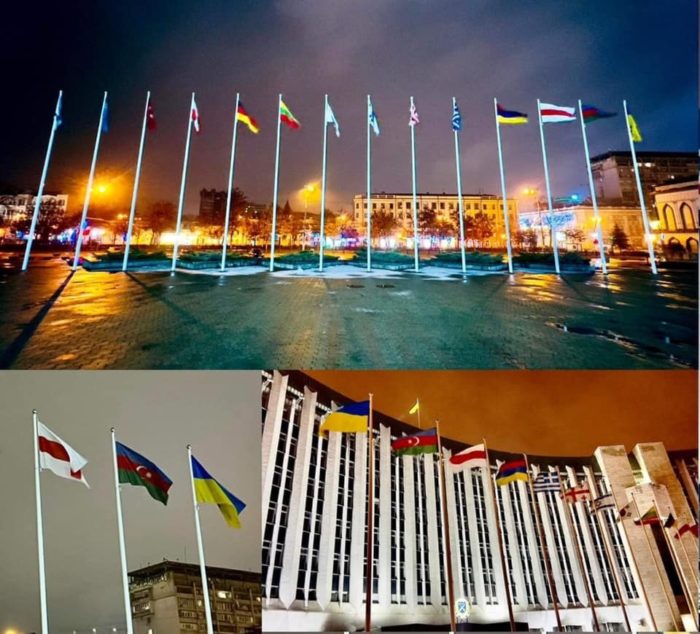 Boris Filatov, Mayor of the Ukrainian city Dnipro, reported that the city switched to flying the Belarusian opposition White-Red-White flag instead of the official flag of Belarus following the recent threatening remarks of self-proclaimed President Lukashenka.
Recently, Lukashenka said in an interview with the propaganda YouTube channel Solovyov Live that Minsk would not supply Ukraine with fuel, lubricants and electricity if "Ukraine clashes with Russia." Before that, he remarked that if Russian and Belarusian troops were to invade Ukraine, the war would last "3-4 days" and promised to return Ukraine "to the womb of the Slavs."
Joint military exercises "Union Determination" will be held in Belarus together with Russia during February 10-20. The Russian military and equipment began to gather there in January.
According to Alyaksandr Lukashenka, the Russian and Belarusian armies will practice a confrontation with "Western and Ukrainian forces."
The exercise area is in southern Belarus, near the Ukrainian border, and western Belarus near Poland and Lithuania, which are members of NATO. The number of troops to be deployed is not yet known.
Proposed "unprecedented" sanctions would be devastating for Russia
The unprecedented measures proposed by the US, the EU and the UK could create chaos in Russia's economy and impoverish its population, writes Isobel Koshiv in Open Democracy.
The measures threatened by the US, the EU and the UK if Russia incurs further into Ukraine would be unprecedented. Previous countries that have faced similar sanctions – such as North Korea and Iran – were peripheral to the global markets in comparison to Russia.
And while the Kremlin would likely retaliate, financial and legal experts claim that putting these sanctions on the table is one of the only ways the West can change Putin's calculus on Ukraine.
Four Crimean Tatars detained in occupied Crimea
Four Crimean Tatars have been
detained
after their homes were searched in Ukraine's Russia-occupied Crimean Peninsula.
The Crimean Solidarity public group told on February 9 that the searches were conducted at the homes of Ansar Osmanov, Ernest Seytosmanov, Marlen Mustafayev, and Ametkhan Abdulvapov, who were later detained and taken away by officers of Russia's Federal Security Service (FSB). The detained men's relatives said that no reason was given for the searches or the detention of the four men.
SBU busts two Lviv-based bot farms reportedly involved in fake bomb threats
The fake bomb threat call saga unleashed on Ukraine just after the New Year continues as Ukraine's security service says it has shut down two bot farms. The farms operated fake mobile phone accounts to "sow panic" and disseminate fake reports on laying mines in public places. The law enforcers suspect Russian handlers to be behind the farms.
SBU busts two Lviv-based bot farms reportedly involved in fake bomb threats
Ukraine eyes dual citizenship while considering security risks from Russia
"I know how important the issue of double citizenship is for Ukrainians living in the US,
Canada, and the EU," said President Zelenskyy in his address to the Ukrainian Parliament on 1 December last year. 
"For the first time, Ukrainians from all over the world will no longer feel that they are diaspora. Not just people of Ukrainian origin, but also Ukrainian citizens. Equal Ukrain
ians."In the following days, bills addressing the issue of double citizenship were registered in the Ukrainian Parliament. As the Verkhovna Rada is processing the documents,
debates continue.
While double citizenship may help protect the rights of Ukrainians abroad and involve the diaspora community in Ukraine, there must be a mechanism to eliminate possible security risks for Ukraine, especially given that part of Ukrainian territory is occupied.
Ukraine eyes dual citizenship while considering security risks from Russia
Tags: Belarus, Crimean Tatars, dual citizenship in ukraine, Germany, Nord Stream 2 gas pipeline, Sanctions