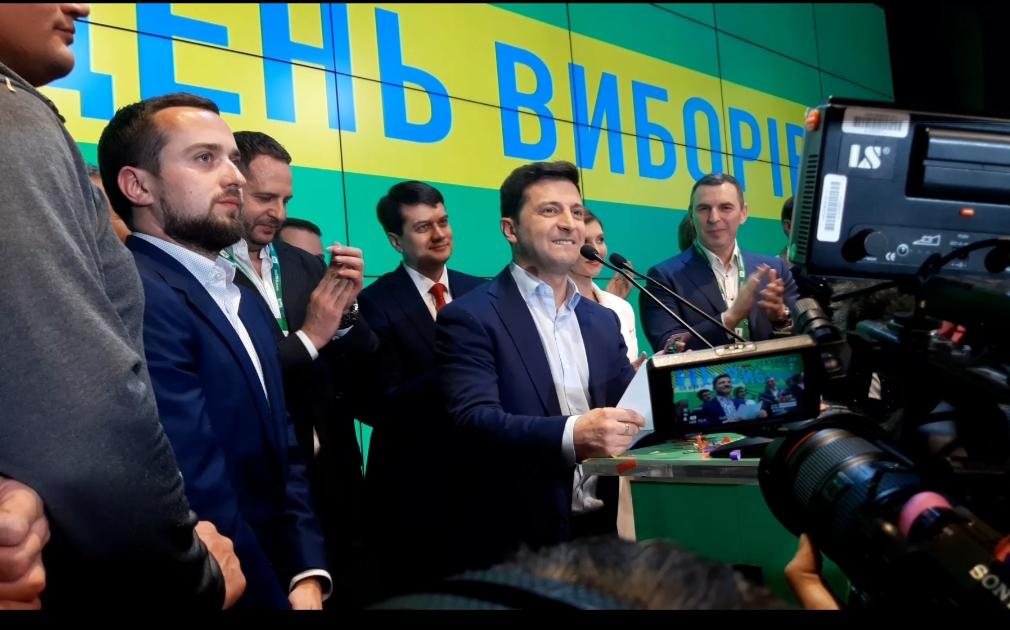 Volodymyr Zelenskyy in the night of the presidential elections. Photo: Euromaidan Press. 
"The honeymoon of the government and the people is over,"
 is how Iryna Bekeshkina, head of the Ilko Kucheriv Democratic Initiatives Foundation (DI), described the current public opinion of Ukrainians. Together with the Kyiv International Institute of Sociology, the foundation conducted
research
in 110 locations in all oblasts of Ukraine (with the exception of the occupied regions). The survey was conducted between 4 to 19 November and was funded by the Delegation of the European Union to Ukraine.
Almost 40% of respondents think Ukraine is moving in the wrong direction – compared to August when less than a quarter held this view. Meanwhile, other sociological polls by the Rating Group and Kyiv International Institute of Sociology suggest that the drop in approval rates may be even larger.
Support for Zelenskyy continues to drop
Last spring, Zelenskyy was elected with 73% support of the electorate. According to the DI research, now only 62% of Ukrainians support his first steps, while 24% do not – this is twice more than in August.
Editor's Note
Another recent survey conducted by Rating Group (RG) on 20-24 November show that Zelenskyy's support may have dropped even more. Answering the question "Is President Zelenskyy more efficient than previous President Poroshenko?" 53% of Ukrainians said that they believe that Zelenskyy is more efficient, 15% were in favor of Poroshenko, 22% stated that nothing has changed.
Yet another poll by the Kyiv International Institute of Sociology (KMIS) held over 22-25 November revealed that the share of respondents holding a positive view of Zelenskyy has fallen to 52% (down from 73% in September) while 19% have a negative view (up from 7% in September). According to the poll, 32% percent of Ukrainians disapprove of Zelenskyy's activities.
As per DI's research, among Zelenskyy's initiatives which were considered positive were:
initiating negotiations with Russia's President Vladimir Putin for resolution of the Donbas conflict (75% positive, 15% negative);
the decision to withdraw troops from the demarcation line (59% positive, 26% negative);
providing foreigners who protected the territorial integrity of Ukraine with Ukrainian citizenship (61% positive, 17% negative);
renewing dialogue with Poland on historical issues (63% positive, 10% negative); and
legalizing extraction of amber (71% positive, 13% negative).
49% of respondents evaluated the total replacement of the Central Election Commission squad as a positive step, while 13% perceived it as negative.
Read also: Zelenskyy sacks well-functioning Central Election Commission, raising worries about capitulation to Russia on Donbas
Predictably, the decision to introduce an agricultural land market and to cancel the moratorium on land sales received the most negative evaluation (24% positive, 58% negative).
Read also: Inside Zelenskyy's land sales bill and Ukraine's land reform controversy
Neither privatizing large state enterprises nor legalizing gambling received significant support.
Overall, this latest research reveals a certain degree of disappointment in Zelenskyy. However, experts note that his public opinion, on the whole, remains positive.
"Zelenskyy has a certain margin of safety. There were many predictions that a rapid collapse of his rating would start after the elections. We see decreasing, we see some troubling trends for the president, but so far there is this margin of safety. The support for the initiation of negotiations with Putin and the decision to withdraw troops is caused by people's opinion that it would lead to peace. Whether it will actually lead to the conflict resolution in Donbas is in question," Oleksiy Haran, research director of the Democratic Initiatives Foundation said.
Haran added that just as before, citizens continue to wait for Zelenskyy to lower tariffs and raise living standards. However, it is clear this will not happen soon.
Among priorities that respondents set for Zelenskyy are: ceasefire in Donbas at 74%; increased living standards (salaries, retirement payments, etc.) at 51%; reduced tariffs at 37%; punishment of corrupt officials at 35%; and reduction of the influence of Ukraine's oligarchs at 28%.
Nearly half of Ukrainians dissatisfied with Parliament, support for Cabinet also drops
"There is an interesting situation regarding the Verkhovna Rada [Parliament]. On the one hand, people positively evaluate the activities of parties for whom they voted. On the other hand, Ukrainians are not satisfied with the work of the Verkhovna Rada. 47% think that it works positively, 34% are not satisfied," Bekeshkina said.
A total of 82% of respondents believe they made the right choice during the parliamentary elections, while only 5% are disappointed with the choice they made.
Ukrainians are about equally split in approving/disapproving of Zelenskyy's Servant of the People party holding 56% of seats in the Parliament and forming a single-party coalition.
Only 29% of voters know who was elected in their single-mandate constituency, while 68% do not, reflecting a low overall interest in political engagement.
Ukraine's parliamentary elections were held according to the mixed voting system, where half of MPs are elected by party lists and the other half in single-mandate constituencies.
Read also: Ukraine finally gets a new Election Code. It's the first step to an effective political system
Attitudes toward new faces in Parliament changed after the elections. Research shows that now more citizens believe that the fact that most MPs are political newcomers is a negative thing (41%) than a positive thing (24%).
"If a year ago we would gather here and speak about a demand for new [politicians], now the opposite effect seems to be true. The Servant of the People and Voice [Holos] parties, came with totally new MPs on their lists. Now this is perceived rather as a negative thing than a positive one," said Taras Shevchenko, director of the Centre for Democracy and Rule of Law (CEDEM).
Editor's Note
According to RG's poll, 34% of respondents stated that the current composition of the Parliament is more efficient than the previous one, 32% believe that nothing has changed, 15% said it's been less efficient.
Only 27% favor the current government, led by Honcharuk, against Groysman's, 30% didn't notice any changes, while 19% believe that Groysman's government was better.
The KMIS poll reveals that support for the Parliament and Cabinet dropped throughout the fall of 2019 simultaneously with the drop in support for Zelenskyy: the activities of the Cabinet were approved by 37% of respondents in late November (versus 51% in October), while the share of those disapproving rose to 48% (versus 27% in October). Likewise, approval rates of the activities of the Parliament dropped to 36% (down from 53% in October), while disapproval rates are at 52% (up from 30% in October).
Nearly half believe country moving in wrong direction
According to the DI poll, 39% of respondents believe that Ukraine is moving in the wrong direction, while 36% hold the opposite view. Most of those believing the country is moving in a positive direction voted for Zelenskyy's Servant of the People party (50% of party supporters hold a positive view and 25% – a negative view), while Poroshenko's European Solidarity party and Boiko's Opposition Platform "For Life" voters held the most negative views (74% and 69% respectively).
Immediately after parliamentary elections were held, in August 2019, the number of respondents having a positive view was higher: 50% approved of Ukraine's direction and 23% did not.
Activists are important, but few want to be them
According to the research by DI, 10% of citizens consider themselves believe they are engaged in public activities (i.e. activism) while 87% do not.
Nevertheless, most respondents believe activism is important. In particular, 70% consider the activities of NGOs during elections as having been necessary. Among the NGO's contributions in helping to keep the elections fair were: registering violations of election legislation (51%); control over voter counting during election day (56%); control over election process funding (17%); and conducting exit polls near polling stations during election day (16%).
Significantly, the research showed a high level of respondents being aware of attacks on activists — with 73% knowing about the Kateryna Handziuk case.
Read also: A year after, Ukrainian activists still ask who ordered Kateryna Handziuk
Only 9% of respondents consider the efforts of law enforcement agencies effective in the Handziuk inquiry, while 74.5% consider them ineffective. A full 89% said that for them "personally" it is important that the case be investigated to its conclusion and justice be done.
The responsibility to investigate crimes perpetrated against activists was firmly laid on the shoulders of law enforcement agencies: public prosecutor's office (66%); police (57%); and the courts (38%).
A full 84% think attacks on activists is an important issue, and 77% think that to be an activist in Ukraine is dangerous.
During the research study, 2,041 questionnaires were completed. Accepted survey practice is to consider the percentage of error as 2.3%.
Read more:
Tags: sociology, Volodymyr Zelenskyy (Zelenskyi / Zelensky / Zelenskiy)