The unveiling and a gala concert in memory of the victims of the Holodomor took place in Vienna, Austria on November 12, 2019.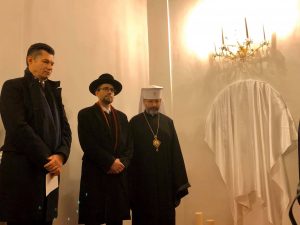 A plaque commemorating Theodor Innitzer, Archbishop of Vienna and Cardinal of the Catholic Church, was unveiled at the Archbishop's Palace of Vienna. Innitzer was the only foreign spiritual leader who, in 1933, established the Committee of Assistance to Ukraine, raising his voice in defense of Ukrainians who were starving to death in Stalin's manmade famine. Based on data collected by undercover investigation and photographs, Innitzer sought to raise awareness in the West of the many deaths by hunger and even cases of cannibalism that were occurring in Ukraine and the North Caucasus.
The commemorative plaque is made of stone and has a round shape, reminiscent of a millstone. The text reproduces the Cardinal's appeal of October 16, 1933, calling for assistance to the victims of the Holodomor.
The plaque also bears a symbolic number – 163, which refers to the approximate number of grains in five ears of wheat, and in a deeper sense – the cost of one human life (according to the so-called "Five Ears of Grain" Law) (On August 7, 1932, Joseph Stalin authored a law with a sentence of death or 10 years' imprisonment for the misappropriation of collective farm property. This law led to mass arrests and executions. Even children caught picking handfuls of grain from fields were convicted-Ed).
The commemorative plaque was designed by Ukrainian architect Rostyslav Bortnyk, author of the art project "163" dedicated to the Holodomor.
Before the unveiling, American historian Timothy Snyder gave a lecture on Cardinal Innizer at the Stefanplatz 4 Club.
Greetings were also tendered by the Archbishop of Vienna, Cardinal Christoph Schoenborn, Head of the UGCC, His Beatitude Sviatoslav (Shevchuk), the Rabbi of Vienna, Shlomo Hofmeister and the Ambassador of Ukraine to Austria, Oleksandr Shcherba.
The day ended with a concert of Ukrainian spiritual music featuring the renowned youth and men's choir Dudaryk and opera singer Zoryana Kushpler at St. Stephen's Cathedral.