Yuriy
Stasovsky
is a veteran who served with 40th Separate Mechanized Brigade "Kryvbas". An artist working with wood, he hails from Petrykivka, Dnipropetrovsk Oblast.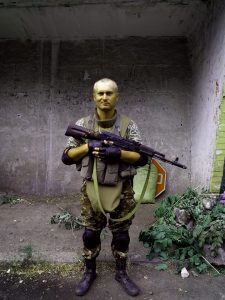 August 9
My Ilovaisk began five years ago…
From the very start of the day, there's been a flurry of activity. I work non-stop from 7 to 11a.m. The vehicle is nearly loaded by the time I'm relieved by Shaman. We help load the car and depart in the direction of Kuteinykove. We're in a Ural, a heavy transport truck; I watch the road carefully.
We arrive at Kuteinykove at the rendezvous location. We unload the vehicles, lie in the shade, and some even fall asleep. The more experienced men share their thoughts with us. Andriukha (Berkut) and Romka (Zmiy) tell us that two days ago they had tried to enter Ilovaisk only to find it was extremely well-defended. At the entrance to the city there were fortifications, and on these defences were mounted mortars and grenade launchers, all operated by trained specialists.
We begin to comprehend the gravity of the situation. Motriy, the battalion commander arrives. Everyone falls in. He explains the details:
"We will attack Ilovaisk! Anyone who feels he's not up to it will be allowed to fall out."
Some do. The battalion commander orders them to return all arms and ammunition, then to mount the Ural and leave. The others climb into the vehicles, which then form a column. We begin to move forward. Our battalion has been given the task of establishing checkpoints around Ilovaisk in order to cut off all the supply lines for the militants.
The 40.01 (40th Separate Motorized Infantry Battalion- Ed) is at Hrabske; the 40.02 is deployed to the west of Ilovaisk; the 40.03 at Zelene; the 40.04 at the village of Pokrovka. If we had more men we could set up three more checkpoints. We feel well armed and protected with two tanks and two self-propelled guns. At one point, our entire column halts its advance when it comes under a mortar bombardment. This attack is the first mortar fire I experience during the war. We should be scared, but the adrenaline rush through our bodies overwhelms any feelings of panic or fear. The mortar shelling continues… The enemy keeps firing in the vicinity of our column, watching for the dust on the road or exhaust from the engines, as our vehicles are smoking like steamboats.
The general runs up and down the road, waving his arms as he shouts commands. General Khomchak. Some men respond, others stand immobilized. A general and a hundred and fifty stubborn men not up to his standards. We begin to move again, though the shelling continues. The tank crews work smartly, as do the armoured vehicles. We make it to Zelene. We rest for the night about a kilometre away. The important supplies haven't arrived; they got lost somewhere along the way. We have no bedding, food or water. The tank crews share their meals, which makes it one for every fifteen of us. We take our turn at mealtime.
Finally, other supplies arrive. We have supper, set up guard duty. Others go to sleep.
August 10
By morning our teeth are chattering from the cold of the night. Daybreak. We split up. Half remain here at 40.02, while we move out. Pravy Sektor fighters arrive at Zelene where they halt at an intersection. From there they provide cover for the road to Khartsyzsk.
A vehicle comes speeding towards them along the Ilovaisk road. They halt their advance. We see two figures in camouflage sporting St. George ribbons. The men open fire. There are now two dead enemy fighters – one was a local idiot, the other a professional military man from Grozny. He was a sniper. We read his documents. He was in Ukraine for quite some time. He had really nice hiking boots on his feet, but they weren't my size; too small. We post a guard on the road and set up our checkpoint. I'm in the lead. Oleksandr Shymansky is next and Serhiy Chantovy is third, with the job of giving us cover.
Once again, we see movement from the direction of Ilovaisk… two vehicles, moving at very high speed. The first car gets past me, but our men at the intersection stop it. I was able to see the driver in camouflage, and there was a Russian flag on the front of the vehicle. Shaman and I take care of the second vehicle. The car keeps moving, but the driver jumps out and yells loudly: "I won't be taken!"
He manages to crouch down as I begin firing. A bullet ricochets and strikes him in the head. His eyes glaze over and he loses consciousness. In the passenger seat is a young man of about 18 years. The vehicle is loaded with equipment – in the back I see an AK-47, a tactical backpack and a laptop, uniforms and the insignia of a major. They're ours now. The prisoners are directed to the ditch along the road. Dok and Ihor Melnyk run up and begin to treat the wounded man. He's unconscious.
We've now learned not to fire at vehicles. Instead, we shoot at the tires so that it doesn't drive off and escape at the next crossroads. Some of our men took off after one enemy vehicle and were caught in an ambush. Oleksandr Paliy was killed, together with Oleh Tarasiuk, a fighter with Pravy Sektor. Later, Serhiy Bontsevych and Anatoliy Fedchyshyn…
And then, the battle becomes more lively. Mortars fall like rain from Ilovaisk. Fifty to seventy enemy militants emerge from the sunflower fields. Grenades are fired continuously. The mortars explode overhead and get caught in the foliage of the tall trees, but the shrapnel falls to the ground around us. One of the captured militants reacts deliriously to each explosion. The other one is unconscious. I search the young man's phone. From the websites I can see that he dreams of Russia, living "free" in the Donbas and other nonsense. I can't look any further because the fighting continues. If I find a picture of him standing beside one of our dead comrades, it will be the end of him right there and then.
-Scared? I ask him

-Yes, really scared, he replies in Russian.

-What in the world were you thinking of when you brought the war right into your home?

-We didn't think a war would start. We just expected the same thing as in Crimea.
All the while the battle continues, coming closer and closer. Our tank is doing a good job, as well as our other armoured carriers. There are 30mm cannons working, too. Sinkovsky comes running; Sanych is swearing and telling us to dig slit trenches for safety and build up defences around our positions. The enemy militants begin shelling again, but I can't identify the weapon. I can hear it humming like a mortar; then it separates and the shell begins to whistle as it drops suddenly to the ground. It covers a radius of at least 30 metres. Later, I couldn't find any fragments or shrapnel. That's the only time that I've heard such a shell in this war.
August 11
We keep watch throughout the night. First up is Shaman, then Andriukha Mykychak. I'm third. I'm the old guy. I need to go to sleep early, but I can take the 4 a.m. to 9 a.m. guard duty. We've all made it through the night. The bodies of the dead militants start to smell of death. No one wants to bury them… until the arrival of Sinkovsky.
"All right, men, I promise a few days leave to anyone who buries the dead."
I grab a spade and so does Sania. We don't think this will take too long. The first grave is finished quickly, but the second one is a bit more difficult. Roman Kandyba joins us, then Zmiy. It takes us an hour and a half to dig the third grave in the stony clay. The work is exhausting, and we've lost all interest in going on leave.
"Good. That's enough. They won't be going anywhere." I say.
Later, the father of one of these deceased collaborators negotiated with Sanych to get the location of his son's grave in exchange for one of our prisoners of war.
We load up our supplies. Time to go. The battalion leaves one checkpoint and moves forward, except that no one moves up to take over what we've just vacated. Immediately behind us there's at least a 50 km stretch that is not controlled by anyone. By good fortune, the enemy hasn't caught on and they continue to move about all over the place. They happen upon our checkpoints and we take them prisoner.
At 40.01 there's Serhiy Klymenkov (Afryka), Khaitayer and Yura Kozlov. They're digging slit trenches. Ilovaisk is 400 metres away. Afryka has finished his hour-long duty at digging. Khaitayer's turn. The men take cover in the shade. They rest… A battle is raging near Ilovaisk. The shooting becomes more and more intense. When a vehicle appears, coming towards us, Serhiy decides to inspect it.
-Some of the men say: "That one's ours!"

-Still, I'll make an inspection.
From the way he's dressed, his hair, the vest and weapon, there's nothing to indicate that Serhiy's a member of the Armed Forces of Ukraine. As the vehicle comes closer, Serhiy counts three automatic rifles inside. Still closer, and he can identify the chevrons on the uniforms as "Novorossiya".
-My friend, we're on the same side… Novorossiya, one of them says.

-Afryka assesses the situation quickly and takes charge. Speaking in Russian, he orders them to halt. He identifies himself as Lt. Petrov.

-Good day. Documents.

An arm reaches out through the window with the documents.

-You need to hand over your weapons. One can't be too careful with all those Ukrainians running around here.

Three rifles are thrown out of the vehicle. Serhiy takes all the documents and moves away from the car.

-Then he calls out loudly, in Ukrainian: "Now, let me tell you that we're the Battalion "Kryvbas". Get out of the car and drop to the ground!"
Serhiy fires a volley above their heads. They tumble out of the vehicle and into the dust. More of our men come running up to help with the captured militants. Three new prisoners: Siedoi, commander of a militant division, a sniper from Nikopol, and the third is their driver. Some of our men begin searching the prisoners, but Afryka isn't happy with how they're going about it, so he shows them how it should be done.
The prisoners quieten down…
August 17
All's quiet. An hour goes by. Then Shaman breaks the silence:
"Hey man, someone's walking on the road…"
I take his night-vision goggles, and sure enough, a man is coming towards us. It's easy for us to see that he isn't carrying any weapons.
We keep our distance. If he's concealed a pistol or a grenade, we'll be safely out of range, but we can easily take care of him with our rifles.
-Stop!
He freezes. Then I give another command:
-Hands up! Head down!
He obeys. Shaman and I approach him. Then I sling my gun over my shoulder and say:
"If you try anything and run away, I'll shoot you in the back and then you'll never walk again for the rest of your life."
He doesn't move.
Shaman begins to pat him down. There are no weapons. Next, he looks through his wallet and suitcase.
-Oleksiiovych, take a look at this.
The fool must have a roll of 40 or more 500 hryvnia bills, and more here, probably a few thousand hryvnias.
-Who are you? What's this all about?
-I'm running away from Ilovaisk. The money is for a debt. I was supposed to pay it off two weeks ago.
I turn on a flashlight and shine it in his face. The man is young, maybe 25 years old. His hands are clean, and there's no dirt under his nails. The knees of his pants aren't worn out. Same with his elbows. His back shows no sign of bruising, and his clothes are clean and tidy. His feet aren't blistered. The smell from his shirt and pants is nothing out of the ordinary. There's no smell of smoke or gunpowder on him. He doesn't look like a soldier and there's no sign that he's an enemy. Nonetheless, not even civilians are allowed through our checkpoint.
-Ok. Let's get you out of here. We'll get you to the crossroads, where you'll turn right. Then another right, and you'll go through the village, once more turning right. Once you get to the road, it'll be a left-hand turn that takes you to Khartsyzsk. Clear?
-I understand.
He walks for ten metres or so then turns back and says, "Thanks, guys."
If this incident had occurred six months later, at Debaltseve, I'm sure I would've acted differently, probably shooting him on the spot. But, at that time, we were still trying very hard to act like ordinary civilians, people for whom human dignity was more important than military duty and obedience.
August 20, 13:00
The "party" is about to start. All morning we hear engines revving up from the direction of Khartsyzsk. The noise becomes louder… closer. Closer still. I'm on pins and needles; my skin's like a dog's fur standing on end. Man, but that tank looks terrifying! There it is. Finally, we can see it through the trees. Its turret is facing the other way. The tank levels with the intersection. Our tank rushes out. An enemy shell is fired, but our tank is still engaged. Hit by shrapnel, the enemy tank starts backing up. There's another explosion… and a ricochet.
Our tank is defending us. The enemy's is burning. But, it's still moving… backward. Up along the railroad line, our men are running – Andriy Shyiansky, Berkut, Denys Zykunov and Hlamur. They fire RPGs at the enemy tank, which by now has all but retreated behind the crest of a hill. It moves another hundred metres, then falls silent. An enemy armoured vehicle gives it cover. They extinguish the flames. We can't reach it because the enemy infantry are everywhere along the road. Our tank remains still because there's another enemy tank in the village nearby, and the militants would just love to fire at us with RPGs from the houses they occupy.
Lt. Colonel Vasyl Koval is in contact with the artillery. Their first volley lands short and on us! Thankfully, we're alright. They fire again and it hits further along. Vasyl encourages them:
"That's great! Keep them coming… just like that."
Shells are flying our way from the direction of Khartsyzsk. Heavy, loud, screaming shells, tearing into our positions. Then the enemy infantry begins approaching from the village. The sun is behind us and the railway glistens through the trees along the horizon. We are totally exposed and under observation by the enemy. From their armoured vehicle they open fire with their .30 calibre machine guns, blanketing the railway track. They fire low. They fire higher. They hit the railway cars under which our men were hiding. No chance to rest. We're kept on our toes.
We can't make out what's happening past the trees, but we can be clearly seen. I expected this, so I'd placed ribbons in the trees as a guide for where to shoot, so that the bullets would land on the asphalt road beyond the trees. No sooner does the shooting begin from that direction than I empty my gun. The militants don't like that, and all goes quiet. They try to outmaneuver us from the left. From the side, they run across open ground and hide under the railway cars. But on that flank, we have Lokha Kondrashov. I call out to him:
"Lokha, they're coming from the left!"
He doesn't know what I mean; he can't hear anything. He fires a volley from his RPG toward the enemy position. I turn around and begin firing one shot at a time under the boxcars. The bullets are directly in Lokha's direction, but over his head. He's not happy about that. He ducks down. But, it's not fun for the militants either. Our armoured vehicle opens fire. It's concealed from the enemy, but the bullets are ricocheting in all directions off the steel of the railway cars. They begin running away. One of them falls down… then gets up again and stumbles away while I'm changing the magazine on my weapon. He gets away. There are more of them closing in from the village.
An enemy tank rumbles along the streets, together with some troops from an airborne unit. The tank halts. They're discussing something. Our rifleman, Pasha Voronych, opens fire. The paratroopers scatter. He hits his mark and sparks fly from the armour. He reloads and starting shooting again. The enemy machine gun mounted on the tank starts firing. Pasha lets loose another volley, but can't take cover fast enough and is hit. The bullet breaks his pelvis, rips into his bladder. Our men rescue him quickly, carrying him along the train tracks, then under the bridge. They get him to safety when the enemy tank starts firing. The shells fly over the embankment and hit a boxcar full of coal. Our line of defence is under there. There's an explosion, creating an enormous cloud of smoke and black dust. Yuriy Horba is buried in coal and suffers a contusion. Oleksandr Kryvy (Khimik) also has a contusion. Both he and Horba manage to dig themselves out. The enemy tank has stopped shooting, except for a few stun grenades.
Then it's over. The battle dies down….
Excerpt
Here is an excerpt taken from an introduction to Stasovskyi's essay in Silski Novyny on January 29, 2016. This poignant narrative documents yet again Russia's direct involvement in the war against Ukraine. Yuri Stasovskyi testifies to seeing first-hand Russian soldiers from Nyzhny Novgorod military units, northern Russia and the Caucasus. In addition, some Donbas residents betrayed Ukraine, falling for the myth of becoming "separate" and fully entitled to their own "republic"…
"Residents of the occupied territories of Donbas and even our men serving there at the front lines have access to "separatist" television channels only. One day a Ukrainian from Siberia was taken prisoner by our side. He said he had come to Donbas to protect it from… the Banderites! Only after his capture did he comprehend what was really going on. War doesn't mean who is shooting at whom, but who outsmarts the other side."
Photos: FB AFTERILOVAISK (unless specified otherwise)