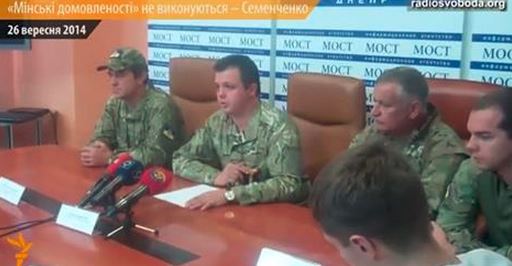 Semen Semenchenko, commander of the special battalion Donbas, has said that according to information available to him, Ukrainian military lost over 1,000 people near Ilovaisk, the site of fierce fighting between the security operation troops and separatists in Donetsk Region, the Ukrainska Pravda website reported on 26 September.
He said this in Dnipropetrovsk on 26 September, Radio Liberty reported.
Semenchenko said that the Minsk agreements between Ukraine and armed separatists in Donbas are not being honoured. The total number of the Ilovaisk casualties among Ukrainian servicemen exceeds 1,000, according to his information.
Donbas lost 45 servicemen, 128 were injured. Fifteen more members are considered missing.
Tags: Donbas Battalion, Donbas war (2014-present), Ilovaisk, Mortalities, Semenchenko, Ukrainian Army