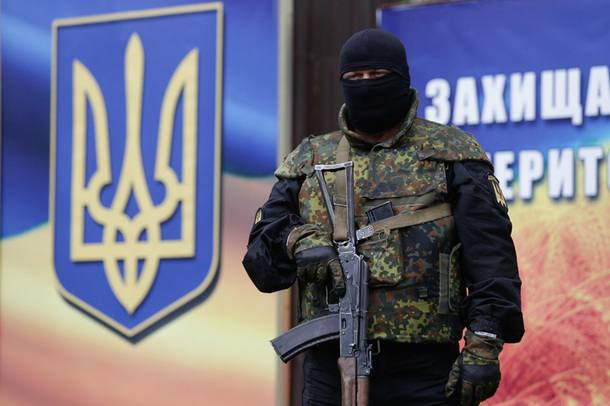 As a result of heavy fighting, the Donbas battalion has suffered heavy losses and was forced to withdraw from battle near Ilovaisk, the battalion's press service reported on Facebook, August 19.
At 22:00, the "soldiers of the Donbas battalion withdrew from battle near Ilovaisk," the press release stated. Four soldiers of the battalion were killed by militants and the battalion commander Semen Semenchenko was wounded.
"The battalion commander Semen Semenchenko was wounded in the morning, but he was evacuated from the battlefield in time. He's now in a hospital (in Dnipropetrovsk). The operation was successful. Recovery will take 2-3 weeks… Today all day there was a very complex and fierce battle and as a result a large number of Donbas soldiers were injured. We are determining the exact number of the wounded.

Also, it is with great sadness that we announce that four heroes were killed by terrorists. We express our sincere condolences to the families and friends of the victims. We mourn this tragic loss together. All of Ukraine is weeping for them. Killed on this holy day (Feast of the Transfiguration — Ed.)."
Later, President Poroshenko's press secretary, Sviatoslav Tseholko, reported that the president had spoken with Semenchenko and that he would be awarded the Order of Bohdan Khmelnytskyi, which is given to citizens of Ukraine for outstanding merit in defending the sovereignty and security of their country.
At the same time, the Shakhtarsk Battalion reported on Twitter that it is still fighting near Ilovaisk and that two of its soldiers were killed and 6 wounded.
Translated by Anna Mostovych
Sources: Pravda, Espreso.TV