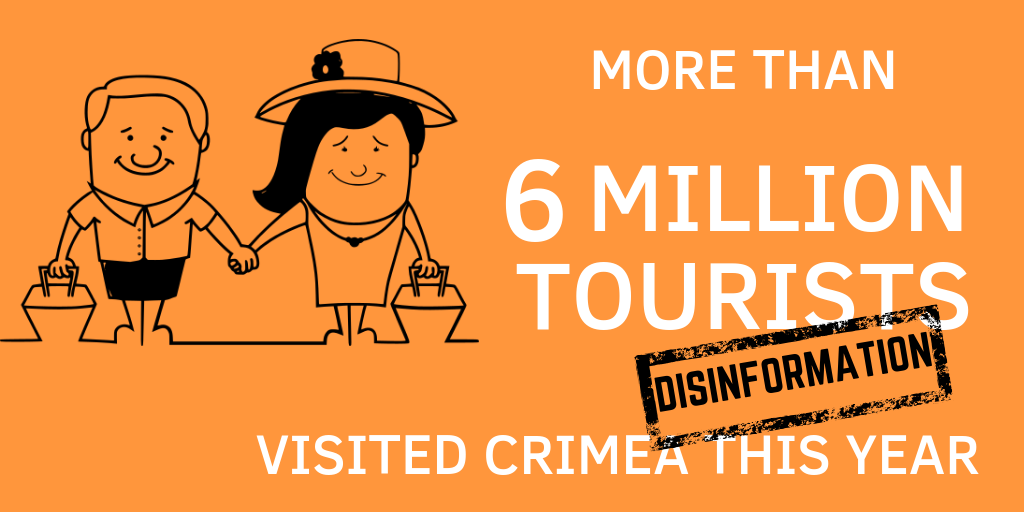 Editor's Note
Crimean resorts were very popular as a tourist destination among Ukrainians before Russia annexed the peninsula in 2014. Here are some figures: some 5.7 million tourists visited Crimea in 2011; a year later, in 2012 there were 6.1 million of them; and in 2013 – the year preceding the annexation – the number of visitors was 5.9 million. Most of the tourists were Ukrainian.
In 2014 following the Russian invasion and annexation in February-March 2014, the tourist season failed in Crimea. The official stats of the pro-Russian authorities stated that 3.8 million people visited the peninsula in 2014, while the local tourism minister, Oleksandr Liyev said that the number of tourists actually dropped by 4 times (i.e. to some 1.5 mln which would seem closer when you compare 2013 and 2014 snapshots of the webcams in popular destinations).
Further Russian figures may have nothing in common with reality since one of the Russian Crimea-related myths is the well-being of Crimea after the annexation. The Russian sources allege that millions visited Crimea: 4.598 in 2015, 5.573 in 2016, 5.395 in 2017, 6.062 in 2018.
Since its 
illegal annexation
 in 2014, Russian authorities have tried hard to restore Crimea's image as a holiday hotspot — including by faking tourism statistics.
Russian media and pro-Russian media in Ukraine recently reported that the annexed peninsula has welcomed more than six million visitors this year, a figure trumpeted as a record in the peninsula's post-Soviet history.
The figure, which covers the first nine months of 2018, was provided by Vadim Volchenko, the tourism minister of Crimea's Kremlin-appointed government. Volchenko added that it represented a 29-percent increase from last year.
Ukraina.ru, TASS, Moskovsky Komsomolets, the FAN news agency, Rossiiskaya Gazeta, Kryminform, TRK Krym, Kafanews, and RIA Krym all published the happy news along with photos of beaches teeming with holidaymakers.
Closer scrutiny, however, reveals a rather different picture.
While tourists are indeed slowly returning to Crimea after the annexation sent its tourism industry into a nosedive, the peninsula is still a long way from being the popular holiday destination it once was.
According to a report released by 
Krymstat
, Crimea's official statistics agency, only 481,600 tourists visited Crimea in the first half of 2018.
Krymstat said this represents an increase of 11.3% compared to the same period last year, a far cry from the 29% boasted by Volchenko – who didn't clarify the source of his figures for either 2017 and 2018.
Another interesting discrepancy lies in the nationality of the tourists who chose to vacation in the annexed peninsula this year.
Volchenko claimed 16 percent of them came from mainland Ukraine, which he described as a 17-percent increase since last year, and used the opportunity to stress that "we still remain one people."
Before the annexation, roughly two-thirds of tourists in Crimea were Ukrainian.
Krymstat's report, however, says 94.5% of the tourists this year were Russian citizens.
This is not the first time Russian officials and media manipulate Crimea's tourism figures. StopFake compiled this 
review
 of last year's alleged tourist boom in Crimea.
---
Further Reading:
Tags: Crimea