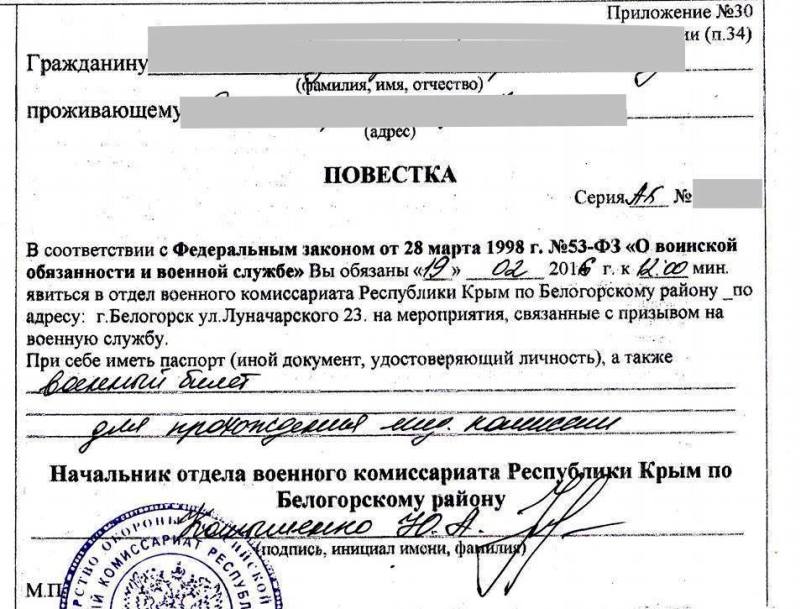 DRAFT NOTICE
In accordance with Federal Law No.53F3 "On military duty and military service", dated March 28 1998, you are hereby summoned to report for duty on February19, 2016 at 12:00 at the Military Commissariat of the Republic of Crimea, Bilohirsk District (23 Lunacharskoho St., Bilohirsk)
ID and military registration card required.
Signed by the commanding officer of the Military Commissariat of the Republic of Crimea
 
More and more Crimean Tatars are being mobilized by the Russian occupying forces. 15Minut received a copy of a call-up document issued in Bilohirsk District, Crimea.
"The papers were sent from Bilohirsk District. They are addressed to a Crimean Tatar, 35 years old, father of three children, the youngest is one and a half…He told us he saw a list of recruits on an sheet of paper; all are Crimean Tatars."
On February 8, the Ministry of Defense of the Russian Federation started training and testing combat readiness of the Southern Military District, under which military units in Crimea were put into full combat readiness.
On February 9, Crimean Tatars began receiving draft papers. General mobilization was declared on the peninsula, and all recruits are being sent to a three-month training course.
Tags: Crimea, Crimean Tatars, mobilization, News