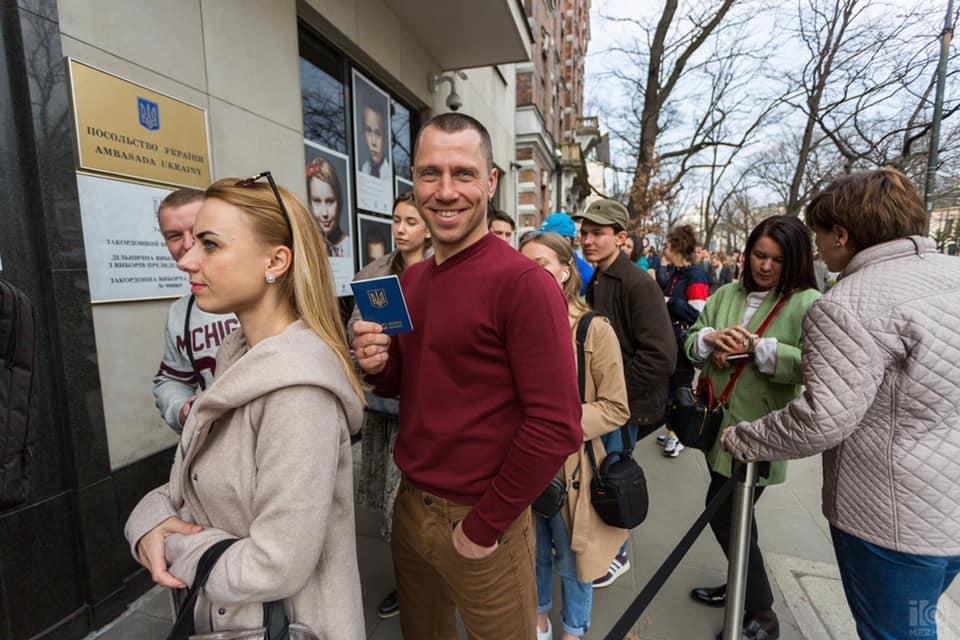 Ukrainians waiting outside their embassy in Warsaw on Sunday 31 March. Photo credit Ivan Mezhui 
During the first presidential election round on 31 March, Ukrainians were impressed by photos from election points around the world. Hundreds of Ukrainians were photographed queueing to exercise their right to vote and select the country's next president.
Viewed from Ukraine, these photos showing diaspora Ukrainians voting point to their patriotism. For the voters in question, many queueing up to three hours in the open air and not always finding themselves listed in voters' registers, the election process clearly has organizational problems, notwithstanding the sterling efforts of many diplomats.
According to the central election commission (CEC), only 55,000 Ukrainian citizens out of a total of 6 million living abroad actually voted. This would indicate that only 1% of adult Ukrainians abroad exercised their right to vote. To compare, the number of international voters at the last presidential election in 2014 was 73,000.
In the foreign election district, Petro Poroshenko won with 38.93% of votes, Volodymyr Zelenskyy claimed second place with 26.01%, Anatoliy Hrytsenko was third with 10.64%, with other candidates gaining less than 10%. Pavlo Klimkin, minister of foreign affairs, named the decrease in voter turnout a"sad arithmetic." Klimkin expressed his respect for all who came to vote.
"The civic duty should be equally important to all Ukrainians, we are part of a unified political nation and we must strengthen it with our conscious civic position."

There are different reasons why Ukrainians abroad are not very active in the election process.
Firstly, it is very difficult to secure inclusion on the register of voters. The voter has to bring his documents personally to election points, which means spending a lot of time and money. Another possibility is to queue for consular registration. The latter can be done by post, but not so many people are willing to risk sending their passport by post. Also, many international delivery services are not prepared to assume responsibility for the delivery of passports.
This problem can be resolved if Ukraine introduces electronic registration. Ukrainian election law does not currently allow for such a system.
An initiative group of Ukrainians living abroad has petitioned parliament to change law 153, which would provide online registration at least for those Ukrainians living abroad.
"In fact, now we have a right without opportunity. Our goal is internet-voting, but we understand that this is a long-term project. Therefore, online registration can simplify the first level that stops millions of people from exercising their right to vote," Natalka Panchenko, founder of EuroMaidan-Warsaw and participant of the initiative group, explains to Emigrantske radio.
The transfer of registration to online format would not only simplify access to the voting booth for international Ukrainians, but also for those internally displaced from Crimea or the areas of Luhansk and Donetsk regions currently beyond Kyiv's control.
The electoral register is institutionally too closed a structure and it is unlikely that the CEC will go for such an experiment in the near future, according to Yuriy Lisovskyi, an expert on open data at OPORA Civic Network.
"Firstly, the election law should be changed; so far the law does not provide for registration remotely. Secondly, we have a digital security issue. There were many scandals involving leaks of personal information in Ukraine. So, who will secure such important information from Russian and internal hackers, I do not know," Lisovskyi explains.
The risks are always the same, whether in paper or online voting form, the ex-leader of Logitech in Ukraine, Maksym Prazdnykov, believes.
"In any case, a two-step procedure will be required – the first step is to identify the voter and anonymize her vote; in the second step, the same should be done for the candidates. If simplified, it is, in essence, a digital analog of voting by mail as already taking place in many countries," Prazdnykov explains.
The voting process by paper version is the safest for Ukrainian conditions, Lisovskyi considers. According to him, even in the world, as for example in the USA, there is a discussion on returning to the most common form of voting.
The electronic form of voting is where the polling station has a special voting method allowing people to vote via electronic signature.
"It's difficult in the Ukrainian context. The first risk is that in remote village polling stations there may be no elementary heat or light, nor specially trained people to provide the necessary equipment. The second risk is that nobody can guarantee that while this technology will stay two or three days at the polling station, it won't be hijacked by somebody installing malicious software in it," Lisovskiy says.
Another possibility is online voting, where a person can vote from anywhere via a phone. Such a model works successfully in Estonia, and the voter has the opportunity to change his mind several times during the election day. Lisovskyi, the expert of OPORA, believes that this could become a real danger in Ukraine.
"There are several risks: a technological one, because there must be people who check whether the system has been interfered with. Another risk is that the system will become just another opportunity for falsification or bribery".
According to Ihor Reshetnyak, an analyst at European Pravda, who researched how Ukrainians voted abroad, the second reason for the low turnout in the elections can be the low level of trust in state institutions and an aversion towards consular services in general. The situation is complicated by constant suggestions coming in from Ukrainian political discussions on additional taxation for migrant workers and punishment for dual citizenship
Another important, according to Ihor Reshetnyak, is the problem is the small number of polling stations for the foreign constituency. According to the central election commission, 101 polling stations were operating on the election day on 31 March: 47 large (more than 1,500 voters), 15 medium (500-1,500 voters) and 39 small (up to 500 voters).
A large polling station is designed to handle around 4,000 people. This limitation became apparent in Warsaw, where a few minutes before the official closure of the polling station there were still many people waiting outdoors. The ambassador of Ukraine in Poland, Andriy Deshchytsia, personally intervened in the situation. He allowed people to enter the territory of the embassy and only then were the doors of the polling office closed.
Consequently, arithmetical calculations show that the maximum number of voters who could vote is about 250,000, not 430,000 as entered in the state election register nor even the six million, as shown by state statistics, Reshetnyak writes.
According to Ukraine's election law, the polling stations can only be organized on the territory of consulates, but not honorary consulates.
"Compared to 2014, Ukraine has closed nine diplomatic missions in the world. This has definitely led to a lower number [of voters] compared to 2014," Natalia Panchenko, coordinator of EuroMaidan-Warsaw says.
The first presidential election round only proved the long-known truth that every vote is important and can completely change the trajectory of the country's development. Therefore, there are several urgent issues that need to be made in the near future in order not to lose contact with their citizens, both in the big world and in temporarily lost territories.
Increasing the number of polling stations abroad, simplifying the procedure for inclusion on the electoral rolls and, as far as possible, alternative voting methods.
Unfortunately, the latest pre-election debate shows that neither the candidates nor their election headquarters intend to deal with this before the second round of the presidential election. Only time will tell if it will be looked at before parliamentary elections in October.
Read also: