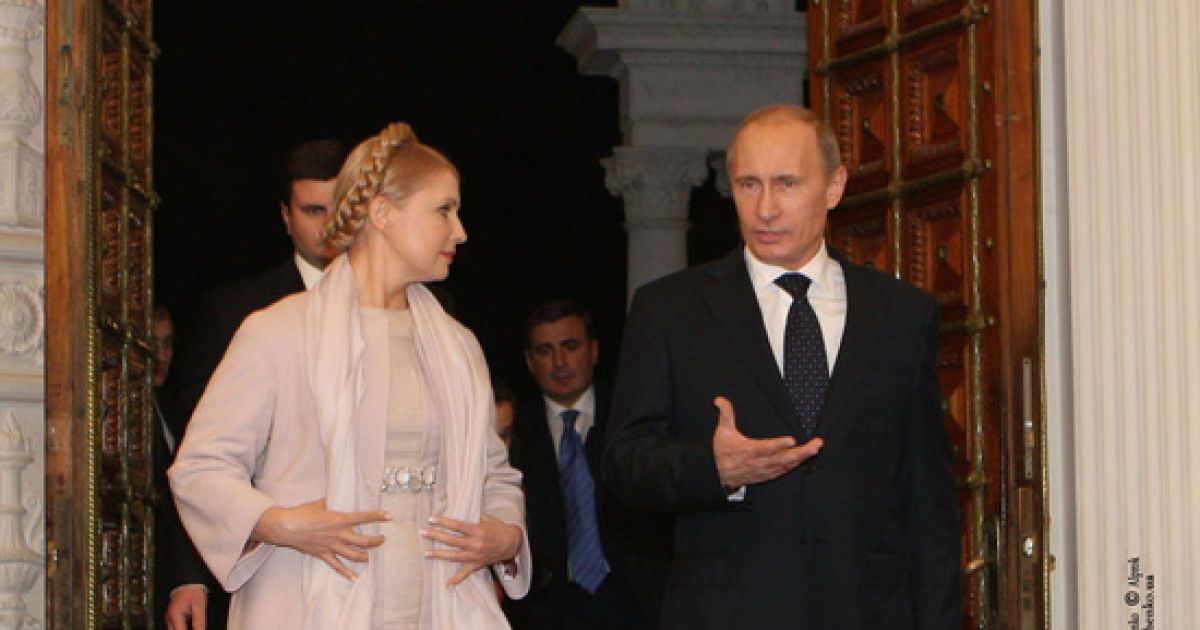 Tymoshenko's detractors claim she is a friend of the Kremlin who would turn the Western direction in Ukraine back to Russia. Photo (from 2009): ru.tsn.ua. 
On the eve of the 2019 presidential election in Ukraine, one of the most important questions is how should the country respond to the ongoing Russian aggression. The answer will depend on the policies of the leader Ukrainians elect.
Of the current candidates, President Petro Poroshenko has made his position clear. Obviously, we know where the pro-Russian candidates such as Yuriy Boiko and Vadym Rabinovych stand, and according to the polls their chances of being elected are slim to nil.
However, there is one candidate for whom there is no clear determination. Her words and her actions have not always been in sync. She promises to end the oligarchic rule and set a new economic course for Ukraine. But her detractors claim she is a friend of the Kremlin who would turn the Western direction in Ukraine back to Russia. She is Yuliya Tymoshenko and she is the candidate who right now holds the highest ratings. So who is she…the angel or demon of Ukraine's politics?
What the polls say
Leader of the Batkivshchyna party, Tymoshenko is vying for the presidency for the third time. In 2010 she lost to Viktor Yanukovych who following the Euromaidan Revolution fled the country in disgrace. In 2014 she lost to the current president Petro Poroshenko. This year again her main contender is Poroshenko, but the most recent polls are showing her in the lead. Released by Ilko Kucheriv of the Democratic Initiatives Foundation, the results show Tymoshenko in first place with 16.1% of the vote. Poroshenko is in second place with 13.8% and Volodymyr Zelenskyy is in third with 8.8%.
The poll estimates that if Tymoshenko proceeds to the second round, she will win over Poroshenko at 22% versus 16%. However, if her opponent is Zelenskyy, leader of Sluha Narodu, he will win at a narrow margin of 21% versus her 20%. The polls also indicate the same results (21% over 20%), if her opponent in the second round is Anatoliy Hrytsenko, leader of Hromadianska Pozytsiya.
Let's take a closer look at the credibility of Tymoshenko's pro-Russian leaning by comparing her platform to that of Poroshenko.
The main policy put forward by Poroshenko's campaign is to move Ukraine away from the Kremlin. One of his campaign slogans is "Away from Moscow." If indeed Tymoshenko has a Russia bias, then it would definitely be advantageous for Poroshenko to play upon her—or any other candidate's—pro-Kremlin slant.
However, thus far in the campaign the president has not made any accusations against Tymoshenko, neither publicly nor personally. At most, he has made oblique references to her gas policy during the period she was prime minister— specifically, when she called upon Ukrainians not to trust populists who were promising to reduce gas prices.
However, accusations of a pro-Russian stance are being launched by others, including politicians and media. For example, an MP from Poroshenko's Bloc, Oleksandr Bryhynets, has pointed out that Tymoshenko is often absent when Parliament is voting on major anti-Russian rulings. Political expert Oleksandr Paliy has questioned Tymoshenko's proposal to liquidate the oil company Naftogaz after the elections. He claims that by such actions Tymoshenko appears to be coveting the Kremlin's favour. Albeit, he aired his view on Channel 5 which is owned by Poroshenko— that might be called opportunistic, but is it justifiable?
Tymoshenko's past actions are also frequently brought to attention. For example, she is criticized for not condemning Russian aggression against Georgia in 2008. To be fair, this is often unduly manipulated—although Tymoshenko kept silent for some days, she did later make a clear statement in support of the territorial integrity of Georgia.
Other troubling accusations are coming forward in regard to Ukraine's NATO deliberations in 2008 when Tymoshenko was prime minister. Tymoshenko is being blamed for turning Ukraine away from the NATO path—again suggesting that she did so to please Moscow. Today, her campaign mantra leaves no room for question, asserting that the future of Ukraine is within NATO.
As the elections near, it's getting harder to know how to weigh these many accusations toward the Batkivshchyna leader. Do they have grounds, or are they meant solely to discredit the leading candidate?
During the Tiger Conference in Kyiv, November 2018, Euromaidan Press questioned whether Yuliya Tymoshenko could be considered a pro-Russian candidate. MP Hanna Hopko suggested looking at Tymoshenko's past actions and statements, implying that the answer was closer to "yes" than to "no."
Controversial statements in line with the Kremlin's views
Hopko particularly emphasized Tymoshenko's statements made at the beginning of Russian aggression in 2014. At the time, Tymoshenko stated "any tank should not move out, any soldier should not raise arms, because it would mean defeat."
At the meeting of the State Security and Defence Council, she stated "There should not be any martial law," referring to the Georgian example when then president Mykheil Saakashvili tried to oppose the aggression and lost. Later, Tymoshenko declared that releasing the transcripts from that meeting was equivalent to a crime.
There have been other ambivalent statements.
In July 2018, Ukrainian media watchdog Detektor Media identified two key messages of Russian propaganda:
Ukraine's responsibility for the war in Donbas, including the "Ukrainian question" arising from negotiations between Donald Trump and Vladimir Putin;
Ukraine's aggressive behaviour in the Black Sea and possible destabilization in Crimea, as well as Ukraine's failed attempts to stop the construction of the Nord Stream-2.
Detektor Media emphasized the first propaganda message and noted that it often appeared in Tymoshenko's messages. In particular, it pointed out how she repeated the Russian propaganda that the Ukrainian government benefits from the war in Donbas. She has repeated other propaganda messages, notably that policies of the post-2014 government have led to a demographic decline in Ukraine—people are leaving in droves, she claims. Tymoshenko has also accused Poroshenko for his agreement with leaders of the "so-called" separatists, implying it would lead to escalating the war and the need to cancel the elections.
"Hence the main propaganda message distributed in Russian media appeared: peace in Donbas would be reached only in case of changing the power in Kyiv after the presidential election. In this way, Russia wants to interfere in the inner political discussion and impose an opinion that there is some connection between the results of the elections and peace in Donbas," writes the political monitor Petro Burkovskyi.
Detektor Media contends that when taking into account the strong desire for peace, such a manipulation of the facts repeated over-and-over can significantly influence one's outlook.
In his analysis, Vitaliy Kulyk, director of the Center for Research on Civil Society Challenges, wrote that the topic of war is inconvenient for Tymoshenko—it raises too many complications and she seems to reference them in muted language.
"She does not give clear answers on the [question of whether] we need to agree? With whom to agree and about what?"
He gives the example of her statement on Poroshenko's agreement with the leaders of the so-called DNR and LNR, when she claimed that Poroshenko wants a big war with the seized territories—a war that would lead to imposing martial law and cancelling the elections.
"There are significant logic problems [in her statement]—one can't start something which is already in full scale… People are dying not from the bullets and shells produced by the 'aggressor Poroshenko'—[they are] provided directly from the Russian Federation," added Kulyk.
Kulyk points out that the day after her statement, when Tymoshenko met with former US Ambassador to Ukraine John E. Herbst, she seemed to change her tune.
In his follow-up interview with the Russian-language channel RTVI, Herbst supported Tymoshenko by asserting she is not the Kremlin's friend. She now claims that her main goal upon re-election would be to release Ukraine's territories from the occupants. She says she would also insist that the US increase pressure on the Russian Federation, both by political and economic means.
Kulyk suggests it would be wiser for Tymoshenko to change her posturing on war and peace and to reduce her emphasis on the election outcome.
Her numerous accusations of Poroshenko do not help her when later they make headlines in Russian media; such as: "Tymoshenko accused Poroshenko in attempt to steal gas transmission system of Ukraine," "Tymoshenko accused Poroshenko in political prosecutions," "Tymoshenko accused Poroshenko in increasing of gas prices," and so on.
Whether Tymoshenko herself contributes to the Kremlin's supposed favouring of her candidacy or the Kremlin simply exploits all avenues for her victory, can not be known. However, the Kremlin clearly sees her presidency as more advantageous than Poroshenko's—particularly since the candidates Moscow was betting on are falling in the polls.
In November 2018, Alexei Venediktov, editor-in-chief of the Russian radio station Eho Moskvy appeared to confirm Kulyk's concerns. He claimed that by holding elections in the pro-Russian territories of Donetsk and Luhansk oblasts, the Kremlin totally violated the Minsk agreements. He stated that with the current government in Ukraine, the conflict in Donbas would never be resolved.
"We can argue who [will] not implement [the Minsk agreements], but who [will] violate them for sure, this is history. I think that it's not the elections in the LNR and DNR which [are] important, but that [Putin] said that with the current government in Ukraine we will not move forward. Taking into consideration [the] presidential campaign, this is a clear sign that Kremlin will support Yuliya Tymoshenko at the presidential elections," writes Venediktov.
He goes on to say that including Tymoshenko in the Russian sanctions list in November 2018 could also increase her chances in the elections. Many in Ukraine have speculated that including her in the sanctions was Russia's attempt to whitewash any possible relation she might have to Moscow.
Tymoshenko's response to accusations
Predictably, Tymoshenko tries her best to distance herself from Moscow. In September 2018, she refuted the accusations in an interview with Radio Svoboda:
"In fact, Moscow protege put this 'candidate from Moscow' [herself] to prison and appointed the current president to the position of the Ministry of Economy in the Yanukovych government. In fact, it is Poroshenko who has business in Russia, not me. That is why I am confident that I will conduct more powerful and more confident policy regarding ending of the war and more powerful policy regarding recovery of our country."
Tymoshenko added that she considers the accusations against her as black PR and compared it to what Paul Manaford did in the US:
"This is just inner political fight. I have been in politics for almost 20 years and my strategy has not changed. I see Ukraine as a part of western civilization, the part of the EU and NATO member. I know for sure that there is our success and security and any black paid technologies would not change it."
Is a potential presidency of Tymoshenko dangerous for Ukraine?
In effect, it's not her suspicious pro-Kremlin tendency that should be considered the most dangerous where Tymoshenko is concerned, rather two other facts—her past and her populism.
The past. Tymoshenko's career has been in the energy sector, which in Ukraine has always been closely related to Russia. In one way or another, Tymoshenko's views have been influenced by that fact. Meantime, her relationships with Russia and with Putin have been shrouded in mystery. For example, an article published in 2012 in lenta-ru, an online Russian media outlet (which managed to resist Russian government censorship until 2014), hinted at a pro-Russian stance for Tymoshenko. In the article, Putin and Tymoshenko were described as having first met in March 2005 during Putin's visit to Kyiv.
Despite the clear anti-Russian stance proclaimed during the Orange Revolution, then Prime Minister Tymoshenko assured Putin that she was ready to support Russian initiatives in the area of economic cooperation. At the time, some speculated that her receptiveness toward the Kremlin could be explained by the criminal prosecution against her in Russia. Those allegations were related to Unified Energy Systems of Ukraine, a company she headed in the 1990s. Moscow had gone so far as to declare her wanted by Interpol. When it came time to testify, she personally travelled to Moscow to do so in Russian court. The next day the case against her was closed.
Ukrainian media have suggested it was in July 2005 that Putin first got Tymoshenko on the hook. A popular story circulated that Tymoshenko was detected by the Russian Federal Security Services (FSB) when she and her husband Oleksandr were detained at the Russian airport Vnukovo attempting to smuggle US$100,000. After confiscating the money and registering the criminal offence she was released, but the FSB opened a special file and since then she has been under a microscope. Many have wondered if Tymoshenko has had to maintain an obligation to the Kremlin following this event …is she indebted to them? …is she afraid of them …is she a friend?
The story was only published in 2012, and by then Tymoshenko's policies had long shifted away from Russia. Much more had changed. Tymoshenko spent two-and-a-half years in prison for controversial gas agreements with Russia concluded during her stint as prime minister. She gained wide support during her incarceration and was released following the Euromaidan Revolution. Nonetheless, questions remain about her would-be Russian sympathies, along with her seeming ambivalence today .
The populism. Tymoshenko is not by far the only candidate who uses populist slogans, however she is considered by VoxUkraine to be the worst. They awarded her first place in their rating of political liars and manipulators. Her favorite slogans were identified as "poverty," "genocide" and "annihilation of people."
Regardless of Tymoshenko's potential links to Russia or her exploitive ways of winning popular support, if she continues to preach the narrative of "peace by any means" through negotiations with Moscow, the consequences to Ukraine may be tragic.
In their analysis of the candidates media outlet Texty writes: "Tymoshenko like many other candidates [goes] to [the] elections under the slogan about peace, because the sociology shows that the war in eastern Ukraine is what worries people the most. However, the key to peace will be not in the hands of Tymoshenko, as she thinks and as [the] Kremlin makes her to think."
Texty notes two potential options that Putin will present to Tymoshenko:
first, appoint someone like Viktor Medvedchuk—the grey cardinal of Ukraine's politics—to the State Security and Defence Council, someone from the FSB to head up the Security Services, and implement a policy of cheap gas by whatever means necessary;
or second, prepare for a full-scale intervention by the Russian forces.
Texty goes on to say that even if Tymoshenko refused to negotiate with the Kremlin, she would be met with strong opposition in the informational field. As a consequence, the temptation to deal with the Kremlin would be weighty.
However, even if she agrees to peace with Russia, it doesn't mean that Russia will not launch a full-scale offensive. Texty concludes that Tymoshenko does not understand the new reality and the ramifications of the war. She is nowhere near ready to organize the country's defences.
In the end, even if her seeming pro-Russian ambivalence—ostensibly created by Ukrainian media—is exaggerated, Tymoshenko's desire to win is never exaggerated. Such an attitude might bring her the results she covets, but can hardly meet the hopes of Ukrainians.