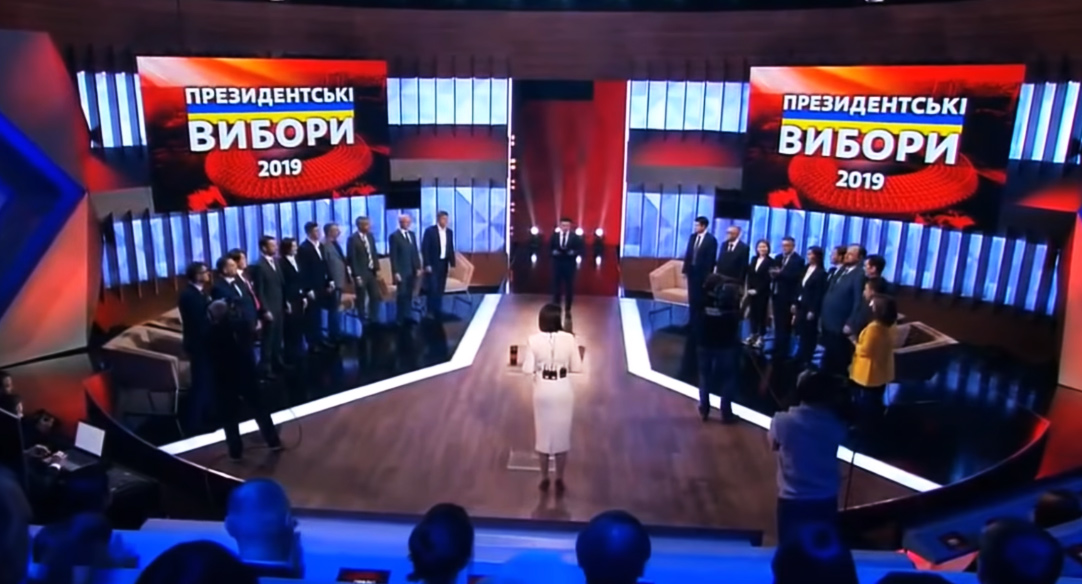 Ukrainian presidential frontrunner, comedian Volodymyr Zelenskyi presenting his team at a TV show on 1+1, TV channel owned by fugitive oligarch Ihor Kolomoyskyi. Screenshot: Youtube/1+1 
Earlier throughout his entire campaign, only several persons gave comments to the press and appeared on TV as members of the team of Volodymyr Zelenskyy while the comedian himself evaded most contacts with the press.
On 18 April, at the evening TV show "Right to Power" on the 1+1 TV channel owned by oligarch Kolomoyskyi, Ukrainian presidential candidate Volodymyr Zelenskyy finally presented his team of 20 potential ministers and presidential aides. The presidential frontrunner didn't mention the positions they could seat, but sight-read the activity areas they are going to oversee and mentioned that they would work in the administration of the would-be president.
Two days before the election runoff, we finally have a longer list of those who will oversee the activity areas of Zelenskyy as a president and who may head the ministries of defense and foreign affairs, secret service (SBU) and defense council (RNBO), as well as who may become the prosecutor general under Zelenskyy.
Here is what we know about the twenty in the order of their presentation at the TV show.
Ruslan Stefanchuk
Stefanchuk's activity field was voiced as "the reform of state and legal institutions." Zelenskyy called him an "ideologue" of his presidential program. Ruslan Stefanchuk is a doctor of law, corresponding member of the Ukrainian Legal Science Academy.
Stefanchuk stated that he got acquainted with Zelenskyy when both were students and played KVN, a Russian TV comic team contest (Zelenskyy is a lawyer by training as well, though he didn't show any knowledge of elementary legal items).
Ivan Bakanov
Zelenskyy presented Ivan Bakanov as "responsible for relations with Verkhovna Rada" and head of the "Servant of the People" party. They knew each other since childhood. In one of his interviews, Bakanov mentioned that he was a prosecutor by his second education and would have no objection to working in a law enforcement body. But he called himself a "team player" and would work "where it is needed."
Bakanov was one of the three persons who accompanied Zelenskyy at his meeting with French President Emmanuel Macron last week.
Starting from 2013, he is a director the "Kvartal 95" and "Studio Kvartal 95" entertainment companies, which both belong to Zelenskyy himself via their founding firm – the Cyprus-registered offshore company "Green Family Ltd." According to media reports, Green Family's managers are Marina Razomova-Georgiu and Bakanov's wife Oksana Lazarenko.
Dmytro Razumkov
"Domestic policy" man in the Zelenskyy team. Political consultant Razumkov has been the person who most often voices messages on behalf of Zelenskyy.
The website of Razumkov's consulting firm says that his specialization is "questions of information and analytical work in the field of domestic and foreign policies of the state, as well as adaptation and application of political technologies to realize strategies and form public opinion and image."
The political career of Dmytro Razumkov started in Yanukovych's Party of Regions (PoR) back in 2006, then-Razumkov, 22, reportedly was a member of the youth wing of the PoR known as "The Young Regions." However, Razumkov himself denied his membership in "The Young Regions," stating that he was a member of PoR:
"I entered the Party of Regions after 2004. I didn't support [pro-Ukrainian president] Viktor Yushchenko. And that's how I got into the Party of Regions. I never was a member of the Young Regions. It's a fake. I entered there because the situation was unacceptable for me in 2004, 2005, and 2006," Razumkov told to TV channel ZiK.
One of the major Ukrainian pollsters, the non-governmental public policy think tank Razumkov Center, is named after the father of Dmytro, President Leonid Kuchma's ally Oleksandr Razumkov, a Soviet-times Komsomol leader in Dnipropetrovsk who worked a few years before his death for the thinktank.
Oleksandr Razumkov's second wife, editor-in-chief of the weekly paper "Dzerkalo Tyzhnia" Yuliya Mostova, is married to politician Anatoliy Hrytsenko, who came fifth in the first round of the presidential elections and whose team member emerged in the team Zelenskyy before the runoff elections.
Oleksandr Danyliuk
Former economy minister (2016-2018) Oleksandr Danyliuk is in charge of "international relations, economics, finance, and banking policies" in the team.
Before his civil service, Danyliuk worked in the international consulting company McKinsey & Company in London and Moscow.
Prior to his ministry work, Danyliuk worked in President Yanukovych's administration as Head of the Coordination Council for implementing economic reforms.
Later Daniliuk was Poroshenko's representative in the Cabinet (2014-2015), deputy head of the presidential administration (2015-2016).
Citing its sources, the Ukrainian online media Liga.net reported that now Danyliuk may become Zelenskyy's foreign minister, but he himself neither confirmed nor refuted the report. He's got no diplomatic education.
Danyliuk declared he would keep intact the Ukrainian course towards the EU at his presentation.
Ruslan Riaboshapka
Riaboshapka's field is "law enforcement and anti-corruption policy," according to Zelenskyy.
In 2010, Riaboshapka became the director of the Bureau for anti-corruption policy issues of the secretariat of the Cabinet of Ministers headed by Yanukovych's close ally Mykola Azarov. In 2011-2013, he was appointed a deputy director of the judicial support department of the secretariat of the same Cabinet.
Before the Revolution of Dignity, Riaboshapka joined Transparency International Ukraine.
After the revolution of dignity, Riaboshapka became a deputy justice minister in 2014 and later in 2016-2017 worked in the National Agency on Corruption Prevention (NAZK).
Halyna Yanchenko
Yanchenko oversees the "anti-corruption policy and digital solutions for the state" in the Zelenskyy team.
She was an analyst in the Anti Corruption Action Center (AntAC) led by Vitalii Shabunin in 2013-2015, later a Kyiv City Council deputy and finally, in 2018-2019, she became Head of civil control council of the Ukrainian top corruption watchdog, NABU.
As Liga.net highlights, "she is married to Viktor Andrusiv, executive director of the [NGO] "Ukrainian Institute of the Future," one of the co-founders of which is Anton Herashchenko – read 'Avakov'" – Herashchenko was an aide of the interior minister Arsen Avakov; both indirectly supported Zelenskyy in the current electoral campaign.
Denys Monastyrskyi
Zelenskyy specified the scope of the interests of Monastyrskyi as "law enforcement agencies."
He was an aide and consultant of Avakov's ally Anton Herashchenko and replaced him in the competitive selection commission of the State Bureau of Investigations.
Serhiy Ionushas
"Judiciary bodies" is the field of Ionushas. He runs the legal firm "Helon" which represented "Kvartal 95" in court.
Ivan Aparshyn
62-year-old retired colonel Aparshyn represents "security and defense" policies for Zelenskyy. Before the first round of the elections, Anatoliy Hrytsenko presented him as his potential minister of defense.
Aparshin held various appointments in the ministry of defense throughout 2005-2014, the time when the Ukrainian army sustained the greatest damage due to its military equipment being massively sold out and its personnel being downsized. In 2014, he ran for parliament for Hrytsenko's Civil Position party, which was too weak to pass the 5% threshold to enter parliament.
Among other surprising things he declared at the presentation was this:
"The state contracts and funding of the Ministry of Defense will be open to the maximum. You will be able to real-time control the efficiency of usage of every kopiyka [=cent], which you allocate to defense and security," said Aparshin.
Iryna Venediktova
Venediktova is responsible for "reform of the judicial system" in the team. The chairperson of the department of civil-legal subjects of the legal faculty of the Kharkiv National University, she failed to pass an exam in the competition for the position of a judge of the court of cassation included in the Supreme Court.
According to her income and asset declaration, she and her family own a house with a total area of 387 square meters, five cars among which Porsche Cayenne, Mazda CX-7, and Toyota Camry. She personally also owns two watches – Hublot worth 115,000 UAH (about $4,500), and Rolex worth 100,000 UAH (about $3,700), Ukrainska Pravda highlights.
Venediktova promised to quickly fill all vacancies in courts and reset the Highest Qualification Commission for Judges.
Danylo Hetmantsev
Hetmantsev's field is "economics, finance, and taxation." He is a professor of the finance law department of the Kyiv National University, honorable president of the legal company Jurimex. In 2016 Hetmantsev competed for a position in the Supreme Court but failed to be qualified.
Hetmantsev is a co-founder of the "M.S.L" company which operated national lotteries and is now sanctioned by the Security and Defense Council.
Viktoria Strakhova
Strakhova is in charge of banking. She participated in the process of nationalizing Privatbank, then worked as a corporative secretary of nationalized Privatbank from January 2017. In summer 2017, she was dismissed with a scandal from the bank since she decided, according to Liga.net, to disclose the hidden details of the nationalization process.
Mykhailo Fedorov
Zelenskyy's "head of the digital sphere." In the team, he's responsible for building the biggest media pool among Ukrainian politicians – Zelenskyy's Telegram channel, Instagram community, and a network of YouTube channels.
Oleksandr Merezhko
"International relations and democracy" is a field by the doctor in law, Merezhko. In 2017-2018, he was a professor of the University of the State Fiscal Service. Merezhko was a participant of the contest for a position in the Appeals Chamber of the Highest Anti-Corruption Court.
Oleh Bondarenko
Bondarenko oversees the "environmental policy." He is a head of the All-Ukrainian organization Green Fund. The site of the organization states that Bondarenko has 25 years of legal experience.
One of the board members of Green Fund is a former judge of Holosiyivskyi district court in Kyiv, Maksym Frolov, who was dismissed due to violating his sworn oath.
Maryna Bardina
Bardina's field is "equal rights and opportunities for women and men." She is an aide of MP Serhiy Leshchenko, a member of the "Euro-Optimists" inter-factional group and a long-time critic of Poroshenko while being a member of Poroshenko Bloc faction.
Serhiy Kalchenko
Kalchenko is Zelenskyy's expert on "the electoral legislation of European standards in matters of human rights" and his envoy in the Central Electoral Commission. Associated partner in the legal company Hillmont Partners.
Andriy Herus
Andriy Herus is responsible for "energy, housing, and communal services, and antimonopoly regulation" in the Zelenskyy team. Herus is the former member of state energy commission NKRKP and of the former director of the investment group Concorde Capital. For now, he heads the Association of Consumers of Energy and Communal Services.
Serhiy Babak
"Education and science" is Babak's field. He is a director of educational programs of the NGO Ukrainian Institute of the Future. A co-founder of the NGO is MP Anton Herashchenko, an ally of interior minister Avakov.
During the electoral campaign, he called "absolutely real" the populistic miscalculations of an HQ expert who stated in one of the campaign's videos that $200,000 will be enough to raise teachers' salaries to $4,000 a month. With 450,000 teachers in Ukraine, the real budgetary costs would be $1.8 bn a month, or over $21.5 bn a year. Later, representatives of Zelenskyy admitted that their calculations were wrong.
Yevhen Komarovskyi
Former doctor, now popular businessman, blogger and TV host Yevhen Komarovskyi is in charge of "medicine" in the team Zelenskyy. Komarovskyi is a harsh critic of incumbent acting health minister Uliana Suprun.
In August 2018, Komarovskyi said in an interview with one of TV channels that in order to "stop the war in the Donbas" he was ready to go fishing together with Russian President Vladimir Putin to agree there on the matter.
---
Presenting his team, Zelenskyy noted that the list of his 20 experts is not exhaustive.
In response to the question of why he does not speak to the press, Zelenskyy said: "I was not hiding – this is part of my strategy. I can't go where people from the old system go. It's better to be a pig in a poke than a wolf in sheep's clothing skin."
So, if Zelenskyy is elected and the team he presented will come to power, the future of a nation will be in hands of a comedian with zero expertise in everything and his offshore partner, several university professors who failed to become judges, a carpet colonel who could be involved in plundering of the army which totally destroyed its combat efficiency as of 2014, a pro-Russian doctor, several lawyers and anti-corruption activists, various persons connected to Yanukovych's Party of Regions and current minister of interior Arsen Avakov.
It is hard to imagine any glittering future for Ukraine with such a team.
Meanwhile, most of the fugitive members of the Party of Regions declared their support to Zelenskyy as well as many Russian politicians and members of Russia's occupation administrations in Luhansk and Donetsk.
Plus, we don't know all the shadow members of the team Zelenskyy. Only one such person is known for sure, Andriy Bohdan, a lawyer of oligarch Kolomoyskyi and former deputy minister of the Cabinet of Minister in the Azarov times.
Tags: 2019 presidential elections in Ukraine, Volodymyr Zelenskyy (Zelenskyi / Zelensky / Zelenskiy)