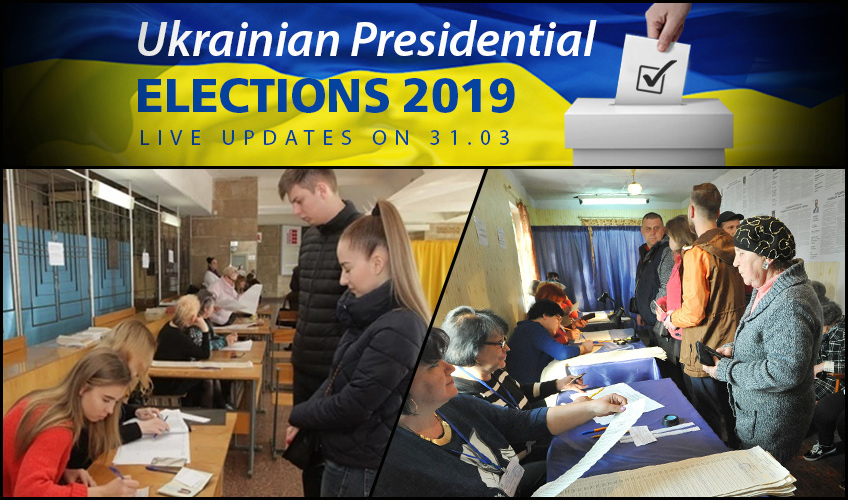 2019 Ukrainian presidential elections. Photos: UkrInform, collage: Euromaidan Press 
Today on 31 March Ukraine elects its President. The record-long ballot paper lists 39 candidates, though
according to the opinion polls
the top three candidates are incumbent President Petro Poroshenko, former Prime Minister Yulia Tymoshenko, and comedian Volodymyr Zelenskyy.
34,544,993 people are eligible to vote in the elections, however, about 12% – most of the voters who reside in the Russia-occupied territories of Crimea and parts of the East-Ukrainian Luhansk and Donetsk oblasts – won't be able to participate in the elections.
The Central Electoral Commission (CEC) has registered a record number of 139 Ukrainian non-governmental organizations as observers. Plus, a total of 2,344 international observers from 17 countries and 19 organizations are also monitoring the electoral process today.
The voting has started at 08:00 and lasted until 20:00. The turnout has been about 63%. According to exit polls, comedian Zelenskyy takes lead with about 30%, his rival in the run-off will be incumbent President Poroshenko, the third leader, former PM Tymoshenko, doesn't get into the second round.
Read the follow-up article: Comedian to face incumbent President in run-off and other takeaways of Ukrainian elections
23:51
The voting process has been completed without systematic violations, says Head of CEC Tetiana Slipachuk.
---
23:22
Updated results of National exit poll (data by 20:00): Zelenskyy 30.6%; Poroshenko 17.8%; Tymoshenko 14.2%, Boyko 9.7%, Hrytsenko 7.1%
---
23:11
More reactions of the top candidates:
"There are many exit polls, the winner is one," joked Zelenskyy hinting on Poroshenko's slogan about candidates and the president.
"The exit polls are paid-for, manipulative," Tymoshenko didn't believe the results.
"The first of April is the Day of Laughter. We'll laugh and that's it. From 2 April, we move resolutely forward since it's no time for jokes anymore," said Petro Poroshenko.
Meanwhile, the Central Electoral Commission begins counting the e-votes:
First votes counted (0,10%, allegedly from the foreign electoral district, Poroshenko goes first, however, the figure diesn't show anything so far) via @radiosvoboda @liveuamap pic.twitter.com/UepPZwu6xT

— Euromaidan Press (@EuromaidanPress) March 31, 2019
---
21:02
Turnout was 66,8% as of 20:00 according to data from 6 regions, however, the final figure will differ when CEC will receive and process the data from all regions.
---
20:59
Reactions of the three leaders to the results of exit polls:
Incumbent President @poroshenko says, "Today you Ukrainians, we Ukrainians have broken the Russian scenario for the first round, because you [Russia] would certainly like to see not Poroshenko in the second round." pic.twitter.com/G1M3hrzH1A

— Euromaidan Press (@EuromaidanPress) March 31, 2019
Initial reaction from #Zelenskyy after first exit polls show him in the lead with over 30% of votes. #Ukraine #UkraineElection #UkraineElections2019 pic.twitter.com/xoPb1cwCGY

— Radio Free Europe/Radio Liberty (@RFERL) March 31, 2019
Tymoshenko's party publishes what it calls an exit poll conducted by Tymoshenko election team, which places Tymoshenko second https://t.co/ItaYTIein9

— Euromaidan Press (@EuromaidanPress) March 31, 2019
---
20:00
Exit polls:
Exit poll by SOCIS (data as of 19:00):
29,25% Zelenskyy
19,19% Poroshenko
13,75% Tymoshenko
9,24% Boyko
7,91% Hrytsenko
6,74% Smeshko
4,63 Lyashko pic.twitter.com/j38P54ooKN

— Euromaidan Press (@EuromaidanPress) March 31, 2019
.@dem_initiatives exit poll's data as of 18:00:
30.4% Zelenskyy
17,8% Poroshenko
14,2 Tymoshenko
9,8 Boyko
7,1% Hrytsenko
6,4% Smeshko
4,8% Lyashko
4,0% Vilkul
1,8% Koshulynskyi

Others: less than 1% https://t.co/tIaWzUBRfv pic.twitter.com/1k1cQupGWl

— Euromaidan Press (@EuromaidanPress) March 31, 2019
Exit poll by TSN news show on 1+1 TV channel by oligarch Kolomoyski (linked to Zelenskyy):
– Zelenskyy: 30,1%
– Poroshenko: 18,5%
– Tymoshenko: 14,0%
– Boyko: 9,1%
– Hrytsenko: 7,6%
– Smeshko: 6,6%
– Lyashko:: 5,0%
– Vilkul: 3,7%
– Koshulynskyi: 1,9%

— Euromaidan Press (@EuromaidanPress) March 31, 2019
---
19:24
As of 19:00, National Police received 1768 complaints about suspected violations related to the voting process, and opened 25 criminal cases and 15 administrative cases. The alleged violations were: illegal campaigning (122), taking photos of ballot papers (109), bribing of voters (40), damaging a ballot (31), fake bomb threats (18), attempts to carry a ballot paper out of the polling station (11).
---
19:13
In Kramatorsk, Donetsk Oblast police have found "several hundred" fake ballots in the car it checked responding to a fake bomb threat. The papers were reportedly marked for one of the candidates. No name of the candidate was reported, however, the photos shared by police show it was Yulia Tymoshenko.
---
Phone threats on bombs at 9 polling stations in the city of Dnipro emerged to be fake, National Police reports, a criminal case has been opened.
---
18:45
The elections took place in Antarctica at the Ukrainian Academic Vernadsky Station, 34 Ukrainian citizens voted – 11 of them are members of the 23rd Ukrainian Antarctic expedition, other 23 are the seasonal team of researchers. The originals of the ballot papers will be handed over to Ukraine only amid the rotation of the expedition.
---
18:27
CEC states that cyber-attacks of any kind on their data systems can't influence the results of the 2019 presidential elections since the outcome will be determined according to paper protocols of the local commissions.
CEC didn't record any systematic violations during the voting.
---
17:46
Iryna Bekeshkina, director of one of the major Ukrainian pollsters – the Democratic Initiatives Fund – warns about possible rigging of exit polls later today. According to her, the results of the exit poll conducted by major pollsters are similar for now, though she has no right to publish them until the end o the voting.
---
17:33
#Kherson resident, 100-year-old Ms. Zhytniak voted for the first time in 1937 as a schoolgirl, in 1947 she was a member of a local commission. In 2019 she came to chose the future of hers and of her son https://t.co/wpomU10QtY pic.twitter.com/k0TvqdRG5a

— Euromaidan Press (@EuromaidanPress) March 31, 2019
---
17:19
A group of people emerged near the CEC, installed several tents, Tymoshenko's party MPs says the tents will be their public reception offices https://t.co/YFeLeKalUZ

— Euromaidan Press (@EuromaidanPress) March 31, 2019
Radio Svoboda tried to talk to the young men who have gathered near the CEC, they say they are just taking a strolling around there and that they are not related to any political party and have no plans to do something.
---
17:02
Updated turnout figures, as reported by the Central Electoral Commission (as of 15:00):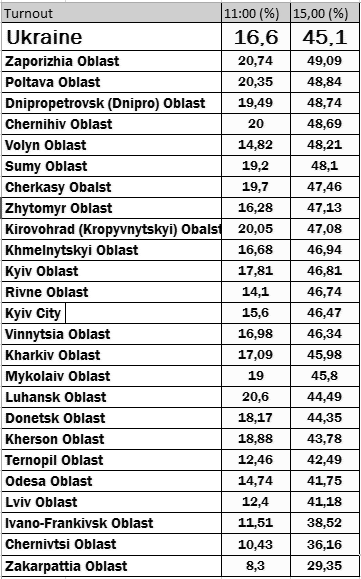 ---
15:59
Ukrainian Voters' Committee NGO report on insignificant violations as of 12:00:
illegal campaigning – UVC observers recorded cases in most regions of Ukraine when electoral commission members wore badges branded in colors of the campaign of one of the candidates [Zelenskyy, as many photographs on social networks show]
Issues with DVKs [local electoral mcommissions] – three of the commissions opened later.
Taking a photograph of ballot papers – several such cases were recorded by UVC observers.
---
15:24
Turnout as of 15:00: 43,86%; Not all regions are listed so far, known turnout leaders for now are Dnipropetrovsk Oblast (45,99%), Kharkiv Oblast (44,61%), Donetsk Oblast (44,54%), Vinnytsia Oblast (43,24%) – CEC.
---
Elections in Turkey:
---
15:05
One of the pollsters conducting an exit-poll, KMIS, says that their survey continues "in a routine mode," "As of now, we saw no violations. The elections are ongoing pretty actively," UNIAN cites KMIS.
---
14:57
Elections in the front-line town of Avdiivka, Donetsk Oblast:
---
14:11
CEC: The polling station where the voting started earlier than anywhere has already been closed, the turnout was 7,2% – 125 out of 1,737 voters came to the elections.
---
---
13:41
No significant violations have been recorded in Kharkiv Oblast on the election day – Head of Kharkiv Regional administration https://t.co/uOSluZxHWv

— Euromaidan Press (@EuromaidanPress) March 31, 2019
Ukraine, presidential election:

Turnout 11:00 local time

2019: 16.1%
2014: 17.6%#UkraineElections2019 pic.twitter.com/DhUeDsu3iD

— SMDT (@SMDT_EMDS) March 31, 2019
#Russia news already calling #UkraineElections2019 "не действительным» (not valid) pic.twitter.com/zBIBCdd9xd

— Mark Rachkevych (@chitowntoktown) March 31, 2019
---
13:23
The National Police report: as of 13:00 police have received 384 reports linked to the electoral process, 4 criminal cases opened. Most of the violations are illegal campaigning, bribing voters, damaging a ballot paper, taking photographs of the ballots.
---
12:25
As of 11:00, the turnout of the voters was 16,32%.
---
As of 12:00, top candidates have already cast their votes.
---
Earlier the Security Service of Ukraine reported on several attacks on the servers of the Central Electoral Commission, however, this morning the Commission has reported that the website is working fine, the servers are up.
The first polling station to open at the 2019 presidential elections was the Australian one in Canberra, which started working on March 30 at 23:00 EET (Kyiv time), as o 11:00 EET it has already been closed.
According to CEC, Ukrainians are voting in 72 countries. The latest voters will be the Ukrainians in San Francisco, where the voting will last until 06:00 EET of 1 April.
---