5 years ago, during the annexation of Crimea, the Russian Federation extensively used "human shields" to secure occupation soldiers from possible resistance. However, Russia has not yet been brought to justice for this war crime. For two years, Ukrainian human rights activists have been reviewing, decoding, and analyzing hundreds of hours of video taken by eyewitnesses in the Crimea, interviewing witnesses, and gathering evidence. Finally, this year, the information on the use of "human shields" by Russian troops in Crimea in 2014 was sent to the International Criminal Court.
The concept of "human shields" in international law
International humanitarian law prohibits the use of civilians for military purposes. The use of "human shields," when warring sides use unarmed civilians as a living barrier between themselves and the enemy, is classified as a war crime. Importantly, international war crimes do not have an expiration date. A person who has committed a war crime can be prosecuted even after many years.
Before the Crimean events of 2014, the tactics of "human shields" were used in a number of conflicts. Particularly, in the Yugoslavia war, also by ISIS soldiers who kept children with them while advancing, and even by some Israeli soldiers.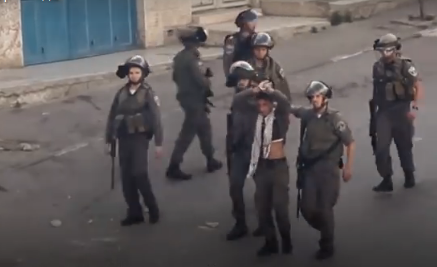 However, there is still no precedent of prosecution for this kind of war crimes. In the case of former Yugoslavia, "human shields" were qualified under other articles of international law with sentences from 10 to 40 years in prison.
"No one within the limits of modern criminal tribunals has been held accountable for the use of 'human shields.' The lack of relevant international judicial practice makes it harder for us to work. But what we do together now will form the international judicial practice. We hope that next year we will already have the first results of our reports to the International Criminal Court in the form of an investigation into these crimes," Vitaliy Nabukhotny, lawyer of the Regional Center for Human Rights, told RFE/RL.
Russia's use of "human shields" in Crimea
When occupying Crimea in 2014, Russian troops used the local population to support themselves many times. With the help of the civilian population, they not only protected themselves from the fire of Ukrainian troops but also tried to legitimize their presence, referring to the support of the Crimeans. Soldiers' mothers, "Crimean self-defense," Russian "Cossacks," priests of the Ukrainian Orthodox Church of Moscow Patriarchate, and pro-Russian activists waving Russian flags — they all played the role of "supporters" who were seizing Ukrainian military bases using tractors or other vehicles to break the gates. After the civilians, Russian troops entered Ukrainian military bases, changed the flags, and negotiated with Ukrainian soldiers to withdraw from the Ukrainian army or leave the base.
Ukrainian soldiers had no command to protect themselves and shoot. The decision of the Ukrainian leadership of that time not to protect Crimea with guns is still highly disputable. Only 5,000 Ukrainian troops were capable of fighting at the moment in the whole of Ukraine. Some politicians, like Anatoliy Hrytsenko, former Minister of Defense and presidential candidate, say that part of these capable troops had to be sent to Crimea already when some 200 "green men" were seizing the Crimean parliament and government. Others think it was quite risky since no one else would have been there to stand at the border with Russia.
Russian troops used "human shields" mostly from 16 to 25 March 2014. Almost all Ukrainian military bases on the peninsula were seized in those days. According to human rights activists, at least ten Ukraine's military bases were seized with the involvement of no less than a thousand civilians.
Notable was the seizure of the naval base in Novoozerne. At least 300 people participated in the blockade of the base under control of 10-15 armed Russian soldiers.
Seizure of Ukraine's military base in Novoozerne.
Viktor Shmyganovskyi, the head of the naval Lyceum in Odesa, was an eyewitness of these events.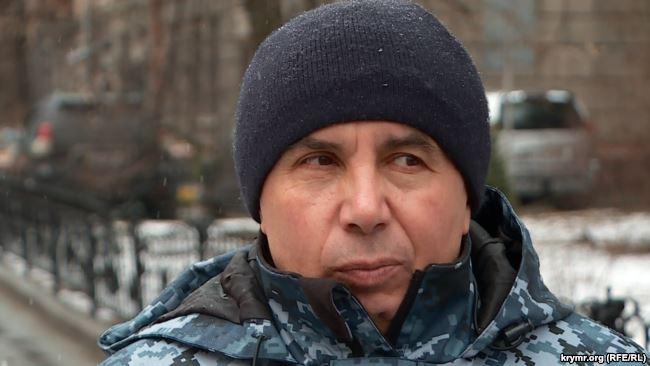 During Russia's annexation of Crimea, he was deputy commander of the Southern Naval Base, located in Novoozerne. According to him, pro-Russian activists with Russian flags acted as a well-organized single team. They, as he says, were led by officers of the Black Sea Fleet of Russia:
"'Green men' came on 1 March to us in Novoozerne. They openly announced that they are the military of the Russian Federation and their goal is to help us protect military bases from radical Crimean Tatars. We answered that Crimean Tatars are serving with us and that we do not need any protection. On the next day, the soldiers arrived with civilians who began to incline us to break our oath. They acted very coherently. It was evident that they were acting not by themselves but on orders."
A priest of the Ukrainian Orthodox Church under the Moscow Patriarchate also took part in the seizure of the naval base. He urged the Ukrainian military to humility and said that they "should not fight with their brothers." Children and elderly people were also involved.
A similar scenario took place in other parts of the Crimea. In Novofedorivka, for example, dozens of civilians insulted the Ukrainian military and demanded "to clear out". In Sevastopol, civilians and "Cossacks," supported by Russia's military, aggressively seized the headquarters of the Ukrainian Navy.
Putin confirmed the use of "human shields"
Not only did Russian President Vladimir Putin not deny the use of such a criminal practice, he confirmed that Russian soldiers "will stand behind people." He said this on 4 March 2014, at a press conference in Novo-Ogariovo when the use of the practice was only starting:
"Let someone among Ukrainian servicemen try to shoot at their own people, behind whom we will stand. Let them try to shoot women and children. And I will look at those who give such an order," Putin said.
A fragment from the press conference in Novo-Ogariovo when Putin said the written above quote (in Russian).
Currently, the Investigators of the Crimean Prosecutor's office (located in Kyiv now) are conducting a pre-trial investigation under Article 438 of the Criminal Code of Ukraine (violation of the laws and customs of war). The article envisions sentences from eight years up to life imprisonment. With the help of the International Criminal Court, human rights activists hope to bring the top officials of Russia, which are now out of the reach of the Ukrainian investigation, to justice.