The past year has seen many arrivals at the Lviv Military Hospital, where the soldiers are hospitalized for further surgery, medical treatment and rehabilitation therapy. They come and go, some stay longer, others go home as soon as possible, but the wards are always more or less full… All the soldiers have suffered moderate to severe physical and psychological wounds and trauma. Many have undergone amputation surgery. Moreover, there has been a significant increase in cardiac and oncological diseases among the war veterans…
This project is a private initiative under the auspices of Kryla Volunteer Organization .
Your generous gift is used to provide direct financial assistance to wounded soldiers and help purchase much-needed hospital and military materials and supplies.
For details on how to donate, please see end of this report.
Our funds and supplies were distributed as follows:
Lvivsky Lytsar (Knight of Lviv) "Львівький Лицар"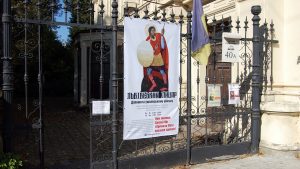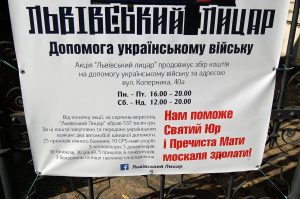 Lvivsky Lytsar is a public organization created in 2014, which purchases and dispatches specialized military equipment and other necessary supplies to specific military units deployed in eastern Ukraine. The funds were delivered to Andriy Saliuk, coordinator of the organization.
Address: 40 Kopernika Str., Lviv
Stanyslav "Stas" Antropov
Although he had been diagnosed with severe hepatitis C, Stas Antropov decided that he couldn't just sit home, so he volunteered for the front where he served as reconnaissance officer with the 394th Battalion.
Stas returned home to Kyiv unscathed, but little did he know that another enemy was lurking in his body – metastatic thyroid cancer. In spring of 2016, Stas began his second fight… a fight that requires thousands of dollars, radiotherapy and constant treatment.
Roman Ivaniv (volunteer)
Roman from Lviv received supplies and several donations in order to purchase much-needed equipment that he supervised and delivered personally to military units stationed on the front lines. The supplies included medicine, school necessities and light military equipment.
Our donations were used to purchase the following items: DJI Phantom 3 Intelligent Flight battery for drones, small artillery tracking device used together with Armiya SOS maps, etc.
Although the Ukrainian Army is now more or less well-equipped, well-clothed and well-fed, the Ministry of Defense lacks funds or means to provide certain items to ameliorate daily life in the war zone. Therefore, Ukrainian and foreign volunteer organizations continue to help the soldiers deployed on the front lines.
Kostiantyn Shkapoyed
Hero of Ukraine, Kostiantyn Shkapoyed is from Koblevo, Mykolayiv Oblast. He has 4 children and 3 grandchildren.
On May 2, 2014, Kostya's friend was killed by pro-Russian gangsters in Odesa. Kostia packed his bags and joined the 34th Battalion of the 57th Separate Motorized Infantry Brigade.
Kostya was seriously wounded in the head on November 30, 2017. He was immediately operated on at Pokrovsk Mobile Hospital, then by specialists at Mechnikov Hospital in Dnipro. His condition was diagnosed as critical.
Today, after months and months of rehab, Kostya has started walking, talking and even reading simple stories… but the road to recovery is still long and costly. Iryna Shevchenko, his devoted wife, left her job and dedicates all her time and love to her husband.
Serhiy Zahasailo
Serhiy went to war on April 15, 2014, serving as sergeant in the 80th Separate Airborne Brigade.
On May 24, 2014, his unit was under heavy attack – shelling from heavy artillery and mortars – at Kostiantynivka, near the town of Sloviansk, Donetsk Oblast. A mortar shell exploded near Serhiy, who was hit by shell fragments as he was covering the men behind him.
The doctors told his mother Alla that Serhiy had a 2% chance of survival. Serhiy has undergone months of rehab and 14 operations, the last one at Lviv Military Hospital on June 12, 2018, when doctors removed 2 bone fragments (2 cm and 1.5 cm in diameter) from the parietal lobe of the brain, treated hydrocephalus and performed surgery on his right soldier.
Serhiy and his sweetheart Daryna got married on August 12, 2017, but both of them know that the path to recovery will be long and difficult. However, Serhiy smiles and says: "Life is already good – I'm alive, so it can only get better!"
If you would like to honour and support our wounded soldiers, please consider donating to our private initiative.  Our assistance is ongoing … as long as the war continues in Ukraine, the soldiers and volunteers need our help.  Thank you!
In Ukraine
To donate, please contact: Christine Eliashevsky-Chraibi (Lviv):  +38 0963935924
e-mail: [email protected]
 In France:
Please send your donations and your e-mail to my address (please specify HUHS):
Christine Chraibi, 5 quai du Maroc, 68330 Huningue, France
e-mail: [email protected]
In Canada and US:
Please send your donation and your e-mail address to my sister's address (please specify HUHS):
Lydia Replansky, 25 Sparrow Way, Ottawa, ON, K1V 9H4, Canada
Tel: 613. 738. 0849 / e-mail: [email protected]
Please note:  Cheques must be payable to Christine Chraibi (France) or Lydia Replansky (Canada/USA). If you reside outside Ukraine, we have set up a transparent and direct transfer system that includes no commissions or logistics fees. Unfortunately, we are not able to issue income tax receipts for your donations.  A full report with photos will be published and emailed after all the funds have been duly distributed.
Thank you!                                                                           Дякуємо!
Slava Ukraini! Heroyam Slava!                                          Слава Україні! Героям Слава!