This project is run as a private initiative under the auspices of the KRYLA Ukrainian Volunteer Association [http://kryla.org.ua/].
Your generous gift is used to provide direct financial assistance to wounded ATO soldiers and to help purchase much-needed hospital materials and supplies. We work closely with the Lviv Military Hospital.
The soldiers that we visited signed affidavits stating that they received financial assistance.  We also have all the receipts for purchased goods.
Many soldiers have been transferred from the Lviv Military Hospital to Truskavets (a Carpathian mountain resort) for rehabilitation treatment. There are currently 50 soldiers hospitalized at the Lviv Military Hospital. Most of them have suffered severe physical and psychological wounds and traumas. Many have undergone amputation surgery.
Our funds and your donations will be coordinated in Lviv by Vasyl Halamai, Maidan civil activist, currently employed at Lviv Social Services (tel: +380 0976895445).
For details on how to donate, please see end of this report.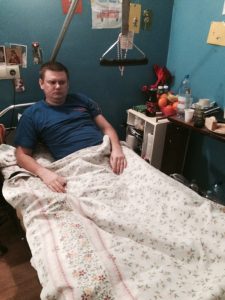 Volodymyr Kuta – ATO soldier, 24th Brigade. Married with 2 young children, ages 4 and 8. Before mobilization, Volodymyr worked as an electrician at Ukrtelecom. On January 19, during a mortar attack, he rescued two wounded comrades from the battlefield and carried them to safety to a dugout. He then ran towards a military shelter where there was more space. He was not able to complete those 5 meters, as a mine exploded nearby, shattering his leg, tearing apart muscles, bones, nerves and blood vessels.  Through sheer coincidence, an emergency ambulance was stationed 10 km from the 31st checkpoint where he lay wounded. But it took the ambulance 20 hours to get to the Kharkiv hospital and surgeons there were not able to save his leg.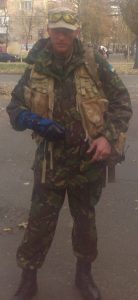 Ruslan Kornutych –  Aidar Battalion.  Father of two children. Ruslan suffered a severe concussion   (acute decrease in peripheral vision) due to an explosion.  He was hospitalized in Kyiv and will require surgery on both eyes. One eye was operated at the end of April 2015.
Ruslan's words on FB: "I'd like to thank you all for your moral support, for your humanity …. and your generosity! You are REAL PEOPLE helping me to get back to a normal life. God is with us! I bow down before you! My heart will always be close to yours! SLAVA UKRAINI!!!!!!!!"
Andriy Melnyk (with volunteer Vasyl Halamai) – ATO soldier. Andriy was wounded in the abdomen and the bullets damaged the intestinal tract. We provided him with financial assistance and special compression stockings.
Oleh Shevtsiv – ATO soldier. Oleh has a mobility disability. He was seriously wounded by a mortar shell explosion..  The flesh of his buttocks was torn and his leg suffered severe damage. The leg was placed in an Ilizarov apparatus.
Vasyl Shevchenko – ATO soldier. Vasyl lost a foot in a mine explosion. He is a wheelchair user.
Lviv volunteers deliver books,  journals and magazines to Lviv Military Hospital
If you would like to honour and support our wounded soldiers, please consider donating to our private initiative.  Our assistance is ongoing … as long as the war continues in Ukraine, our soldiers and volunteers need our help.  Thank you!
In Ukraine
To donate, please contact: Christine Eliashevsky-Chraibi (Lviv):  +38 0963935924
e-mail: [email protected]
 In France:
Please send your donations and your e-mail to my address (please specify HUHS):
Christine Chraibi
5 quai du Maroc
68330 Huningue
e-mail: [email protected]
In Canada and US:
Please send your donation and your e-mail address to my sister's address (please specify HUHS):
Lydia Replansky
25 Sparrow Way
Ottawa, Ont.
K1V 9H4
Tel: 613. 738. 0849 / e-mail: [email protected]
Please note:  Cheques must be payable to Christine Chraibi (France) or Lydia Replansky (Canada/USA). If you reside outside Ukraine, we have set up a transparent transfer system that includes no commissions or logistics fees. Unfortunately, we are not able to issue income tax receipts for your donations.  A full report with photos will be published and emailed after each major purchase and/or aid delivery.
Thank you!
Slava Ukraini! Heroyam Slava!
Дякуємо!
Слава Україні! Героям Слава!