The war in Ukraine is well into its third year, and has taken more than 10,000 lives, left thousands maimed, physically scarred and psychologically traumatized, and forced over one million refugees to leave their homes in Crimea and the Donbas. Without the constant presence and assistance of Ukraine's volunteers (both military and civilian), and a strong and vibrant civil society born of the Revolution of Dignity in 2014, the Ukrainian army, systematically dismantled during 25 years of independence and completely ransacked by the previous regime, would have been immediately annihilated by the first invading Russian troops.
The war in Ukraine is no longer regularly reported in western media; when it is, the focus is generally on military activity or the breaking of the Minsk agreements. What is often neglected is the network of civil society volunteers that supply and equip Ukraine's troops out on the frontlines. Since the Revolution of Dignity of 2013-14, Ukrainians have realized that they need to use their own initiative, work outside state structures, and rely on their own resources in order to effect any kind of change or attain their goals. Thus, hundreds of volunteer groups continue helping the army and villages located in the "grey zone".
Roman Ivaniv from Lviv (Western Ukraine) is one of them. He and his photographer friend Juan Mora, recently returned from the conflict area. We met in a cozy café in Lviv where Roman and Juan talked about their experiences, emotions and the future.
Roman, first tell us something about yourself and your voluntary work in general…
I'm 35, an ordinary citizen living and working in Lviv. Maidan changed everything; I was there as a volunteer three times, twice before the killings on Instytutska and once after. I also took an active part in organizing the Maidan in Lviv and taking charge of security issues after the "Night of Anger" in the city.
I launched my organization "Virni Narodu" (Loyal to the Nation) just after Sloviansk was invaded by Russian troops in summer 2014 (the town was liberated by Ukrainian forces on July 5, 2015-Ed.). My first mission to eastern Ukraine was on April 1, 2015; I accompanied the Lviv Medical Brigade that travelled to the front every month.
I've completed 25 missions in all, about one per month. We returned from our last trip on May 7, 2017, after visiting soldiers and civilians in Avdiyivka and the village of Tonenke. About 15,000 people live in Avdiyivka now, down from 36,000 before the war.
What about you, Juan?
I'm 42, from Spain. I arrived in Ukraine as a tourist in 2010, fell in love with the country and people and stayed.  I work as a freelance graphic designer, but photography is my passion. I was on the Maidan from February 23 to March 1, basically as a volunteer and photographer. I stayed at the October Palace with many other guys from all over Ukraine.
I've travelled with Roman twice, once in August 2016 and then again in May 2017.
Roman, Juan, tell us briefly who you visited during your last mission, and your general impressions.
We work with the 53rd Brigade, Pravy Sektor and the 80th Brigade. Sorry, I can't name the battalions or their exact position as that will put them in danger. We also bring aid to the civilian population living in the area. I'm permanently in touch with the soldiers so I can always find out what they actually need…
During our last trip, we managed to cover 75% of their needs; in April – 100%, but that's ALL thanks to donations from Ukrainian friends and foreign supporters, gifts, and loyal followers.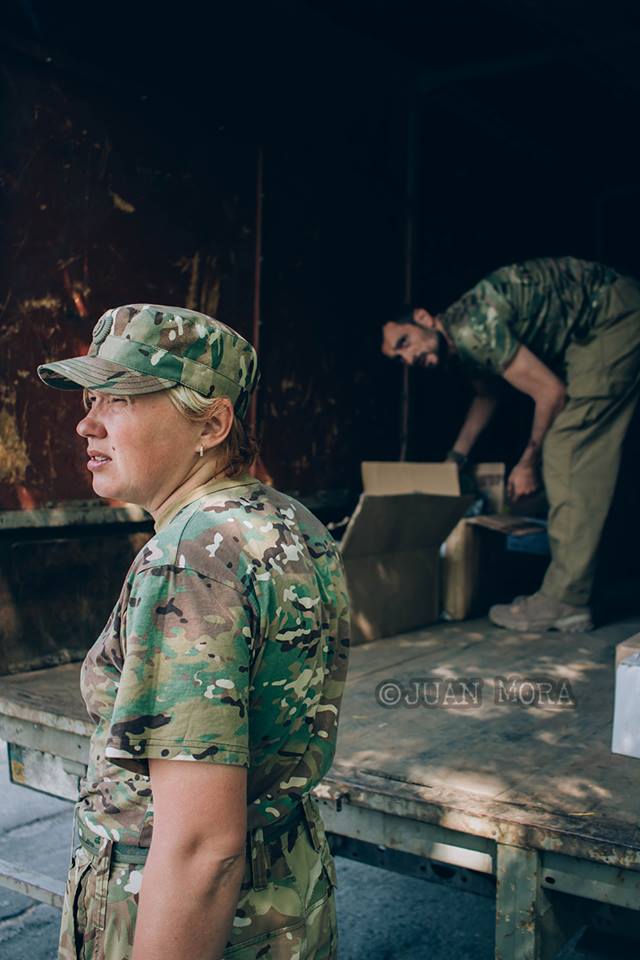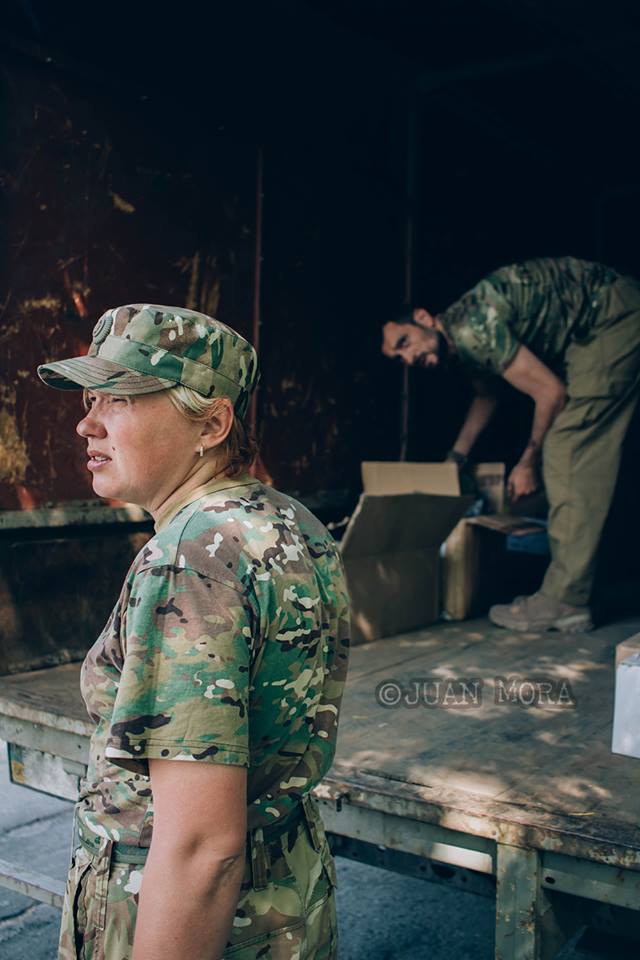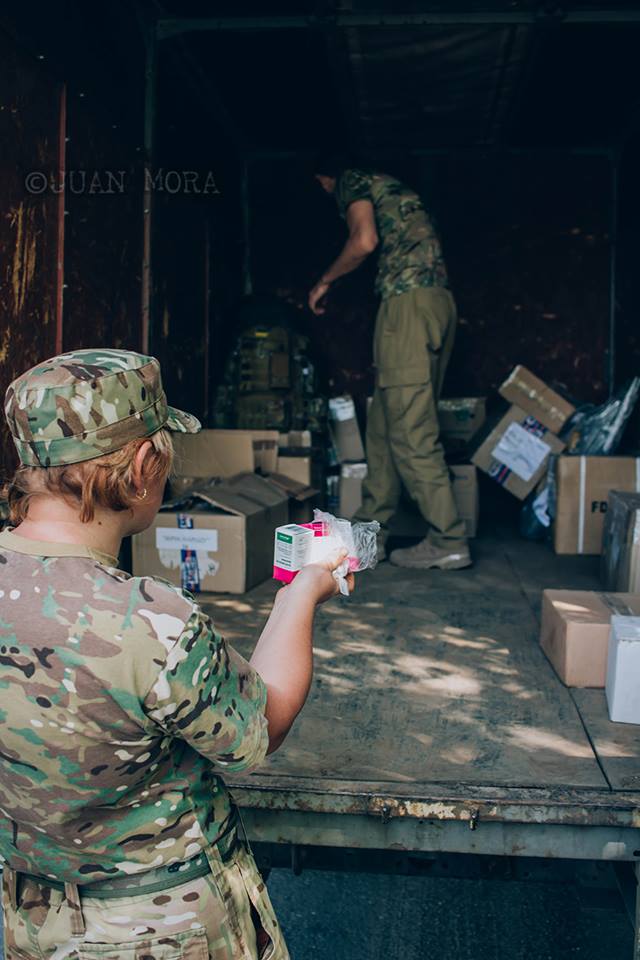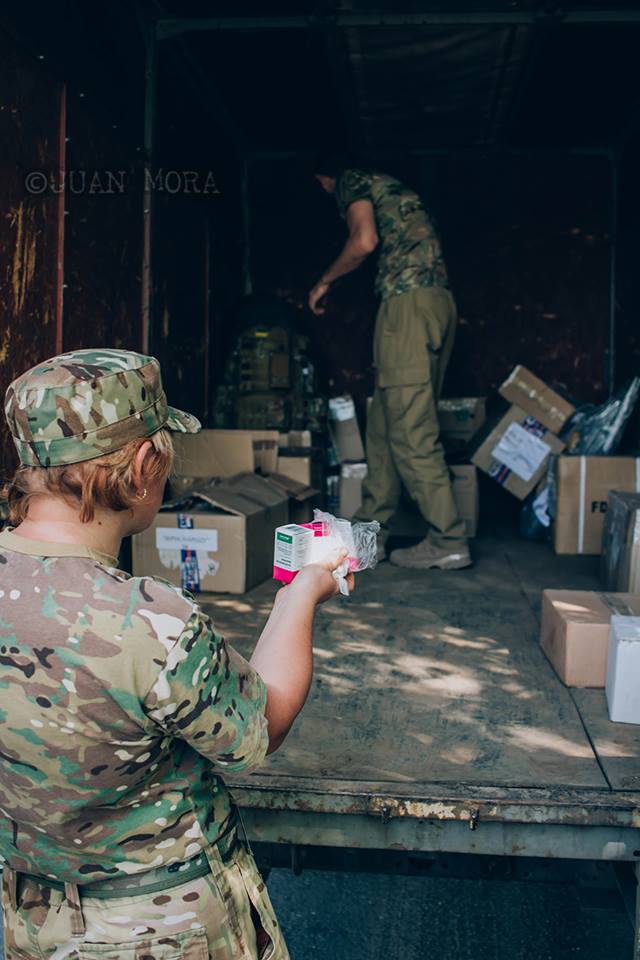 It's very, very difficult to get around in the grey zone unless you're willing to pay an outrageous price for a taxi. Marshrutkas and buses have no schedules, so you just hang out and hope for the best.
The soldier's morale is generally high, but there are many problems related to alcohol and boredom – sitting in trenches all day and night is not everyone's idea of war – fatigue, psychological trauma and restlessness. The troops on the front lines are visibly bored, the agreements made in Minsk prevent them from firing upon or assaulting the "separatist" positions – constant shelling from the Russian and "separatist" forces are an ever-present reminder that these agreements represent a ceasefire in name only. The troops are frustrated at their inability to act, which both adds to their indiscipline and also their hostility towards the government.
Pravy Sektor presents a totally different picture. These guys, young and old, come from all corners of Ukraine. Their camp is very well organized, clean, and disciplined. These are men who have consciously and willingly chosen to go to war, and they know that there's no going back.
"This is the place I have to be and I'll stay here till the bloody end!" they say.
The Pravy Sektor fellows are well-educated and well-mannered, and they know very well what's going on… as opposed to newly-arrived conscripts who are often lost, disillusioned, afraid and just want to go home. They are motivated and very professional and vow to remain in their positions until the war is completely over and the enemy has been driven back. They control certain positions along the contact line. (Juan nods his head in agreement)
Of course, we didn't see them in action… That's much too dangerous, but we were at their camp, situated about 200m from the trenches and the war zone. We could hear the shelling…
Roman, I understand that you can't go into detail, but is there anything or anyone that made a lasting impression on you during this last mission?
Yes, let me tell you about this young man from Donetsk. When Russian troops captured Donetsk, he left everything and everyone and joined the Ukrainian army. He's been fighting ever since… He asked me to bring him a good cover for his bulletproof vest. We met in a small café…
He's been at war for three years, a handsome, bright-eyed young man… about 5-6 years younger than me. He never complains or whimpers, but neither does he smile. We chat and joke until suddenly he stops and jumbled phrases start spilling from his mouth… words, sounds, phrases… and suddenly his eyes fill with tears.
– "You know, I had to fire… yes, fire in their direction. I could actually see who I was shooting at. Their faces were so familiar… I knew them all…"
– "It's war, my friend! Calm down." I reply.
He looks up, gives me a long, silent stare, puts his hand on my shoulder and says:
– "Don't you understand what I'm saying? I was shooting at my own people…."
– Yes, I f**** understand. It's WAR! You hear me? WAR!" I unconsciously raise my voice in anger.
– "How can I live with that?" says the young man with a tremor in his voice.
That's when something stuck in my throat. What could I say to him? I'm just a volunteer, so what use are my thoughts? Can I offer advice? Damn it all!
We sit in silence. I look at him and shivers go down my spine….
Our tea turns cold, the sun has gone down; dusty twilight covers the village… I take out a holster and the cover for his vest and put them in front of him.
I hate this bloody war! (Roman spits these last words out in hot anger)
That's quite a story… I could feel the tension and emotions as you were talking. But, let me ask you about their needs? What do these soldiers ask for and why?
Why?… because they're not regularly supplied and the Army can't fulfill all their needs. They're basically under-equipped; the Ukrainian regular army and the Volunteer Battalions must often rely on the kindness, bravery and dedication of volunteers, a network sprawling across the whole country. Volunteers use the social media, sites such as Facebook, etc. to co-ordinate deliveries, fund-raise for vital equipment and share stories of their travels, the soldiers and life on the front lines.
The soldiers ask for communication devices and systems, night-vision goggles, thermal devices, computers, cables, cell phones, generators, tools such as electric saws… and day-to-day medicines. You wouldn't believe the number of snake or insect bites they have to deal with… also common sniffles that develop into bronchitis, or even pneumonia. Of course, Internet connection is very important to them. – news from home and access to topographic maps of the area for defense purposes.
We also deliver supplies to the civilians – clothes, medicine, school equipment, hygiene products, etc.
Let's wind up with a final question… Juan, Roman, do you see an end to this war, this madness and suffering? How much longer?
Frankly speaking, I don't see a light at the end of the tunnel (Juan acquiesces). This war suits everybody just fine… the oligarchs and especially the locals living near the war zone, not all but many….
I mentioned the oligarchs… Yes, they're still in control, but no one says Akhmetov's name openly.
Business is flourishing; local gangs control the marshrutkas and rooms-for-rent. There's permanent traffic along the contact line, people going back and forth, so business is good and prices are skyrocketing. You have to understand that military presence and rotations bring in a lot of money for the locals. Souvenir markets have even opened up in some villages! For example, Volnovakha, just 25 km from the contact line, is booming….
There are two types of soldiers – those who really care and those who are basically bored and just want to survive, so they sit at their check point from 6:00 to 18:00, and then go and rest in their barracks. What's the point?
There are no Ukrainian broadcasts in the area – just Russian programs spewing out hate and lies.
The locals get along fairly well with the soldiers and there's no animosity…. But everything depends on the commander and the behavior of the soldiers. The atmosphere is much friendlier in the smaller villages.
So, I will continue my work as long as this bloody war lasts. We can't and won't give up. It's our duty, for our families and our children.
I'll be leaving again sometime in June…
Conclusion
Without people like Roman, Ukraine and its armed forces would be in a dire situation – not just through a lack of regular supplies. The volunteers' ability to boost the morale of the troops and of the remaining local population is invaluable. To remind the troops, and the people of Eastern Ukraine, that Ukrainians have not forgotten about them is a huge boost and the volunteers should be proud of the effect and power they have.
Mission from April 30 to May 6, 2017 April 30:
Lviv-Mariupol train 69/70.
We arrive in Volnovakha, Donetsk Oblast at 04:35 on May 1. The railway station is small but bustling with people, goods and vehicles. Dozens of taxis waiting to take people to the nearest check point in Novotroyitske (and further to "DNR" territory).
May 1: We meet with a young soldier and give him the cover for his bulletproof vest, a holster and a first aid kit.
May 2: We meet with paramedic Oleksandr Hahayev, First Volunteer Mobile Hospital, who works in Novotroyitske and with rock singer and volunteer Andriy Antonenko "Riffmeister", who composes songs about and for the Ukrainian Special Forces. We talk and they give us a list of vital needs.
May 3: We travel 120 km along the contact line from Volnovakha to Pokrovsk where we pick up our humanitarian aid (forwarded by Nova Poshta) for the soldiers and civilians. Soldiers from the 53rd Brigade arrive from Bakhmut to pick up their supplies. We continue on to the village of Tonenke, situated near Donetsk Airport. As we get closer to the front, we hear shelling and loud explosions.
May 4: We meet with soldiers from the 80th Brigade and give them their supplies, namely Internet cables, modems, some hygiene products and medicines… and sweets.
May 4 afternoon: We head to Avdiyivka to visit "Santa" and his boys in Pravy Sektor. "Santa" is away, but we meet several assistants and soldiers. We unload more supplies, drink coffee, talk with Pravy Sektor fighters, walk around the battle-scarred city (in relatively safe zones, of course), and pay our respects at the place where legendary Pravy Sektor fighter "Shaman" was killed. We return to Tonenke at dusk.
May 5: We drive to Selidove where we hop on a bus that takes us back to Vonovakha. May 6: We leave Volnovakha for Lviv on the 17:25 train (28-hours).