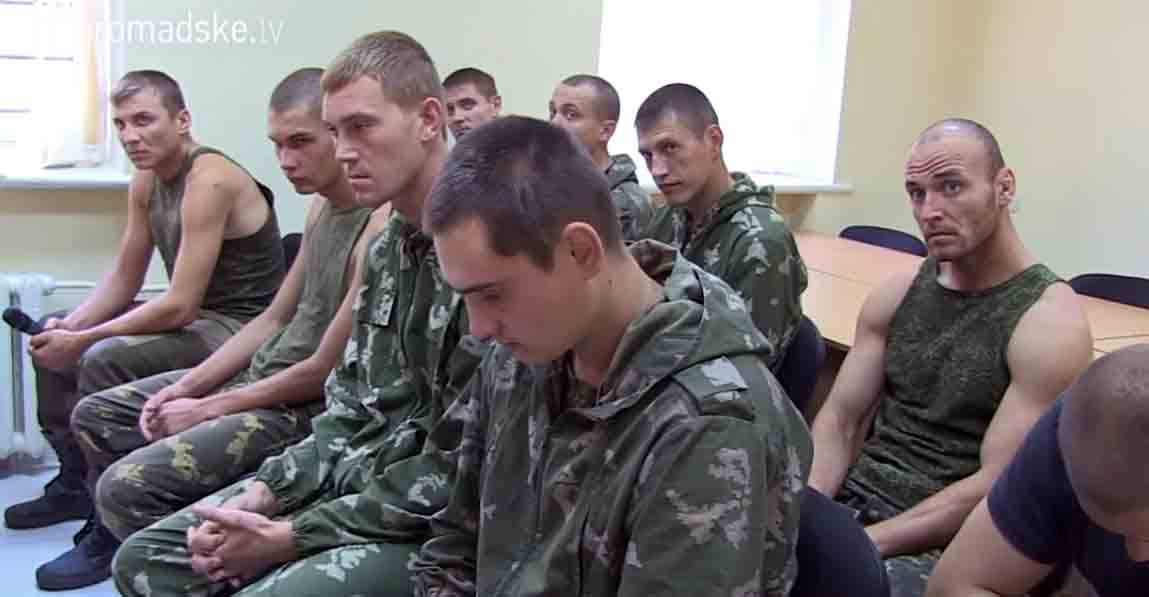 Paratroopers of Russia's 98th Guards Airborne Division from Kostroma-based 331st Guards Airborne Regiment captured near the village of Dzerkalne on 24 August 2014. Credit: Hromadske. 29 August 2014, Kyiv. 
Russia has denied its involvement in the war in the East-Ukrainian region of the Donbas it had brewed up back in 2014 and keeps fueling today. Kyiv states that Russian regular military detachments took part in the fighting on Ukrainian soil, aside from the paramilitary formations Russia created locally in Luhansk and Donetsk.
Read also: What we know about Russian troops in eastern Ukraine
From the beginning of the war, Ukrainian forces took prisoner a few dozens of active service soldiers from Russia, apart from multiple locals and Russian nationals who fought against Ukraine. Most of them were exchanged for Ukrainian captives. By stating that its captured regulars either had left military service or been on vacation, Russia deprived them of their protection under the 1949 Geneva Convention relative to the treatment of prisoners of war (PoWs).
So who are these PoWs and where are they now?
Most of the Russian regulars were captured at the end of summer 2014 amid the large-scale Russian invasion. Then, an influx of Russian troops and weapons turned around the tide Kyiv's successful Anti-Terrorist Operation, in which the Ukrainian military and law enforcers had nearly squashed a Russian-backed separatist paramilitary movement. After immense losses of the Ilovaisk operation, Ukraine and Russia had signed the Minsk Agreements, and two proxy republics, the "LNR" and "DNR" emerged.
After the hottest part of the war in August 2014 – February 2015, no large-scale offensive operations took place and the regular formations of the Russian army were not involved that wide in WWI-style trench warfare, which still continues now. That's why after 2014, Ukrainian forces captured only a few Russian active duty servicemen.
The first Russian soldier
The first known Russian active-duty soldier captured in the Donbas was a 19-year-old Omsk native, conscript Andrey Balobanov, a communications specialist of the 7th motorized rifle company of the military unit 65349 (Central Military District of Russia's ground forces ). He was taken around 16-17 July 2014 in the area of Marynivka, Donetsk Oblast by Ukrainian servicemen of the 51st separate mechanized brigade.
It is unclear what happened to him later. In October 2014, Russia's Investigative Committee opened a case against Balobanov charging him with defection. The latest media report on him emerged in November 2014, Balobanov ostensibly called his father on 5 November 2014 saying that he was safe and dwelled in a Russian military base in Moldova's breakaway region of Transnistria and representatives of the military unit 65349 where he served were going to take him back to Russia from there.
Ten paratroopers who "got lost"
Later, amid the Battle for Ilovaisk on 24 August 2014 near the village of Dzerkalne 20-30km deep into Donetsk Oblast, the 51st brigade captured 10 Russian paratroopers from the 331st parachute infantry regiment (based in Kostroma) of the 98th Guards Airborne Regiment:
Sergeants Vladimir Savasteev, Alexey Generalov, Sergey Smirnov;
Privates first class Ivan Melchakov, Ivan Romantsev, Sergey Arkhipov;
Junior sergeant Egor Pochtoev;
Private Andrey Goryashin;
Artem Kuzmin, Artem Mitrofanov – their ranks were not reported.
Note: Only 10 Omsk paratroopers are pictured, the tenth – Artem Kuzmin – was wounded thus he was immediately brought to a field hospital and later transported to Russia. The other nine prisoners were handed over to Russia on 31 August 2014.
Russian president Vladimir Putin's comment on how the ten penetrated 30 kilometers into Ukraine was:
"This is the truth in fact. I am serious here. I believe that they did get lost because there is no demarcated border there. If military operations are underway or our servicemen are patrolling the border, this is entirely possible," said Putin at a youth forum in Russia on 29 August 2014.
Ukrainian army sergeant Volodymyr Kozak who was one of those whom the group of Russian regulars surrendered told later,
"[According to the captured regulars,] they were sent to drills in the Rostov Oblast. Overnight from 23 to 24 August, they crossed the Ukrainian border. That morning, their detachment came under fire in a woodline three kilometers away from Kuteinykove [Ukraine]. Their airborne assault vehicle (BMD) was destroyed, one of them was lightly wounded, two more killed. As they lost their equipment and communications, they wandered searching for medical aid," told Kozak.
On the same day, the Ukrainian troops evacuated the prisoners, unprepared for defense, from the rear village of Dzerkalne. In the next morning, the village fell to a Russian formation reportedly armed with tanks, BMDs, and Nona self-propelled mortars. Ukrainian militaries fell prisoner and, Mr. Kozak stressed,
"Russian officers asked us where we placed the captured paratroopers, they were searching for them. But we moved fast, since we had realized that they may come to get them. I spent 17 days in captivity, then I was handed over to our [troops]."
MT-LB driver and two troopers
Amid the Battle of Ilovaisk on 26 August 2014, Ukrainian artillery destroyed a Russian convoy. As a result, the survivors – the driver of an MT-LB, an auxiliary armored vehicle, and two more paratroopers – surrendered:
Aleksandr Desyatov, a driver from 8th separate motor-rifle brigade based in Borzoi, Chechnya;
Junior sergeant Ruslan Akhmetov from the 31st separate air assault brigade based in Ulyanovsk;
Senior Sergeant Arseniy Ilmitov from the same Russian 31st brigade.
Ruslan Akhmetov, 26 or 27 August 2014, Ilovaisk. Screenshot: espreso.tv
Aleksandr Desyatov (2013 photo from his social profile), near Ilovaisk he sustained multiple burns when his MT-LB was downed, thus in his photos in captivity he had a fully bandaged face.
A few days later, on 29 August, Ukrainian Col. Mykhaylo Kovalskyi exchanged Ruslan Akhmetov for more than 60 Ukrainian PoWs, however, he was taken prisoner himself in the exchange and spent 10 days as a captive.
Defector
On 27 August 2014, the Security Service of Ukraine (SBU) captured Private Pyotr Khokhlov, a private soldier of Russia's 9th separate motor-rifle brigade (based in Nizhniy Novgorod) in Luhansk Oblast. In his confession, he tells how his military unit was deployed to Rostov Oblast and then prepared to hand over Russian military equipment to "Donbas militants" – the serial numbers were removed from the vehicles and weapons. Khokhlov with his comrade-in-arms defected and crossed the Ukrainian border intending to enlist in the militia and receive 150,000 RUB a month (about $2,500 in late 2014).
However, the first paramilitary they met in the occupied part of Ukraine detained them. Khokhlov describes how he was questioned by a number of "Russian officers" while in detainment in Novosvetlivka and Luhansk. Later, according to Khokhlov, he heard on the radio that an offensive started and was sent to the front, but was ambushed and detained by Ukrainian servicemen.
Khokhlov's unit wasn't directly involved in fighting at the moment he defected, however, his confession sheds light on how the Russian paramilitary units were supplied by the Russian regular military formations from Russian territory. As well, he mentions the presence of Russian regular officers in Ukrainian territory.
Four more near Ilovaisk
On 29 August 2014, the Ukrainian servicemen of the "Donbas" volunteer battalion captured four Russian regulars near the village of Chervonosilske in the area of Ilovaisk.
Later, the SBU shared the video of them being questioned by the "Donbas" on the scene. The prisoners call what is supposed to be their names and numbers of their military units. Ukrainian OSINT sleuths disclosed their real identities by the social profiles of the servicemen and identified more of their comrades-in-arms who also participated in the invasion.
The four were:
Ivan Badanin from the 6th separate tank brigade (based in Mulino, Nizhniy Novgorod Oblast);
Yevgeniy Chernov (6th brigade);
Nikita Terskikh from the 31st separate air assault brigade based in Ulyanovsk;
Yevgeniy Sardaryan (31st brigade).