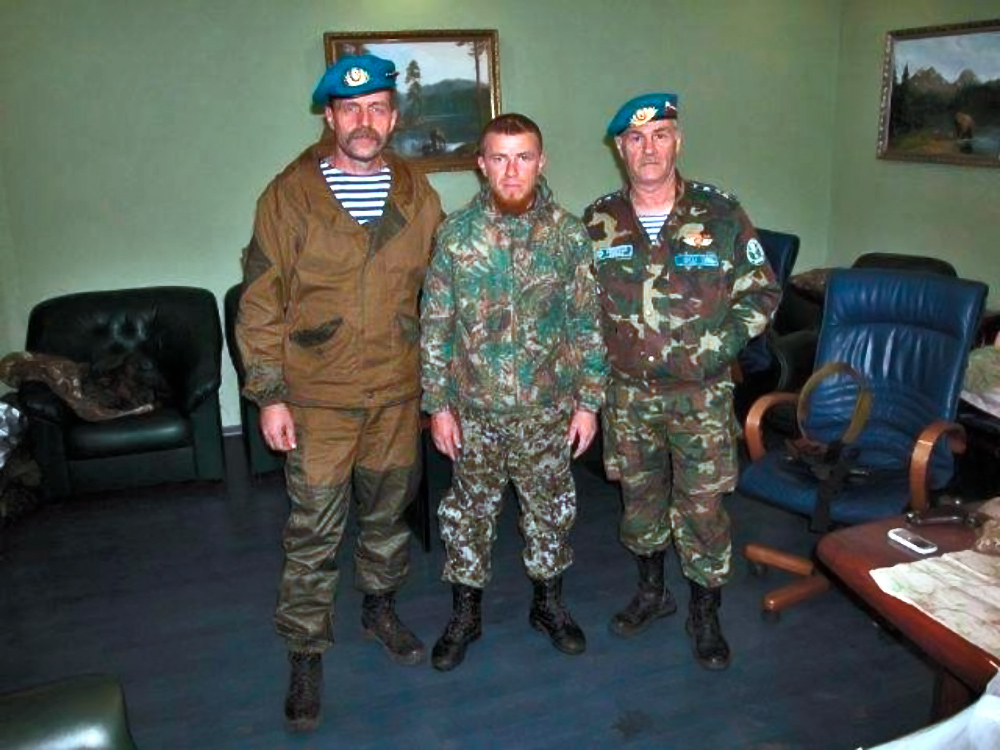 Chieftains of the Russian-hybrid army in the Donbas Igor 'Bes' Bezler (at large in Russia for now) and Arsen 'Motorola' Pavlov (died in an elevator bomb explosion) with Valery Gratov, a Russian citizen, colonel of Russian Airborne Troops. Probably, end of 2014 or early 2015, occupied Donetsk. Photograph: myrotvorets.center
Valery Gratov, a Colonel of the Russian Airborne troops, was detained by the Border Guard Service of Ukraine while he tried to cross the state border heading to the Russia-controlled Transnistrian region of Moldova. He had been participating in the Donbas war opposing Ukrainian government forces since 2014. The colonel was detained on the Ukrainian border over a month ago, but the State Border Guard Service has revealed this fact just yesterday, on 9 July.
On 10 July at a briefing in the Ukrainian Crisis Media Center, the ATO spokesperson Col. Andriy Lysenko said that the Security Service of Ukraine (SBU) detained Valery Gratov , a Colonel of Russian Airborne Troops who had been actively involved in activities of Russian occupational contingent in Donbas since 2014, according to Lysenko.
Ukrainian diplomat Olexander Scherba wrote that Gratov was arrested while crossing the Ukrainian border with a fake passport:
A high ranking #Russia #terrorist Valery #Grymov was arrested by 🇺🇦 authorities while crossing #Ukraine border w/ a fake passport. pic.twitter.com/vsqx9LcA1X

— olexander scherba (@olex_scherba) July 10, 2017
Ukrainian State Border Guard Service spokesman Oleh Slobodian provided more details in his post on Facebook. In early June, the Ukrainian border guards detained a man who tried to cross the state border heading to Moldova. The man had photographs of separatist rallies in his phone. During the further personal inspection, border guards found a sheet with contacts of Russian and Transnistrian officials, a flash stick with personal photographs of the man posing with Donbas warlords, videos of attacks on Ukrainian territory.
Who is Mr.Gratov?
Russian national Valery Gratov participated in a few post-Soviet conflicts, according to the database records of Myrotvorets, a website gathering information on individuals and entities supporting Russia's war in Ukraine.
In 1992, Gratov took part in military action against government forces in Moldova's region of Transnistria.
Amid the constitutional crisis of 1993 in Russia, he was one of the defenders of the Parliament from President Yeltsin's forces.
Also in 1993, Gratov fought against government forces in Georgia's Abkhazia.
Since August 2014 by now, the colonel took an active part in the Donbas conflict on the Russian side, Gratov fought against Ukrainians in Luhansk, Donetsk Airport, Alchevsk, Horlivka, Makiivka, Debaltseve, Vuhlehirsk.
In 1990-1996, the Russian colonel established and led the security service of Igor Smirnov, the Russia-backed president of the breakaway "Transnistrian Moldovan Republic."
AAccordingto journalist Andriy Tsapliyenko, Valery Gratov left Transnistria as the "era of Smirnov came to its end" (in 2011 Smirnov lost elections) and moved to Moscow.  From 2014 the colonel emerged in the Donbas officially as a head of Union of Donbas Paratroopers.
This slideshow requires JavaScript.
Gratov's detention
Border Guard Service spokesman Oleh Slobodian reported that in early June a suspicious person tried to exit Ukraine about midnight heading Transnistria, a region uncontrolled by the Moldovan government since 1990. The man produced a Ukrainian domestic passport in the name of Valery Voitenko, born 1954. A border guard officer doubted the purpose of his visit as Valery produced a telegram stating that his mother was ill and gave confusing information about his passport data.
The Border Guards asked the man to show the content of his pockets and luggage. His cell phone contained photographs of separatist rallies held in Luhansk and Donetsk. The further detailed examination revealed a secret pocket with a sheet of paper with phone numbers of Transnistrian top officials and contacts in Russia, the Russian Order of the Red Star, a smartphone and flash sticks. The man's data storage items contained the photo and video materials proving that he visited so-called LNR and DNR and met with top warlords there.
The border guards had identified the man as Valery Gratov, a colonel of the Russian Airborne Forces, born in 1952, whom the Russian special services planned to name to a post of the so-called deputy state security minister of the Transnistrian Moldovan Republic, Slobodian said. The detainee was handed over to the operatives of the Ukraine's Security Service.
---
Read more: 
Tags: Donbas war, Donbas war (2014-present), Russian regular troops, Russo-Ukrainian War (2014-present), Transnistria