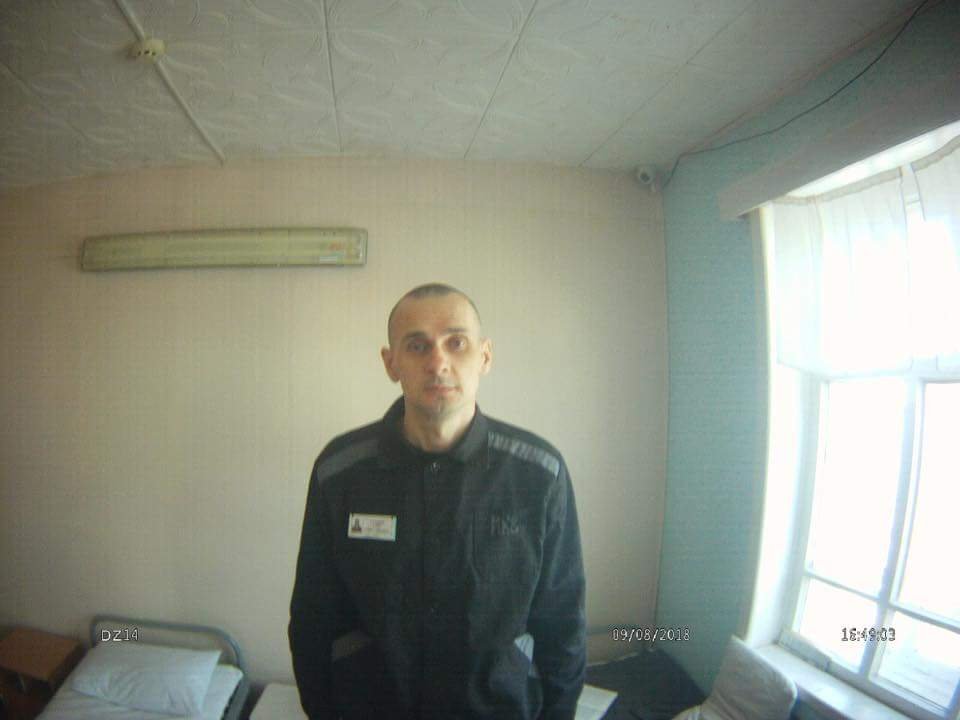 Russian Ombudswoman Tatyana Moskalkova sent this photo, claiming that it was made on the 88th day of Oleg Sentsov's hunger strike. Photo: https://www.facebook.com/denisovaombudsman 
Ukraine's Ombudswoman Liudmyla Denisova had just shared the photos of Oleg Sentsov, who is today on the 88th day of his hunger strike that she received from her Russian counterpart Tatyana Moskalkova.
"According to the information she was given, Oleg is active, goes to watch TV, reads books from time to time. Everyone, and I quote, is surprised at how he is holding up, his condition is satisfactory," Denisova wrote about what was told to her about Sentsov's state.
These are the photos she was given.
Despite an agreement between the Russian and Ukrainian presidents, Denisova was denied a visit to Sentsov and other Ukrainian political prisoners. Having travelled to the far-away colony in Labytnangi, she was turned away at the gate on June 15 and June 28 (last episode shown in video below). Ukrainian and Russian priests have also been prevented from visiting Oleg Sentsov.

The information Russia provided stands in contrast with that Denisova received from Sentsov's lawyer Dmitry Dinze, who said that Sentsov is undergoing a third lengthy crisis. From the words of Dinze, there were two attempts to send Sentsov to a hospital where he would be connected to medical equipment and force-fed. The last time when Sentsov was taken to the city hospital in Labytnangi, the far-north Russian town where he is held in a prison colony, the doctors wanted to tie him to the bed and start force-feeding him.
As Dmitry Dinze informed, Sentsov has no plans of stopping the hunger strike. He drinks a minimal amount of a medical mix and water in order to retain consciousness and to control actions undertaken with him. His weight has dropped to 70 kg, meaning that Sentsov has lost 30 kg during the hunger strike which he launched on 14 May. Earlier, Dinze said that Sentsov's pulse had dropped to 40 beats per minute, and that the filmmaker has heart, kidney, and liver problems as a result of the ongoing hunger strike.
In Sentsov's letter to his cousin Nataliya Kaplan she received on 8 August, he says that he rarely gets up and feels that the end is near.
Sentsov launched the termless hunger strike on 14 May, demanding to free the Ukrainian political prisoners of the Kremlin, who, like he himself, had been sentenced by Russia for political reasons. There are circa 70 such prisoners. Recently, Sentsov confirmed in a letter that he will not stop his hunger strike.
Oleg Sentsov, a native of Crimea, was arrested on 11 May 2014 shortly after the Russian occupation of Crimea. Together with three other Crimeans, Oleksandr Kolchenko, Gennadiy Afanasyev, and Oleksiy Chirniy, he was accused of "plotting acts of terrorism" and being part of the Right Sector, a far-right Ukrainian organization Russia outlawed. These accusations are based entirely on testimonies of Gennadiy Afanasiev and Oleksiy Chirniy.  Both Afanasiev and Chirniy have stated they were tortured by FSB, and after their "confessions" were sentenced to the least possible punishment for terrorism, 7 years of jail, whereas Sentsov, the "leader" of the "terrorist group," was sentenced to 20 years and Kolchenko to 10 years. On 31 July 2015 Afanasyev retracted his testimony as given under duress. After that, he was beaten again in prison. Sentsov and Kolchenko have stated repeatedly that they were tortured and beaten, and there is nothing to assume that the same didn't happen to Chirniy.
The trial being entirely based on forced testimonies, the alleged plot to blow up Lenin's monument in Simferopol, Crimea which the prisoners are accused of, and the convoluted connection to Right Sector speak of a return of Stalinist show trials in Russia, according to Russian and Ukrainian human rights watchdogs.
Read also:
Tags: #LetMyPeopleGo, News, Oleh Sentsov, Political prisoners