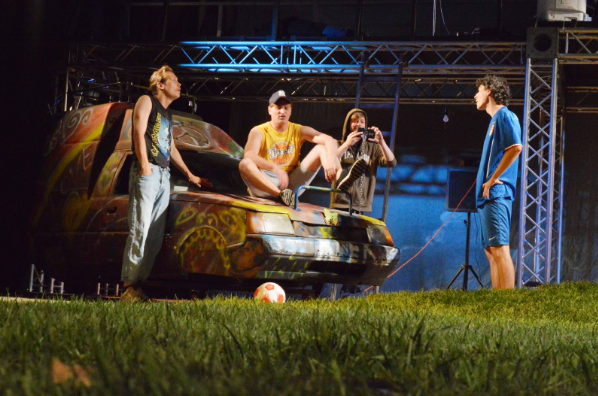 Plays written by teenagers from Eastern and Western Ukraine are performed by professional actors in Kyiv. Photo: Olena Makarenko 
"I see how the children are changing. And it will definitely change the country in the future," Natalka Vorozhbyt, the Class Act curator and playwright, a scriptwriter for the film Cyborgs.
The unifying theater project Class Act: East-West has taken place in Kyiv for the third year in a row. The idea behind it is to bring teenagers from Eastern and Western Ukraine together. They write plays with the help of professional playwrights. Later the results of this joint work are performed on stage by famous Ukrainian actors.
The Ukrainian Class Act is a variation of the format created in the Scottish Traverse Theater by Nicola McCartney.
This year, the project gathered participants from the frontline eastern city Avdiivka, where explosions are still heard almost every day, and the western city Chop on the Ukrainian border with Slovakia and Romania. To select the participants, the organizers led by Natalka Vorozhbyt, the curator of the project and a playwright, headed to the cities. There, they came to local schools and proposed the students to write essays.
In June, 20 selected participants came to Kyiv. They were grouped in teams of two. The necessary condition was that there should be people both from Chop and Avdiivka in one team. Work on the plays took 10 days. And then it was the professional actors' task to present them to the public.
Two young people are going to sell the house. Everything is ready for the deal, but at the last moment, their old uncle is coming with a visit. He says that he is going to live with them and immediately establishes new rules in the house. Among them are limits on watching TV, compulsory morning exercises, no loud music etc. To get rid of the annoying uncle, the youngsters prepare different troubles for him. Their tactic worked – the uncle decides to leave. However, this stressful situation made the young people realize how precious the house is for them. So they changed their mind about selling it.
One of the young playwrights of this story is Anastasia, a 9th-grade student from Avdiivka. She says that she did not expect that her work would end up a comedy:
"Usually my stories have a sad ending. The one which I wrote during the competition was also sad."
However, when paired up with a guy from Chop, the comedy appeared naturally.
And this was not the only stereotype Anastasiya has broken for herself in Kyiv.
"I had a prejudice towards people from Western Ukraine. So do my parents. They think fascists and radicals are there," says the girl.
During the project, she realized that people are the same everywhere. She says she found a common language with her peers from Chop immediately.
Anastasia's parents did not come to Kyiv for the performance as in Avdiivka they have two more kids to look after. The girl admits that she is not going to break their stereotypes: 
"I can't change people. They are three times older than me. I am not going to teach my mom how to live. She already gave birth to three children!"
Meanwhile, war continues in the girl's native city. But she rather would not talk about it in the play:
"Of course now it is very relevant. But I do not want to touch these painful topics. It is very scary when people get used to it [to war]. Moreover, it is a political topic. We do not understand it. Why would I write about things I do not understand?"
This year the topic of war is almost absent in the teenagers' stories.
"Probably this is a defensive reaction. They do not want to talk about it. And we do not want to traumatize them. They came to take a break. They want a holiday. They want to forget about it. We would not take it from them by force," says Natalka Vorozhbyt.
The playwright admits that they selected the stories based on their sincerity and openness:
"It's one thing to open yourself up on paper, but working with another author for a public performance is something totally different. For example, there was one guy from Avdiivka who unfortunately could not come to Kyiv. He wrote a desperate essay about the war. He is a Syrian, his mother is from Ukraine. They were hiding from the war in Syria and came to Ukraine. And eventually, the war came here as well. He wrote how tired he is from it."
Vorozhbyt tells that there is a lot of hidden aggression in the teenagers' works. She supposes that their difficult age is the reason. She says that she and her teammates even persuaded some participants to replace the suicide endings:
"They are really happy if someone falls down from a roof at the end. But we understand our responsibility. Teenagers write about such things every year. And the task of a playwright to turn it into another direction. I explain to them that only weak playwrights end plays in such a way because they can't find another solution. If you are a good playwright, you should think more. It's important because it projects into real life – whether a person will find a solution or not."
But in general the professionals try to not limit the imagination of the young playwrights:
"I am impressed by their imagination," says Viacheslav Dovzhenko, a well-known actor who played one of the main roles in the latest Ukrainian blockbuster "Cyborgs" telling about the brave defenders of the Donetsk airport. Despite being very busy, the actor finds time for the Class Act for the second year in a row.
"We have a responsibility to not offend them. So far they do not know all the details of cooperation between playwrights and theater directors. When literature is transferred to another area of culture, it changes. Even experienced adults feel offended when somebody changes their work. And with children, we want to change as little as possible, so they would feel comfortable," Dovzhenko shares his experience.
This year he plays two roles in Class Act. One is a negative character in a play about ultras. And another one figures in a scenario devoted to the importance of making a choice.
"If all the people had a chance at some moment to stop or turn back the moment and to make a choice," explains the actor.
The teenagers did not recognize the great cyborg from the screen in Dovzhenko:
"Probably the teenagers do not go to the cinema for such films. And on TV it was broadcast late at night when they had something else to do. However, the adults, their teachers, recognized me. They were talking about honesty and necessity of the film now."
The communication between the young participants and the team didn't end with the final performance. They keep in touch afterward. The last year participants from Schastya, Luhansk Oblast, and Klesiv, Rivne Oblast came to see this year's Class Act. Some help the project as volunteers.
Dovzhenko says that sometimes last year's participants ask him for advice on Facebook:
"It takes responsibility to give advice to a teenager. I always try to answer. I am a father of two so I can give advice."
Vorozhbyt says it's pleasing when after the project the teens decide to choose a profession related to playwriting. However, this is not the goal:
"We don't aim to make them all playwrights. The task is to expand their worldview."
Vorozhbyt is confident that her project does make a difference in Ukraine. But to make the result visible there should be many more of them. The playwright wants her project to be an example and inspiration to help others implement their own social projects.
Rehearsal of the Class Act 2018 plays:
At the end, all of the actors called to #FreeSentsov, the Ukrainian filmmaker turned political prisoner of the Kremlin who is currently on hunger strike in Russian prison, demanding to free all Ukrainian political prisoners of the Kremlin.