Lychakiv Cemetery is an amazing necropolis in Lviv. It is one of the oldest in Europe, older than such well-known cemeteries as Père Lachaise in Paris and Highgate in London. Lychakiv Cemetery is an open-air 40-hectare museum where you can find more than 3,000 gravestones, monuments and family vaults. Not only are they masterpieces of art, but they are also important elements of Lviv's cultural and historical heritage. Grave markers are inscribed in Ukrainian, Russian, German, Polish, Armenian and Latin – evidence of the city's diversity and turbulent past. In 1991, Lychakiv was officially recognized as a historical reserve.
Lychakiv Cemetary was created in 1787. Before that, city residents were buried near churches, the majority of which were located in the city center. Due to threats of plague and other dangerous diseases, Austrian Emperor Joseph II ordered all the cemeteries to be moved from the center to the outskirts of the city. The original project was prepared by Karol Bauer, the director of Lviv University Botanical Gardens.
Only the town's intelligentsia and wealthy elite, as well as outstanding artists, scientists, politicians, servicemen, and members of the clergy were buried in Lychakiv. Prominent sculptors and architects were hired to create monuments for the deceased.
Soviet occupation saw the destruction of many historical monuments and sculptures in the cemetery. The devastation ceased in 1975, when the cemetery was declared a historical monument.
Since the late 1980s, the cemetery has been re-built, renovated and refurbished, and continues to be one of the principal tourist attractions of historic Lviv.  The cemetery area is over 42 hectares; approximately 300,000 graves are located in 86 fields. There are over 2,000 vaults in the cemetery; about 500 sculptures and bas-reliefs decorate the graves.
Several prominent Ukrainians are buried here, including writer and social activist Ivan Franko, famous opera singer Solomiya Krushelnytska and the Baczewski family, owners of the most important vodka company in all of Poland.
There are also several military memorials. "Marsove Pole" (Field of Mars) is dedicated to Soviet soldiers who died in battle against the Nazi invaders. Another memorial, known as the Cemetery of Eaglets, commemorates the Poles and allies who died during the Polish-Ukrainian War of 1918-1919 and in the fight against the Bolsheviks in 1919-1920. Sadly, the Ukrainian National Memorial, commemorating Ukrainians who perished in the fight for their country's freedom, has seen a marked increase in fresh graves… Ukrainian soldiers that have been killed in the ongoing war against Russian-occupation forces.
Let's take a look at some of the most renowned people buried here…
Ivan Franko (August 27, 1856 – May 28, 1916)
Ukrainian writer, publicist, scholar Ivan Franko was buried in Lychakiv two days after his death. Several thousand people came to bid farewell to Ukraine's renowned and beloved poet. At first, Franko was buried in the "guest tomb" of the Motelevsky-Motylchynsky family. "Guest tombs" were leased for temporary burial.
For five years, the Ukrainian community fought to get a new place for Franko's reburial. His coffin was finally moved to a separate grave, and the monument of a "Kamenyar" (Franko's revolutionary poem, literally translated as "stone breaker") appeared on May 28, 1933 (sculptor – Serhiy Lytvynenko).
Solomiya Krushelnytska (September 23, 1872 – November 16, 1952)
Solomiya Krushelnytska, famous Ukrainian opera singer, recognized as the most prominent opera diva of her time, was buried near her friend and mentor, Ivan Franko.
A young Orpheus with harp in hand gazes over her tomb. Krushelnytska devoted her entire life and career to music and singing. The author of the tombstone is the famous Ukrainian sculptor Teodoziy Bryzh.
Viktor Chukarin (November 9, 1921 – August 25, 1984) 
Viktor Chukarin was a superb, world-class athlete and gymnast, world champion and winner of two Gold medals at the Olympic Games in Helsinki and Melbourne. By the end of his career, he had won 11 medals, including 7 Gold medals.
The bronze statue on Chukarin's grave was created by ceramist and sculptor Yakov Chaika.
Stanislav Liudkevych (January 24, 1879 – September 10, 1979)
The monument to outstanding composer, musicologist Stanislav Lyudkevich was erected ten years after his death. The tombstone was created by Lviv sculptors Mykola Posikira, Yaroslav Skakun and Liubomyr Yaremchuk.
Markiyan Shashkevych (November 6, 1811 – June 7, 1843)
Writer, initiator of new Ukrainian literature in Halychyna, founder of a literary group called "Ruska Triytsia" (Rus Trinity), Markiyan Shashkevych died in poverty from tuberculosis. He was first buried in Novosilka, where he served as parish priest. After half a century, his remains were transferred to Lychakiv Cemetery.
In June 1906, a monument by Munich sculptor Rudolf Tile was inaugurated on Shashkevych's grave – the figure of a mourning woman represents Halychyna (Galicia) grieving for her prematurely deceased son. The sculpture is made of black wood and covered with thin layers of copper.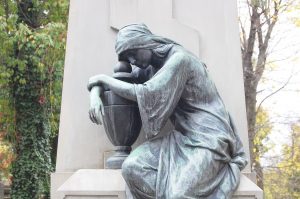 Volodymyr Barvinsky (February 25, 1850 – February 3, 1883)
The grave of public activist, historian, and journalist Volodymyr Barvinsky is decorated with a bronze composition of a woman in Ukrainian dress (image of the Mother-Prosvita) and a boy with a laurel wreath of eternal glory, which he holds over a bronze medallion with a portrait of Barvinsky. In his right hand the boy holds a cartouche depicting the emblem of Halychyna.
This was the first bronze monument in Lychakiv Cemetery. It was erected in 1892 (sculptor – Stanislav Levandovsky).
Mykola Kolessa (December 6, 1903 – June 8, 2006)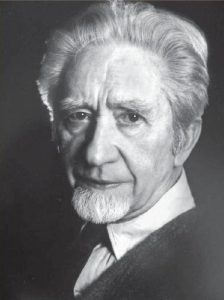 The bronze monument on the grave of prominent Ukrainian composer, founder of the Lviv Orchestral Conducting School Mykola Kolessa was erected on November 9, 2013.
The bust is a copy of sculptor Serhiy Lytvynenko's work. The architectural design was realized by Lviv architect Mykola Rybynchuk.

Ihor Bilozir (March 24, 1955 – May 28, 2000)
The grave of Ukrainian composer and musician Ihor Bilozir is situated at the entrance to the cemetery and is visible from afar. The sculpture of the mourning white angel, made of Italian marble by sculptors Andriy and Volodymyr Sukhorsky, was installed in 2013.
Bilozir was beaten to death by Russian-speaking attackers who did not like the fact that he was singing Ukrainian songs with friends in a cafe.
Volodymyr Ivasiuk (March 4, 1949 – April 24-27, 1979)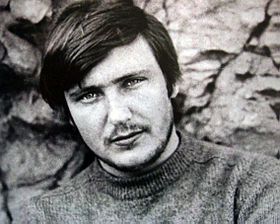 Volodymyr Ivasiuk, legendary musician, composer and poet, was buried on May 22, 1979. More than 10,000 people came to the funeral. On May 18, 1979, Ivasyuk was found hanging in a forest located on the outskirts of Lviv. The official cause of death was listed as suicide but many believe he was just another another innocent victim of the Soviet regime, targeted for his popularity and his Ukrainian-language songs.
For eleven years, Ivasiuk's family did not give permission to install a tombstone, and only in 1990 was a bronze composition erected on his grave – the figure of the young composer standing near his piano.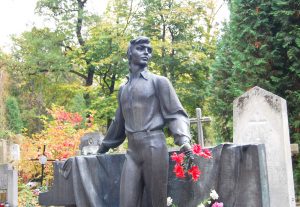 Hryhoriy "Hrytsko" Chubay (January 23, 1949 – May 16, 1982)
Outstanding poet Hrytsko Chubay, who was often interrogated and persecuted by the KGB, was first buried in Sykhiv Cemetery.
At the request of the family and the Writers' Union of Ukraine, the Lviv City Council allowed the remains of the poet to be re-buried in Lychakiv in December 1995.
On September 15, 2007, the monument to the poet was officially inaugurated (sculptor Roman Romanovich, artist – Fedir Vasylenko). It shows a Muse flying over Chubay's portrait.
Iryna Wilde (May 5, 1907 – October 30, 1982)
Daryna Makohon (Iryna Wilde), a well-known Ukrainian writer, was buried at Lychakiv near the historian Ivan Krypiakevych. There are no sculptural compositions on her grave, only a modest tombstone.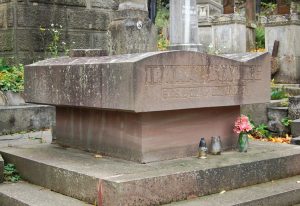 Ivan Krypiakevych (June 25, 1886 – April 21, 1967)
The grave of famous historian and scholar Ivan Krypiakevych is guarded by a warrior figure that carries a shield emblazoned with a lion, the symbol of Lviv. The gravestone was created by sculptor Teodoziy Bryzh.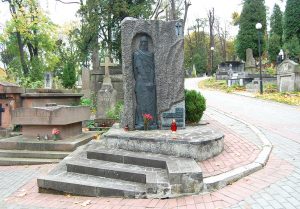 Maria Konopnicka (May 23, 1842 – October 8, 1910)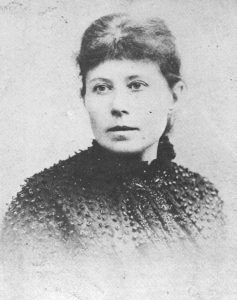 Maria Konopnicka, a Polish writer, poet, author of "Rota" (unofficial anthem of Poland), was first buried in the Mikhalsky family vault, and re-buried nearby.
The original bronze bust was created by Luna Dreksler, but was lost in the 1950s. It was revived through old photographs by sculptor Volodymyr Skolodzra in 1956.
Stefan Banach (March 30, 1892 – August 31, 1945)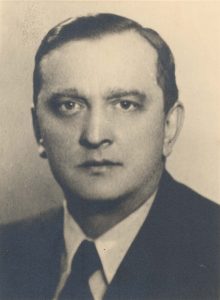 Polish mathematician, founder of modern functional analysis, and member of the Lviv School of Mathematics, Professor Stefan Banach was buried in the crypt of the Riedlow family.
The tombs and family vaults in Lychakiv Cemetery are often decorated with sad angels, mourning female figures, religious portraits, historical images, and animal and/or flora and fauna representations.
[slb_exclude]