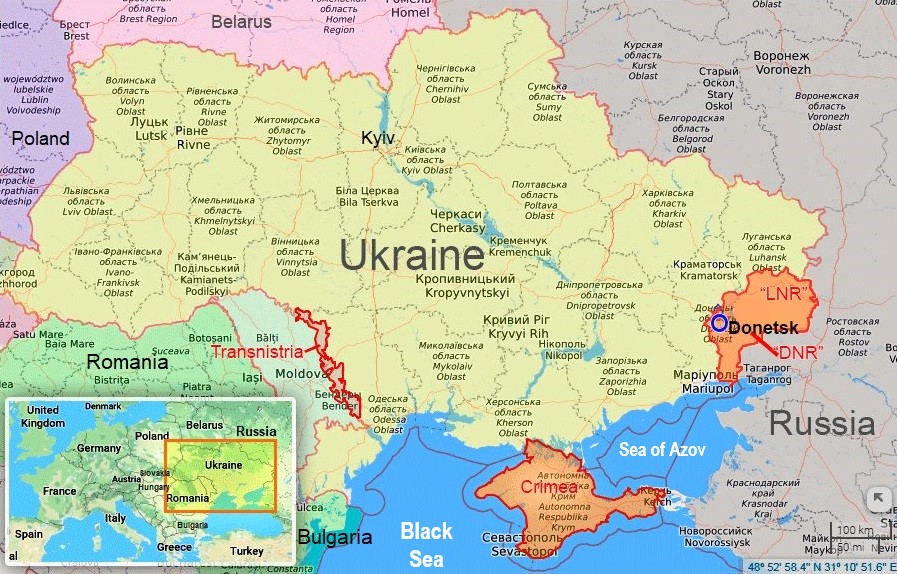 Occupied territories in Ukraine and near its western border. Map base: Google Maps, map: Euromaidan Press 
There is now another "front in the Russian-Ukrainian war," Mykhailo Zhirokhov says. "It is the Sea of Azov … a real cold war which at any moment risks growing into an open armed conflict" as Russia tries to block all shipping to Ukrainian littoral ports and thus weaken Kyiv's hold on a region adjoining the Russia-occupied part of the Donbas.
In order not to run afoul of international maritime law, the Ukrainian military expert says, Moscow has chosen "a relatively legal path," of requiring inspections of all ships under any flag to be inspected if they are headed to or from the Ukrainian ports of Berdyansk and Mariupol.
According to Mariupol port officials, that meant that there were no ships loading or being offloaded in that port from June 2 to June 4, something that is costing the city's economy dearly.
Moreover, shippers, delayed by the inspection, are losing between 5,000 and 15,000 US dollars per hour as a result. Because of the new rules introduced by Russia, one ship lost 41 hours on its way to Mariupol. Not surprisingly, they don't want to suffer such losses.
The practice continues. Last night, Zhirokhov says, Russian coastal guards detained a Turkish freighter for three hours, again inflicting higher costs on any ship that might be destined to or from these Ukrainian ports on the Sea of Azov.
Russian forces have also taken additional steps to complicate the lives of the two Ukrainian ports, the Kyiv analyst says. They have announced live fire drills and exclusion zones, and they have introduced new and more powerful naval vessels into the Sea of Azov to further enlarge Russia's advantages.
Ukrainian naval forces in the sea are insufficient to oppose an all-out attack or even organize convoys, something Russian naval vessels can prevent, especially in the Kerch Straits.
Kyiv is nonetheless trying to prepare to repel an attack lest Moscow succeed in depriving Ukraine of access to the sea or even transferring control of these vital ports to the so-called "DNR."
It has beefed up coastal defenses and plans to bring in more ships from Odesa, Zhirokhov says; but "in reality," he concedes, "we have nothing to oppose [Russian forces] on the sea." Everyone must recognize that "in the case of the start of a major war at sea, we would be able to do little" given the order of battle now in place.
Another Ukrainian analyst, Viktor Avdeyenko, points to yet another way Russia is trying to take over control of the Sea of Azov: the Kerch Bridge. Large ships that used to come to Mariupol now can't because they are too tall or draw too much water.
This is not a small problem, he says.
Some 144 ships that recently visited Mariupol are not able to come there as a result of the bridge. That has already led to Ukrainian economic losses estimated at 20 million US dollars, not to mention the environmental damages the Russian bridge has inflicted as well.
Cargo turnover in the Mariupol port is down 14.3 percent this year from last; and it was down last year as international shippers began turning away from the Kerch Straits. Consequently, these losses are likely to increase still further.
The only thing Ukraine can do, Avdeyenko says, is take Russia to court. It has a good case, but such trials drag out over many years; and Ukraine will be the loser in the meantime even if it wins in the end.
Meanwhile, of course, Russian commentators are placing all the blame for shipping problems in the Ukrainian ports of Mariupol and Berdyansk on … Ukraine, ignoring all the ways in which Russia as a result of its aggression bears full responsibility for what is occurring.
Read More:
Tags: Berdyansk, Donbas war (2014-present), Economy, Kerch bridge, Mariupol, Military analysis, Russian aggression, Russian invasion of Ukraine, Russo-Ukrainian War (2014-present), Sea of Azov