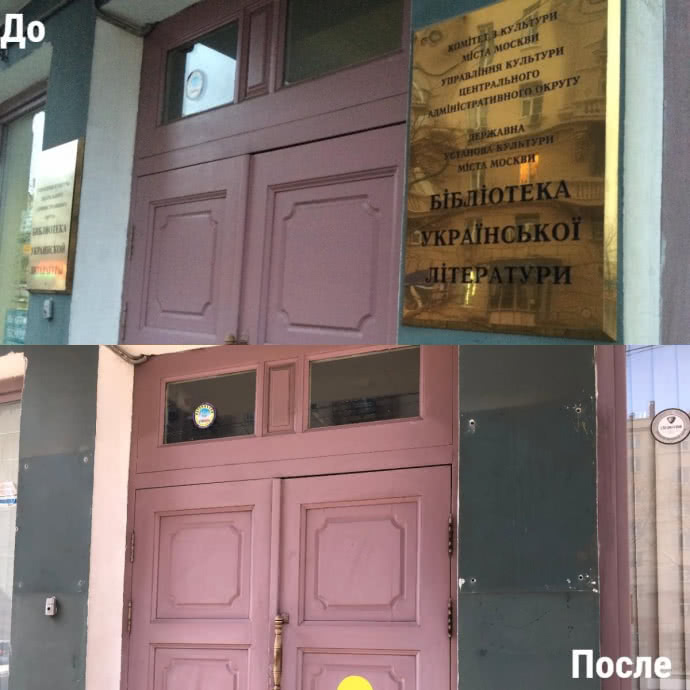 Library of Ukrainian Literature in Moscow, Before and After. Photo: Unian 
It is reported that the Library of Ukrainian Literature in Moscow has been definitively closed down.
The plate on the external wall disappeared last week from the building where the library was previously located.
It is not clear when or how the sign was removed. Former employees maintain that just a few days ago the plate bearing the inscription: "Library of Ukrainian Literature" was still visible on the building situated at 61 Trifonovskaya Street.
In addition, the library website has been blocked. When we tried to access the site at mosbul.ru, we received the following message: "Sorry, but the site is closed for reconstruction."
Apparently, the library building has been transferred to the Department of Sports in Moscow, which plans to open the Center for Tourism Development in Moscow on the premises.
According to lawyer Ivan Pavlov, who represents the interests of Nataliya Sharina, former director of the library, the Moscow City Court will examine Sharina's appeal on April 24.  On June 5, 2017, Sharina was found guilty of inciting hatred against Russians, spreading "extremist" literature and embezzlement. She received a four-year suspended sentence.
Both Sharina and the state prosecutor will appear at the next court hearing.
In fact, the library stopped working a year ago and only the plate on the external wall remained. Some of the books and documents were sent to the Library of Foreign Literature; some were thrown out or destroyed.
According to one employee, visitors stopped coming to the library after the attacks began against the Ukrainian institution and after Sharina's conviction. Moreover, some readers were investigated for their alleged interest in "extremist" and "nationalist" literature. The last two librarians were released on March 1, 2018.
On October 28, 2015, the Moscow police conducted a search of the Library of Ukrainian Literature in Moscow and planted some nationalist literature on the premises. Sharina's home was also searched.
Natalya Sharina was detained on October 28, 2015 and spent a year and seven months under house arrest before being brought to trial.
On June 5, 2017, the Mishchanskiy District Court of Moscow sentenced Nataliya Sharina to four years. She was accused of distributing extremist literature, "calling for hatred and hostility against Russians", and embezzling budget funds.
Sharina's defense lawyer challenged the verdict. Amnesty International declared that Nataliya Sharina was a victim of a travesty of justice, while the verdict showed "utter contempt for the rule of law and highlights flaws in the independence of Russia's judiciary".
Tags: International, News, Russia, Ukraine