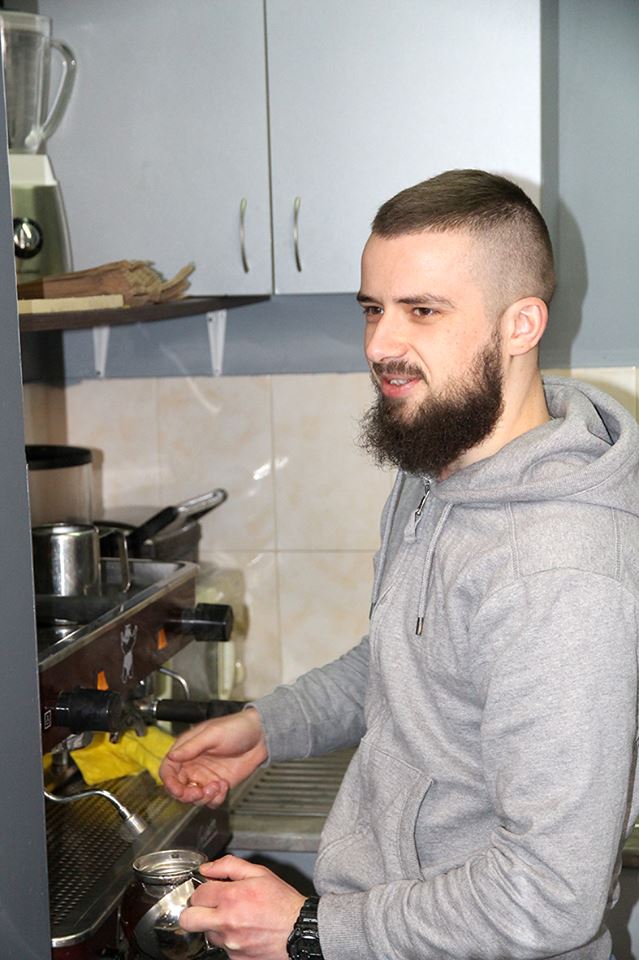 Bohdan Balaban, call sign "Halych", fought in one of the hottest spots in the war zone – he and his comrades-in-arms defended and freed Shyrokyne. The Shyrokyne standoff (February–July 2015) was a battle for the control of the strategic village of Shyrokyne, located approximately 11km east of Mariupol city limits, between Ukrainian forces, led by the Azov Battalion and Russian mercenaries. On February 10, 2015, the Azov Battalion launched a surprise offensive against Russian-backed forces in order to push them away from Mariupol city limits. Fighting continued until July 3, 2015, when "DNR" forces unilaterally withdrew from Shyrokyne.
Prior to the war, Bohdan was a top student at Ivan Franko National University in Lviv where he studied Spanish philology, and probably never dreamt of wearing a military uniform. However, when war broke out in Eastern Ukraine, he left his peaceful and carefree life, and went to defend his Homeland.
It was not easy for Bohdan… active combat, nightly attacks, defense, night duty, interminable shelling … One day, he may want to talk about his experiences with his grandchildren. One way or another, the war has left its mark on this young man's heart and soul. He admits that when he returned from the front, he, like many other veterans, was faced with PTSD – despair and apathy… he even thought of seeing a psychologist. But, he decided to take his life into his own hands and start a business.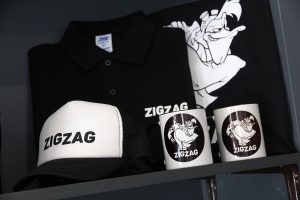 One day, sitting on a bench near his home, Bohdan and his friends talked about launching a pub for young people. However, the concept did not involve serving alcohol, but a place where young people could get together, play board games and communicate. However, it's very expensive to open such a facility, and especially in Lviv. Therefore, with the support of his friends, Bohdan first decided to open a coffee shop and called it after the cartoon pilot hero "ZigZag" (known as Launchpad McQuack in English)*. In his opinion, this indomitable pilot epitomizes strength and resilience and the fact that any difficulties can be overcome with a smile and disregard for obstacles.
*Launchpad McQuack is a comic pilot introduced in Disney's 1987 television series Duck Tales and later featured in its 1991 spin-off Darkwing Duck. He works for Scrooge McDuck as the pilot. He is a scoutmaster of Junior Woodchucks with Huey, Dewey and Louie and Doofus Drake.
Bohdan opened his business together with a friend. The young men invested 40,000 hryvnias each to launch the café, and 20,000 more during the work process. They decided not to search for any support programs for war veterans, but to do everything on their own. They firmly believe that nobody else is responsible for their decision to go to war… and protecting their home, country and family should be the mark of every man. Friends also helped Bohdan create the logo and the interior décor.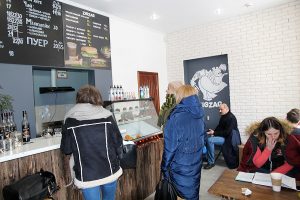 Today, Bohdan's coffee shop, located at 39 Pekarska Street in Lviv, has regular fans. In addition to serving coffee and an exquisite variety of teas, Bohdan has launched his own "craft burgers", made according to a secret family recipe. We only know that he uses Ukrainian beef and eco-friendly ingredients. In addition, Bohdan has developed an entire promotional campaign to encourage people to eat tasty and healthy food.
Bohdan hasn't given up on his dream – to open a facility catering to young people, and he hopes to implement his plans in the very near future. He underlines that the veterans who are currently returning to peaceful life should not despair, but should continue to move forward…search for a job, or organize their own business. He is convinced that doomsday thoughts appear when there's nothing else to occupy the mind.
Tags: Donbas war (2014-present), Donbas war veterans, PTSD, Ukraine