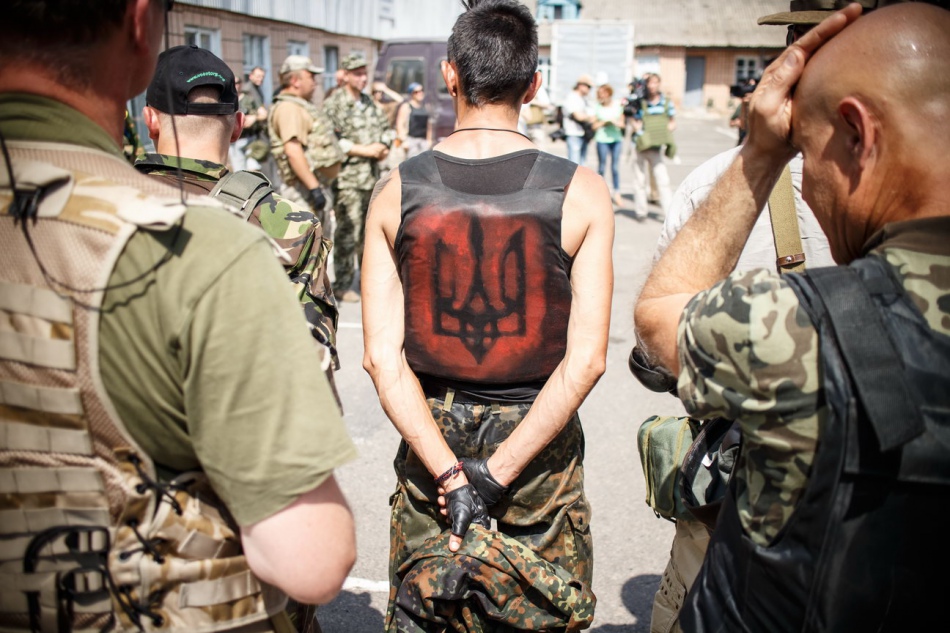 Bullet. Old Man. Gramps
A man in camouflage stands in front of the barracks of the Aidar battalion. He's wearing a small camouflage hat and holds a rifle covered with netting in his hands. This is one of Aidar's patrol scouts who know how to work behind enemy lines.
Maksym (name changed – author) is about to leave battalion territory; he's approached by a young man in shorts and a T-shirt who unclasps his fist and shows him some bullets.
– The ones marked on the outside edge are for Dragunov sniper rifles; the ones with markings on the inner circle are for machine guns. A Dragunov bullet can't be used in a machine gun, and vice versa – the scout tells the young man.
– Do you know anything about barrel twists? – Maksym asks him. The boy nods, and replies that he doesn't really know, but understands it more or less. Maksym asks a few more pointed questions and explains that each bullet shell is different. Once, he somehow jammed his gun, and when he dismantled it, he saw that he was using the wrong bullets.
– Didn't you get any instructions on what kind of ammo to use? – I butt into the men's conversation.
– Who can do that here? I do it with my boys. But, I can't do it for everyone. I've never served in the army … not a single day, but I know more than those soldiers. – says Maksym.
– I'm an autodidact. – he adds and smiles.
Military exercises. All photos – Dmytro Larin, UP
Maksym has his own hunting rifle collection – twelve guns and no experience of military service. There are a few more volunteers in the battalion – in civilian life, some were lawyers – who were so effective in the front lines that they now perform more complex tasks.
Combat leader of the battalion, Serhiy Melnychuk is proud of his scouting unit; he speaks proudly of his men. "I've built up the best unit among all the territorial defense battalions. None of them has an intelligence unit, not one battalion has armoured vehicles."
Serhiy says his men are making their way to Luhansk. At the time of our conversation, it was still a secret, but now Melnychuk adds: "We've surrounded Luhansk" (as of July 21 – Ed.).
He doesn't yet speak of the "two hundred" and "three hundred", as servicemen call the dead and wounded. But we already know about another dead soldier, besides the other thirteen that Commander had mentioned before.
Editorial Note: At the time of publication it was reported that several Aidar heroes that we had talked to previously suffered heavy injuries in the battles around Luhansk. Sasha "Shchastia" (Lucky Sasha-Ed.) was seriously wounded. Petro Shkutiak, City Councillor and father of four children also suffered shrapnel wounds to the head and legs.
The Aidar battalion had been waiting to engage in open battle for a long time. The volunteers were both weary and dissipated by constant firing between two hills near the village of Metalist. One man says that he couldn't make a single shot in one rotation – out on the front line. The artillery is hard at work…
During this confrontation, the separatists were firing so heavily that they even managed to hit the men's tent; one Aidar fighter had no time to jump out and was injured.
"Our little secret was recently exposed. Our men avoid the shootout zone; they sit and watch quietly. And we had no night vision devices. So, the separatists came up and quietly took our boys. They didn't hear any shots, even though there were many, because the phone was down… shot right through." explains Gramps.
That is how Aidar fighters call 55-year-old Afghan war veteran, Illia Osovash. He returns to the barracks only to wash and get some rest after spending 4-5 days on the front lines.
"We let Gramps go first because he sees booby-traps better than all of us… even though he wears glasses." says Oleh jokingly (aka Serapatyst). Oleh is a gunner posted on the front lines under the Afghan's command.
55-year-old Afghan war veteran Illia is always on the front lines
Illia Osovash is an experienced fighter; he was one of the first men to reach the occupied hills near Metalist; he's not afraid to go behind enemy lines to get information, "way over there behind the lines", he says. Gramps has been with the Aidar battalion from the very beginning, back when the men were still hiding out and patrolling the woods. Like most of his comrades on the eastern front, he started on the Maidan.
"I came to Kyiv after the student beatings. You know, we're starting to get used to the fact that there is an official version, and there is the truth. It shouldn't be like that. Before, when an officer came or went, he always said – "I have my honour!" I'm one of those and I can say – "I have my honour!" I've never cheated anyone, I've never robbed anyone." adds Illia.
He is affectionately referred to as "our Gramps" in the battalion.
Gramps is a calm and focused man; he holds himself straight and is a physically well-trained fighter. Although he readily admits that it's not easy to carry around 30-35 kg of equipment – a bulletproof vest, weapons and ammunition. Sometime, he even has to crawl with all that weight on his body.
"In order to react quickly, I find it easier to walk around without a bulletproof vest." says the Afghan war veteran, and complains that many young volunteers do not realize at first where they really are.
"They all think they're Rambo, Stallone; they feel they know everything. But, it's really not a counter-strike, you should know how to hide in shelters, build a bunker that will resist shelling. This is war; people are being killed here.
We had one guy with us, 22 years old. He slept near me most of the time, wanted to be an officer afterwards. I remember how he got ready for his first battle; he put on protective guards, a bulletproof vest. He got killed by a large caliber rifle…"
53-year-old Pylyp, an Afghan war veteran from Zhytomyr region. A construction worker in peacetime; now a volunteer.
When questioned about firing at another person, Pylyp replies: "Imagine that someone is about to kill your child… What would you do? You understand now?.."
Aidar volunteers are infused with military and patriotic fervor. Only dedicated fighters remain after passing the scare test of "bullets and whistling shells". If you ask them why they don't avoid war, all the answers are almost the same: "I don't want Ukraine torn to pieces!" "What else can I do? This is my country!", "I'm here for my children and myself!"
Gramps also has two sons, but they are not at the front – war is not for them.
"I'm here for them." says Gramps with a smile. I nod… some people can be much more effective in the rear, and not in the midst of heavy fire.
"The Donbas, Dnipro, Aidar and Azov battalions are really unique. We're all volunteers. Soldiers fight, but they fight according to old standards. Had we not been in this area (near Metalist-author), then they would've been taken before you could say Jack Robinson. They're good guys and shoot well. But they don't do what we do – crawl on our bellies and watch the enemy. They're just not interested." explains the Afghan war veteran.
Oleh Serapatyst adds that even generals often don't understand the real situation. They hide in white air-conditioned buildings tens of kilometers away from the front lines and don't see what is happening. We heard these complaints from many Aidar fighters about three times before this conversation.
"So imagine – they draft a plan of attack, and point to our positions on a map: "We need to strike here." Until our captain says: "But we're here!" "Oh well, how about here?" and they point to another place on the map." the men explain.
Bullet. Old Man
Illia says that at first they weren't too eager to let him fight: "The Old Man said:" Well listen, you're blind, you can't do a thing." "And when Bullet heard about me, she said: "Go away and learn a bit more!"
Gramps explains that the Old Man is Valentyn, an Afghan war veteran who was in the assault troops. It was the Old Man that led the Aidar battalion when they seized Shchastia. Thanks to his plan, the city was taken "with sapper shovels and several guns."
The Old Man was wounded near Metalist and is currently not with the battalion, although everyone here is waiting for his return; he's a very experienced soldier.
"One morning he woke us with packets of explosives." states one Aidar fighter. The boys say that the Old Man fired over their heads during exercises so that they'd get used to the sounds of firing and anything else that can "wipe you out".
Bullet is Nadia Savchenko – the most famous figure in the Aidar battalion who was captured by the Russians during the protracted battle near Metalist.
Nadia Savchenko, pilot and member of Aidar battalion
The men say that Nadia is tough, but human. You can sense that she's a real soldier. One man recalls how she gave an extra army outfit to a fighter; another man remembers how she approached some gloomy and worried men and tried to cheer them up. She even brought coffee to the prisoners.
Anatoly aka Tuch, a cheerful local farmer who drives a combine harvester during the day and comes to the base near Starobilsk in the evening. He jokingly tells us that his wife got very jealous when he spoke about Nadia Savchenko.
"One day Nadia was watching our military exercises and she "praised" us: "Well, boys, I won't say that you look like shit, because after all, you came here, so you can't be that shitty… not like all the others. But, you're pretty shitty soldiers. So, you're not going to fight for now, learn a bit more. The war will last a long time; we'll all be gone, but you'll learn something during that time." recalls Yevhen Dykyi, a volunteer who was with Nadia at the base near Starobilsk.
He admits that he misses Savchenko terribly.
"I accidentally heard her talking on the phone with another pilot. He was wondering if she'd managed to get one of those really cool leather pilot jackets, which had been delivered just before she resigned and reported to Aidar. Because if not, he could get them instead. You can imagine what Nadia said to him about this jacket; I won't even repeat it!" says Savage.
Illia Osovash also admits that the battalion lacks experienced soldiers.
In this hybrid war, the enemy has both partisan formations and heavy artillery and even missiles that shoot down airplanes. They have professionals and mercenaries, and "rag-tags with short assault rifles" as the Old Man describes them.
"We have all sorts of people here…snipers that fire away all day. The trendiest, all fully equipped, go to the front, walk around a bit and come back to rest for a week. But, when you send them to control the checkpoints, they say: "You're sending me out to die." He's afraid to crawl 200-300 meters on his belly." says the Old Man.
Most of the boys are very brave. "Once we joked that our slogan could be "dilettantism and courage." says Illia Osovash.
He's also raring to fight and says that "much more could have been achieved if they stopped holding us back". He knows how passionate his men are about fighting. But he's waiting for reinforcements.
Photos – Dmytro Larin, UP
Halyna Tymysh, UP
Translated by Christine Chraibi
Source:
www.pravda.com.ua
P.P.S. It was reported on July 22 that the Aidar battalion had suffered losses, both dead and injured. Oleh Serapatyst, mentioned in our article, perished in battle.
The UP Editorial Board is in mourning…
We extend our deepest sympathies to Oleh's family and friends, to all who knew our kind and wonderful Oleh!
Heroes do not die!