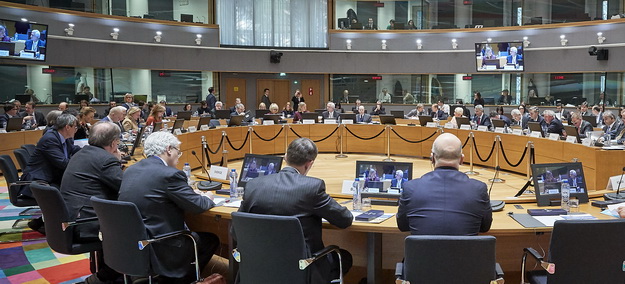 Photo: Council of the EU 
An EU Council meeting at the level of foreign ministers took place on Monday. The meeting was centered around a document prepared by 13 EU members for their colleagues. This discussional "non-paper" contained their view on the last tendencies, achievements, and challenges Ukraine is facing. It was also presented to Ukrainian Foreign Minister Pavlo Klimkin.
Combatting corruption is number one on the list.
Also, it concerns the need to support the acting authorities, the dangers of populism and a defeatist attitude, and the EU's further support.
Non-paper reports are non-public, and this increases their value. In them, the Ministers provide their frank view of the situation.
The Ukrainian outlet European Pravda recevied a copy of the document from its own sources and published a Ukrainian translation. Euromaidan Press brings you the English-language original document, retaining its origial italic and bold formatting.
 Keeping Ukraine on the Reform Path
Non-paper by Croatia, the Czech Republic, Denmark, Estonia, Finland, Ireland, Latvia, Lithuania, Poland, Slovakia, Slovenia, Sweden and the UK
Fighting corruption remains essential
Four years after the beginning of Russia's military aggression in Ukraine and Russia's illegal annexation of Crimea and breach of European security order, Ukraine has come a long way in its transformation towards a modern and European oriented society. Against the backdrop of the Russian aggression, we commend the Ukrainian leadership for its considerable achievements in a number of key areas of reform, including energy, the banking sector, public procurement and decentralization. But we also note the continued work which remains to be done to sustain reform to ensure that Ukraine can flourish, become a resilient, prosperous and well-functioning democracy and realize the full potential of its people. This is the responsibility of the Ukrainian leadership. We remain fully committed to supporting Ukrainians' desire for change and a future of their own choosing. For Europe, the success of Ukraine is of strategic importance.
The reform process has now reached a critical point.
Many important reforms were launched, recently in the areas of pension, education and health care, but their implementation is often just beginning or lagging behind.
The government is not fully delivering on EU and IMF benchmarks.
Civil society activists and experts warn of the risk of backsliding. Incomplete reforms threaten to undermine the credibility of the reform process and lead to reform fatigue and disillusionment among Ukrainians. Indeed some are already deploying populist arguments that a prosperous and well-functioning society can be realized without painful reforms.
The elections of 2019 will be a test for Ukraine.
The key to a successful reform process and inflow of foreign investments is the fight against corruption. Ukraine has established anti-corruption institutions, launched the e-declarations system and increased transparency in public procurement. The independence and efficiency of the anti-corruption institutions must be ensured. For example, it is vital that the National Anti-Corruption Bureau remains able to operate effectively and independently in investigating corruption. Building on this, the establishment of an independent High Anti-Corruption Court is essential to complete the anti-corruption chain and to ensure that all anti-corruption institutions can jointly deliver tangible and visible results in the fight against corruption.
The Venice Commission has presented its recommendations on the High Anti-Corruption Court and Ukraine must deliver.
The government should also ensure good corporate governance and transparency of state-owned enterprises to reduce the space for corruption and ensure swift implementation of the newly adopted privatization legislation.
At this important point in time, the Ukraine Reform Conference in Copenhagen on 27 June provides opportunities for Ukraine.
We encourage the Ukrainian leadership to take advantage of the Conference as a "driver for change," as a milestone in its reform plans and as a means to building public trust in its political will to reform. We expect Ukraine to present tangible and visible progress made against the Reform Action Plan presented at the successful Ukraine Reform Conference in London 6 July 2017. Good governance, including the fight against corruption, and economic development and growth will be key topics to address.
For the international community, the Conference is an opportunity to restate our strong support for Ukraine and to enhance and develop our close partnership with Ukraine.
The main achievement of the Conference will be if it succeeds in facilitating reform progress before and after 27 June.
The Association Agreement and DCFTA offer Ukraine a European path and will help create the conditions for increasing trade and attract foreign direct investments. In return, it requires substantial reforms. Granting visa-free travel to Schengen was a tangible demonstration of the benefits of closer EU ties.
EU grants of up to 200 million euros a year under the European Neighbourhood Instrument (ENI) alone, underlining our strong commitment to supporting Ukraine's reforms. Programs supporting decentralization, the reform of the public administration and the fight against corruption are making progress. The EU implements its assistance in Ukraine in line with the concept of the Integrated Approach, ensuring coherent action between humanitarian, development and CSDP engagements. The EU Advisory Mission is playing an important role in reforming the security sector. The EU External Investment Plan (EIP) offers the opportunity to mobilize and leverage potentially large amounts of investments into the real economy, though local absorption capacity needs to improve. The Commission's Support Group for Ukraine (SGUA) has been a particularly successful innovation in EU policy towards Ukraine.
For the EU, the present political situation in Ukraine is challenging.
There are no quick fixes and shortcuts but a few elements are essential. We believe:
We should continue to encourage the current leadership to do more on reforms, including in the areas of anti-corruption, justice sector, elections, law enforcement institutions, privatization, energy efficiency and deregulation. We should not shy away from speaking up when needed. In doing so, we should avoid providing a platform to populist forces that have taken onboard pro-reform and anti-corruption slogans.
We should assist the government in countering the false narrative that nothing has changed since 2014. We should help promote a positive narrative of those Ukrainian reforms that have been a success.
We should further strengthen conditionality and do it wisely to stimulate real reform progress in key areas.
We should make it clear that political association and economic integration with the EU is impossible without a thorough and transparent administrative, political and economic transformation – there is no shortcut.
We should continue to deliver long-term but flexible programs in addition to more targeted technical assistance needed, notably for progress on the AA/DCFTA agenda. SGUA has taken important steps in this direction in close coordination with Member States. This joint work should be even further enhanced.
We should expand our support to further enhance people-to-people contacts and professional exchanges to demonstrate that we are not only supporting state institutions and structural reforms but are directly reaching out to Ukrainian citizens
We should give priority to pursuing at the political level essential issues such as the anti-corruption court and electoral reform.
We should continue to support the civil society in its crucial role in acting as watchdogs and driving the reform agenda and we should protect the civil society against efforts to narrow its space for actions. This is particularly important in the case of anti-corruption activists.
We should offer Ukraine our support in building resilience and countering Russian disinformation, cyber-attacks, and other hybrid activities in the run-up to Ukrainian elections in 2019.
Presented at the meeting of the Foreign Affairs Council
Brussels,
19 March 2018 
Read also:
Tags: EU, International, reforms in Ukraine