The United States, EU and Russia are interdependent and interlinked in the space industry, and appear unlikely to end their cooperation till 2020. What implications does this have for Ukraine?
Recently, a scandalous article appeared in the Washington Post titled "Ukraine factories equip Russian military despite support for rebels" by Michael Birnbaum, WP Moscow bureau chief. The article was written with contributions from Russian colleagues. With considerable outrage, Birnbaum pointed out that Ukraine's new leaders had vowed "to stop the flow of these defense products", which include key parts for ship engines, advanced targeting technology for tanks, and upkeep for Russia's heaviest nuclear missiles. Ukrainian President Petro Poroshenko back in June issued a presidential order to stop the export of defense products to Russia. But it has had little effect on the ground, where factory managers say they have not formally been told to halt their shipments."
To shed some light on the situation, we conducted some research in the press to find out whether this article appeared accidentally, or due to competition between high-tech arms defense producers, or as a maneuver to distract attention from US and EU high-tech companies still cooperating with Russia despite all the announced sanctions.
Birnbaum correctly asserted that much is at stake. "Ukrainian defense plants do almost a billion dollars of business a year with Russia," said Anton Mikhenko, a defense expert at the Kyiv-based Center for Army, Conversion and Disarmament Studies. Ukraine is the world's eighth-largest defense exporter according to data from the Stockholm International Peace Research Institute. About 70 percent of Ukraine's defense exports flow to Russia."
It did not take long to discover that Russia and the United States are continuing trade in rocket engines, as was reported by Reuters on August 20, 2014. Despite sanctions on a number of industry sectors, Russia continues to supply America with rocket engines. For example, two Russian-built rocket engines arrived in the United States on August 20 this year aboard a giant Antonov cargo plane, despite fears that tensions between the United States and Russia could disrupt the supply of engines needed to launch US satellites into space.
As further detailed by Reuters: "Today [August 20, 2014], United Launch Alliance [ULA], a joint venture of Lockheed Martin and Boeing, received two RD-180 engines [manufactured by NPO Energomash, Khimki, Moskovskaya Oblast, Russia] at our factory in Decatur, Alabama, that will support critical near-term US missions," said Jessica Rye, spokeswoman for ULA. As touched on above, ULA uses Russian engines to help launch a range of NASA and other governmental satellites into space. Rye said the deliveries occurred as scheduled, bringing the company's current inventory of RD-180 engines to a total of 15. Three additional rockets are due to arrive this fall.
According to US government officials and industry executives, "Washington remains dependent on the Russian engines since it could take years and billions of dollars to design and build a US-built alternate engine." Andrew Follett supposed in his article 'Saving Two American Astronauts From Russian Blackmail' published in The Daily Caller on July 25, 2014 that "Today NASA cannot put men into space without Russian cooperation and hasn't done so for years. The United States lacks the manned spaceflight capability to resupply and visit the International Space Station (ISS) for the first time since 1961." On the other hand, as pointed out by Joseph Stromberg in his article 'Russia is kicking NASA out of the International Space Station in 2020′, Russian astronauts are also heavily dependent on NASA. The US segment makes up the majority of the space station, by area. Its solar panels provide most of the electricity, and its gyroscopes are crucial in controlling the station in orbit.
As reported by the Wall Street Journal on May 14, 2014, "Russian Deputy Prime Minister Dmitry Rogozin announced that his nation would ban the export of RD-180 rocket engines to the United States and pull out of the International Space Station project in 2020." He even threatened to cut off American access to the station, saying "I propose that the United States delivers its astronauts to the ISS with the help of a trampoline." Dmitry Rogozin wrote in a tweet that "Russia is ready to continue deliveries of RD-180 engines to the US only under the guarantee that they won't be used in the interests of the Pentagon." The RD-180 engine powers the first stage of United Launch Alliance's (ULA) Atlas 5 rocket, which is used almost exclusively to launch American military satellites and other government payloads. NPO Energomash of Russia builds the engines and sells them to ULA through RD-AMROSS, a joint venture of Energomash and United Technologies Corporation.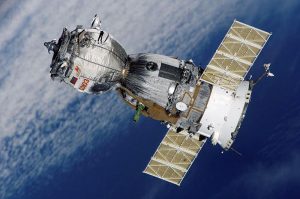 A possible ban on RD-180 exports would likely have the US Air Force scrambling to restructure its plans for launching defense satellites, and it could also disrupt NASA's Commercial Crew Program, which aims to develop vehicles capable of taking US astronauts to the International Space Station by 2017. Presently, American astronauts ride on Russian Soyuz spacecraft, as pointed out by the Wall Street Journal. One should be aware that the United States paid Russia $60m per American astronaut to gain access to the Space Station. Furthermore, the share of the costs borne by the United States in the $150bn International Space Station (ISS) is 84 percent.
The day after Dmitry Rogozin's initial tweet, a House subcommittee fully approved a $785 million NASA funding request for the private space flight plan — an increase over recent years — and added money to the Defense Department's 2015 budget specifically to develop an American replacement for the Russian-made rocket engines.
On May 1, 2014, the US Court of Federal Claims issued a preliminary injunction that essentially halts a US Air Force award to ULA. The court's decision was in response to a complaint filed on April 28 by Space Exploration Technologies Corp. (SpaceX), which claimed the award violated fair competition and federal sanctions — given that ULA partners with a Russian rocket supplier. But, as reported by Bloomberg on May 13, 2014, "A Boeing Co.-Lockheed Martin Corp. venture that launches satellites for the US military on May 8, 2014 won an injunction against the ban on buying Russian rocket engines, as a federal judge said the purchases don't violate sanctions stemming from Russia's annexation of Crimea."
The Russian ban may be softened eventually according to Konstantin Makiyenko, the deputy head of the Moscow-based Center for the Analysis of Strategies and Technologies. "It's a response to the sanctions, but I don't think that such a decision will be implemented in reality," he said by phone from Moscow. "If the Americans want to continue buying these rocket engines, we'll sell them. This is cutting off your nose to spite your face."
As we see from current developments, a ban on rocket engine trade between the United States and Russia is not a reality. Russian Deputy Prime Minister Dmitry Rogozin boasted that "The Russian segment can exist independently from the American one. The US one cannot." But Dmitry Rogozin forgot one factor – dependence on Ukraine in this segment.  As elaborated in the article of the Russian journalist and military analyst Vladimir Voronov which was published in the Russian monthly magazine Sovershenno Sekretno (Top Secret) on February 24, 2014, "Zenit-3SL carrier rockets are still produced in Dnipropetrovsk and it could be rather painful for the Russian space industry to drop them for good. Ukraine also produces elements of control systems for the carrier rockets Proton, Soyuz, Kosmos and for the International Space Station. It is a known fact that all launches of carrier rockets for spacecraft, starting with the flight of Yuriy Gagarin (1961) and up to date, made from the cosmodromes Baikonur, Plesetsk and Kapustin Yar, were carried out using the initial orientation equipment provided by the Kyiv-based Central Design Bureau Arsenal. And in general, Russian satellites and spacecraft use a lot of Ukrainian equipment and devices."
There is both interdependence and competition between US, Ukrainian, and Russian companies operating in the space and rocket industry, and this competition causes marketing and information wars. Let us look at the key launches that have occurred this year and their main players.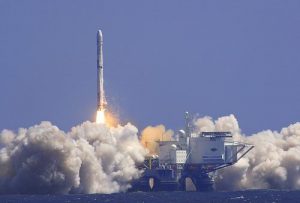 The Sea Launch SA successfully launched the EUTELSAT 3B satellite from its ocean-based launch platform Odyssey on May 27, 2014. This marks the completion of Sea Launch's first mission in 2014, its third for Eutelsat, one of the world's leading satellite operators, and its 36th mission overall.
The Zenit-3SL is an expendable carrier rocket operated by Sea Launch. It is a member of the Zenit family of rockets, is designed by the Pivdenne [Yuzhnoye] Design Bureau, Dnipropetrovsk, Ukraine, and is built by the Pivdenmash (Yuzhmash) Machine-Building Plant in Dnipropetrovsk. Energia Rocket-Space-Corporation (RSC), Russia produces the Block DM-SL upper stage, whilst the payload fairing is produced by Boeing Company, USA. Launches are conducted from the Ocean Odyssey platform anchored on the equator in the Pacific Ocean. One of the members of the Zenit family of rockets is the Zenit 3SL, operated by Sea Launch, California – a company owned by Russian RSC Energia (40%), Boeing Company, USA (25%), Aker Solutions, Norway (20%) and Ukrainian design bureau Pivdenne (15%). The Rocket was designed by Pivdenne (Yuzhnoye), and is constructed by Pidenmash (Yuzhmash).
The Zenit-3SL Integrated Launch Vehicle (ILV) is a three-staged rocket on non-toxic propellants (liquid oxygen and kerosene RG-1) intended for the injection of spacecrafts (SC) into various near-earth orbits and escape trajectories. It is created on the basis of the Zenit-2 LV two-staged rocket originating from the Pivdenne (Yuzhnoye) design bureau; the upper stage (US) DM-SL elaborated by Russian Energia Rocket-Space-Corporation (RSC); and the payload unit from Boeing. The Zenit-3SL ILV operates as part of the Sea Launch rocket-space complex used by the International Company Sea Launch for providing commercial launch services. The first launch was carried out on March 27, 1999. In total, 29 successful launches had been carried by April 20, 2009. From 1985 to 2009 the basic Zenit-2 LV was launched 37 times, 30 of which were successful. Besides, the improved units of its first stage were used in capacity of the strap-on boosters for Energia LV and performed successfully within two launches (in total 8 rocket units).
The Russian Proton-M rocket with an advanced satellite on board crashed outside of Kazakhstan's territory on Friday, May 15, 2014 about nine minutes after lift-off. The Express-AM4R would have been Russia's most advanced and powerful satellite. It is not the first case of Russian Proton-M rockets failing; a Russian Proton-M rocket carrying three GLONASS navigation satellites crashed soon after takeoff from Kazakhstan's Baikonur cosmodrome on July 2, 2013. All other launches of Proton-type rockets will be halted at Baikonur until the reason for the crash is determined. As mentioned by Russian experts, Russian space programs have become more and more unsuccessful because of mismanagement and corruption.
The most recent failure was the attempted deployment of a Galileo satellite using Russian-built Soyuz-Fregat launch vehicles on August 22, 2014.  The Soyuz-Fregat with Fregat upper stage, was built by NPO Lavochkin of Russia. The Galileo satellite navigation system is the first joint €5 billion project to be shared between the European Space Agency (ESA) and the European Union. One of the aims of Galileo is to provide an alternative high-precision positioning system which European nations can rely upon without dependence on the Russian GLONASS and US GPS systems, and the danger of their being disabled by their operators. According to the European Commission, the EU will spend around seven billion euros (9.3 billion dollars) on satellite navigation between now and 2020. Arianespace, the French launch services company, was chosen to deploy the entire Galileo constellation of 30 satellites. This began with the launch of the first two experimental satellites, Galileo In-Orbit Validation Elements (Giove) – Giove-A and Giove-B, orbited by Arianespace's Starsem affiliate on Soyuz launchers from Baikonur Cosmodrome in 2005 and 2008. The latest launch ended in failure.
There is a framework agreement between the European Space Agency (ESA) and the Russian government on cooperation and partnership in the exploration and use of outer space.  The agreement between the ESA and the Russian Federal Space Agency (Roscosmos) on long-term cooperation and partnership in the field of development, implementation and use of launchers was signed on January 19, 2005. It enables the Russian Soyuz launchers to use Europe's Spaceport in French Guyana as a launch base.
ESA's Launchers Program and Russia have agreed to cooperate on developing the technologies needed for ESA's and Russia's next generation launch vehicle. As ESA Director-General Jean-Jacques Dordain said on June 4 2014 "The European Space Agency has seen no signs that its relations with Russia will be curtailed as a result of the confrontation between Russia and the West concerning Russia's actions in Ukraine".
Arianespace launched two Galileo satellites from the European Spaceport in Kourou French Guyana using a Russian-built Soyuz-Fregat launch vehicle on Friday, August 22, 2014. However, the lofting of the two satellites did not result in a correct orbital injection. The US Defense Department's Space Surveillance Network (US SSN) first disclosed the problem. Arianespace confirmed late Friday, August 22, 2014 that two satellites for Europe's Galileo navigation network were released into the wrong orbit after launching aboard a Russian-built Soyuz-Fregat launch vehicle from French Guyana. The European Space Agency (ESA) confirmed on Saturday, August 23, 2014 that the two latest satellites to be sent into space as part of the Galileo program to create Europe's version of the American GPS satellite navigation system have failed to reach their intended orbit. Controllers are now looking into their options to save the satellites. The teams of industries and agencies involved in the early operations of the satellites are investigating the potential implications on the mission. It seems that this launch marked the (in business terms) end to Europe's Global Navigation Satellite System (GNSS) successful constellation build up.
As the Zenit-3SL project is far more promising than Proton-M and Soyuz, the Russian government intended "to take a closer look at the idea of buying commercial launch services provider Sea Launch," which is owned by a top Russian space contractor but whose key assets are based in California, Russia's Deputy Prime Minister Dmitry Rogozin said Feb. 19, 2014. These plans were in process of change due to the current political situation. Russia will decide on the future of the Sea Launch project, which uses Russian-Ukrainian Zenit-SL rockets to put commercial cargo into orbit, "by the end of the year," the head of Russia's United Rocket and Space Corporation (RSC) Igor Komarov said on August 7. On Aug. 22 Sea Launch said it had begun a broad cost-cutting initiative to carry it through a gap in launches that the company hopes will end sometime in 2015 or 2016. In addition to the staff cuts, Sea Launch is exploring how to reduce the operating costs associated with the Sea Launch Commander control ship and the Odyssey launch platform.
Another project which is an alternative to Zenit-3SL and Proton-M projects is the Antares rocket project. The Antares rocket is a project developed by the American Orbital Sciences Corporation (OSC) with the participation of subcontractors such as the already mentioned Pivdenne (Yuzhnoye) and Pivdenmash (Yuzhmash) from Dnipropetrovsk, Aerojet (US), ATK (US), and several others.
Under the partnership agreement, NASA contracted Orbital Sciences Corporation to create and run commercial delivery vehicles in orbit. The main purpose of Antares is to deliver NASA cargos to the International Space Station. Launches of the Antares and Cygnus spacecrafts will significantly enhance NASA's capabilities in carrying out research in microgravity. The Cygnus spacecraft is an uncrewed resupply spacecraft developed by Orbital Sciences Corporation as part of NASA's Commercial Orbital Transportation Services (COTS) developmental program. It is launched by Orbital's Antares rocket and is designed to transport supplies to the International Space Station (ISS) following the retirement of the American Space Shuttle.
Another successful launch of the Antares rocket took place from the Regional NASA Spaceport at Wallops Island (Virginia) on July 13 this year. Antares delivered the Cygnus cargo module to the International Space Station (ISS). Cygnus carries more than 1.6 tons of scientific equipment, supplies and ISS life support.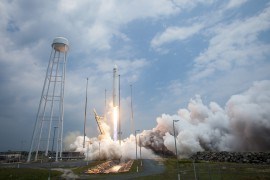 As reported by the Ukrainian Foreign Ministry, the launching ceremony was preceded by a series of events, which on the invitation of the National Aeronautics and Space Administration (NASA) were attended by representatives of the Embassy of Ukraine to the United States, Orbital Sciences Corporation, Pivdenne (Yuzhnoye), and Pivdenmash (Yuzhmash). During the meetings with the officials, including Charles Bolden, the administrator of NASA together with Ukrainian representatives emphasized the need to continue joint programs of space exploration and discussed new directions of developing Ukrainian-American cooperation in space.
The Ukrainian Pivdenmash (Yuzhmash) and Pivdenne (Yuzhnoye) enterprises, which developed and manufactured the first stage of the Antares rocket, have a long-term agreement with the American company Orbital Sciences Corporation (OSC). Funding for the program has been carried out by NASA to the tune of approximately $1.9 bn. The next, third Antares launch to deliver cargo to the International Space Station is scheduled for October this year. In April 2013, Orbital Science Corporation praised cooperation with Ukraine in the creation of the new Antares medium-class space launch vehicle, built for delivering cargo to the International Space Station (ISS), and is confident there are "good prospects for the development of a partnership on the project," the company's management said.
Russia envisioned a different direction of Ukraine's development during the Yanukovych presidency: back to totalitarianism under Russian control, with technical restructuring of the Ukrainian defense industry to cover the needs outlined in the Russian state program of arms development for 2011-2020. As planned by Vladimir Putin, the percentage of new armaments in the Russian army should be 30% in 2015 and 70% in 2020. The Ukrainian defense industry's contribution to the program was expected to grow from 10% in 2013 up to 40% in 2020.  Russia was expected to invest more than $700 bn (Euro 500 bn) in the arms program in 2011-2020. The bulk of the Russian $15 bn credit to Ukraine was most probably conditioned on restructuring Ukraine's defense industry and paying for Russian gas. Some experts consider the contribution of Ukraine's military-industrial complex to Russian defense as critical in such areas as air-space defense, strategic missiles forces and the navy. These plans could be under question, as moving or replacing the production of items necessary for the military-industrial complex of Russia from Eastern and Southern Ukraine ("Novorossiya") to Russia is a hardly feasible task in the near term, and maybe even mid-term.
Vladimir Voronov, Russian journalist and military analyst, is skeptical about feasibility of fullfilling the Russian state program of arms development without imported components and co-operation with foreign countries. As published in the Russian monthly magazine Sovershenno Sekretno (Top Secret) on 24 February 2014: "Initially, this ambitious program was planned to be carried out by the Russian defense industry alone (the only exception being the construction of Mistral helicopter carriers). However, it has been clear right from the start that the policy of "relying on its own forces" was not entirely realistic." On December 3, 2012, a group of experts from the Public Council of the military-industrial commission under the Russian government presented an analytical report "Russia as an arms importer: challenges and opportunities" whose conclusions read: it is absolutely impossible to create a fully autonomous Russian defense industry. "Our design bureaus are overloaded now. We are lagging behind even on the Defense Ministry's orders," Dmitriy Rogozin said in December 2013. Thus he inadvertently admitted that Moscow had to intensify its military and industrial contacts with Kyiv because the Russian defense industry proved incapable of implementing the rearmament program on its own."
The point of concern for the US is the intercontinental ballistic missile (ICBM) SS-18 Satan, the most powerful nuclear missile ever built. This missile was viewed by some US analysts as giving Russia (previously the Soviet Union) first strike advantage over the US, particularly because of its very heavy throw weight and extremely large number of re-entry vehicles, with a maximum of over 10 warheads.
This missile was made in Ukraine by Pivdenne. Russia still involves Pivdenne and other Ukrainian enterprises in missile maintenance. In December 2013, Putin was ready to sign a decree on the creation of a joint Russian-Ukrainian Space and Missiles Corporation.
Ukraine's Maidan suddenly disrupted Russia's plans. Russia intends to start deploying a new type of long-range missile in 2018 to replace the Cold War-era SS-18.
"We are counting on being armed with this qualitatively new missile system… by 2018-2020," Reuters  quoted General Sergei Karakayev, commander of Russia's Strategic Rocket Forces, as saying in December 2013. But it is now 2014, and dependence on Ukrainian institutions and enterprises cannot be overcome in such a short time. Gaining control over Eastern and Southern Ukraine ("Novorossiya") could resolve this issue for Russia.
Pivdenne (Yuzhnoye) is a sensitive issue for Russia too, as it serviced Russian ICBMs (SS-18  Satan). Today, the Russian Strategic Missile Forces (RSMF) have only four dozen fully Russian RT-2UTTKh Topol-M missiles (NATO reporting name: SS-27 Sickle B) at their disposal. General Sergei Karakayev said in his interview on December 17, 2011 that Topol-M missiles are an inadequate replacement for the ICBM SS-18. The Ukrainian defense industry is essential to prolong the length of service of ICBM SS-18s.
Vladimir Voronov, Russian journalist and military analyst, has a similar opinion: "Russia's nuclear rearmament programme "slightly" sags: missiles in pits age, you cannot prolong the life of Satan indefinitely, while the solid-fuel RS-24 Yars  (NATO reporting name: SS-27 Mod 2) and especially Topol-M are no replacement for Satan because they are fundamentally inferior to their predecessor by their thrust and maximum delivery range." The situation with missiles for submarines "is not better at all because Bulava (NATO reporting name SS-NX-32), as we know, does not fly, and new missile carriers are actually unarmed. It is difficult to understand how Russia can create new heavy ICBMs without the Ukrainian state-owned design bureaus Pivdenne (Yuzhnoye) and Pivdenmash (Yuzhmash)". Ukrainian "trails" can be found in more than 51-52 percent of Russia land-based Intercontinental ballistic missiles (ICBMs), which, in turn, are the means of delivery of more than 82-83 percent of the warheads, Vladimir Voronov pointed out in an interview with Radio Liberty.
Now Russia is launching the Dnepr light missiles or launch vehicles (LV), designed by design bureau Pivdenne and whose design is based on the SS-18 intercontinental ballistic missile. The Dnepr LV (RS-20) is intended for timely high-accurate injection of a single spacecraft (SC) or a group of various SCs with total mass of up to 3.7 tons into the near-earth orbits of 300-900 km altitude. Dnepr LV has a high power capability and reliability confirmed by 160 launches (including 8 launches under the Dnepr program).
The Dnepr LV has at two points held the record for the most satellites orbited in a single launch: the April 2007 launch with 14 payloads held the record until 20 November 2013, when an American Minotaur I (expendable launch system derived from the Minuteman II missile) placed 29 satellites and two experiment packages into orbit. The next day a Dnepr LV retook the record, placing 32 satellites and an experiment package bolted to the upper stage into low Earth orbit. This record was broken by an Antares launch in January 2014 which carried 34 spacecraft. Ukrainian enterprises Pivdenmash (Yuzhmash) and Pivdenne (Yuzhnoye), developed and manufactured the first stage of the Antares rocket for US company Orbital Science Corporation (OSC).
The recent successful launch of Dnepr was on June 19, 2014, when 33 microsatellites from 17 countries were launched into orbit with Dnepr. The launch was made from the Yasni launch base, Orenburg Oblast, Russia. All 33 microsatellites separated from the rocket at the planned time and were nominally put into orbit. This launch was the 20th in the Dnepr program.
The US is trying to sever its dependence on Russia in the space and missiles industry. The US Defense Department and United Launch Alliance (ULA) is proceeding with feasibility studies with multiple companies about building a new US rocket engine. Experts estimate it would cost around $1bn and five years to develop a new US rocket engine. Earlier this month, a House Armed Services subcommittee set aside $220m to begin full-scale development of a US rocket engine alternative to the RD-180 as part of a budget markup. The engine would be ready for flights no later than 2019.
The feasible way to decrease dependence on Russia is via the Anthares and Faclon projects. Zenit-3SL and Sea Launch projects can also reduce reliance on Russia. The Anthares, Zenit-3SL and Sea Launch projects were discussed above and cooperation between the US and Ukraine could provide decreasing dependence on Russia in the space and missiles industry in the medium term. Another possibility is offered by the US Falcon project.
The Falcon rocket family is a set of launch vehicles developed and operated by Space Exploration Technologies (SpaceX). One of the latest developments is Falcon 9, a two-stage rocket designed and manufactured for the reliable and safe transport of satellites and the Dragon spacecraft into orbit. Falcon 9 made history in 2012 when it delivered Dragon into the correct orbit to rendezvous with the International Space Station, making SpaceX the first commercial company ever to visit the station. From recent launches of SpaceX Falcon 9, a mission deployed China's AsiaSat-8 satellite into geosynchronous transfer orbit. The launch took place at Cape Canaveral.
Currently SpaceX is working hard on a development of reusable launch systems (RLS). The development program is a privately funded program to develop a set of new technologies for an orbital launch system that may be reused many times in a manner similar to the reusability of aircraft. Experimental version of Falcon 9 Reusable Development Vehicles (F9R Dev), suborbital reusable rockets that make vertical takeoffs and vertical landings have been produced.
Unfortunately, an experimental version of a Falcon 9 first stage used to test technologies for future reusable versions of that launch vehicle was destroyed during a flight on August 22, 2014 at SpaceX's Texas test site, SpaceNews reported. The reusable launch vehicle (RLV) F9R-Dev (Falcon 9 Reusable Development Vehicles), was performing the latest in a series of test flights at the McGregor, Texas, site when the vehicle suffered an unexplained "anomaly," according to a SpaceX statement issued. The F9R-Dev vehicle automatically triggered the termination when its computers sensed a situation that the vehicle could not recover from. The loss of the vehicle is a setback to SpaceX's efforts to develop a reusable version of the Falcon 9, an effort which had garnered some success. Nevertheless, SpaceX is moving in the right direction, as the future of commercial launches lies with reusable launch vehicles (RLV). These will provide considerable cost reductions, resolving the issue of very high costs connected with space activities (more than $10,000 to place 1kg in low Earth orbit).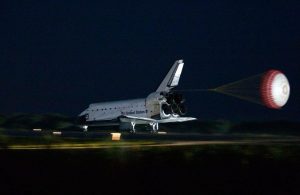 Another prospective development is private uncrewed and crewed spacecrafts, as NASA's Space Shuttle reusable vehicle program was taken out of service in 2011. The NASA's space shuttle's first launch was on April 12, 1981. Starting with Columbia and continuing with Challenger, Discovery, Atlantis and Endeavour, the spacecraft carried people into orbit repeatedly; launched, recovered and repaired satellites; conducted cutting-edge research; and built the largest structure in space, the International Space Station. The final space shuttle mission, STS-135, ended July 21, 2011 when Atlantis rolled to a stop at its home port, NASA's Kennedy Space Center in Florida. Official reasons for shutting down the Space Shuttle project were the huge costs of the program ($209 bn through to the end of 2010), high cost of a launch, freeing up the funding for a better, more advanced space program, and re-orientation of space launches to private companies with more efficient management than governmental organizations.
The private company SpaceX developed a partially reusable spacecraft, Dragon. The spacecraft is launched into space by the SpaceX Falcon 9 two-stage-to-orbit launch vehicle. During the uncrewed maiden flight in December 2010, Dragon became the first commercially-built and operated spacecraft to be recovered successfully from orbit. On 25 May 2012, an uncrewed variant of Dragon became the first commercial spacecraft to successfully rendezvous with, and be attached to, the International Space Station (ISS). SpaceX is additionally developing a crewed variant of the Dragon called Dragon V2. Dragon V2 will be able to carry up to seven astronauts, or some combination of crew and cargo, to and from low Earth orbit. SpaceX has received several US Government contracts to develop the Dragon V2 crewed variant.  Dragon V2 can be referred to as a "21st-century space taxi for astronauts". "SpaceX's new spacecraft is designed to be reusable and it should be able to touch down back on land with the accuracy of a helicopter". "That is how a 21st-century spaceship should land," said Elon Musk, inventor, investor and founder of SpaceX, said during an online-broadcast, unveiling press-conference on May 29, 2014.
The competition between different projects in the US space industry is increasing, but competition is necessary for the healthy development of the US space industry, making it less dependent on Russia.
As The Moscow Times reported on August 22, 2014: "Within weeks, NASA is expected to award a multibillion-dollar contract for the development of spacecraft by private US space companies, severing the agency's dependence on Russia's Soyuz rocket for transporting astronauts to the International Space Station (ISS)."
Since NASA retired its fleet of space shuttles in 2011, the Russian Soyuz rocket has been the only means of transporting American astronauts to ISS — a dependence that has come into sharp focus as tensions flare over the ongoing conflict in Ukraine.
Under its current contract, NASA pays Russia $62.7 mn a seat for transport to ISS, a $150 bn, 15 nation project largely co-managed by the US and Russia. NASA recently signed a new contract for 2016-2017 at a price of $70 mn a seat aboard the Soyuz.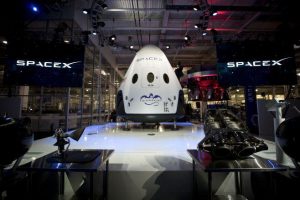 The NASA contest has been narrowed down to three contenders: SpaceX, Sierra Nevada, and Boeing, who are now vying for funding to complete development of their vehicles. Outsourcing to private companies may cut costs significantly.
The program is now about to enter a critical phase. In late August or early September, NASA will distribute a new round of funding to complete the final stages of development for one or more of the vehicles. It is not yet known how much will be granted, or to whom, but there is a strong chance all three will receive funding to continue their work.
NASA officials told The Moscow Times that they do not expect the program to spell an end to US astronauts flying on Soyuz. One of the cornerstones of the US-Russia space partnership has been the sharing of space transportation capabilities, with both Russian cosmonauts and US astronauts flying aboard each others' spacecraft over the past two decades.
Unlike space programs, nuclear missile systems could be a real threat. One such system was presented on the Russia One channel on March 16, 2014. and is named Perimeter, known in the US as Dead Hand. The core of Perimeter is that even if all of its operators are killed in an enemy attack, the automatic system will launch all Russian strategic missiles in the right direction from shafts and submarines. The Perimeter system is activated once all command points of the Russian Strategic Missile Forces are destroyed. Currently, it is supposed that not all components of the system are operational and Russia is trying its best to make it fully operational.
Going back in history: the government of the USSR commissioned the above-mentioned Dnipropetrovsk based Pivdenne (one of the largest producers of strategic ballistic missiles in the USSR) to develop this system in 1974.
Many institutions participated in the development of Perimeter, such as the R&D production facility Strela in Orenburg, Russia; the All-Russian R&D Institute of Experimental Physics; the Kharkiv Polytechnic Institute in Ukraine, and many others. Pivdenne is of strategic interest to Russia in Eastern Ukraine.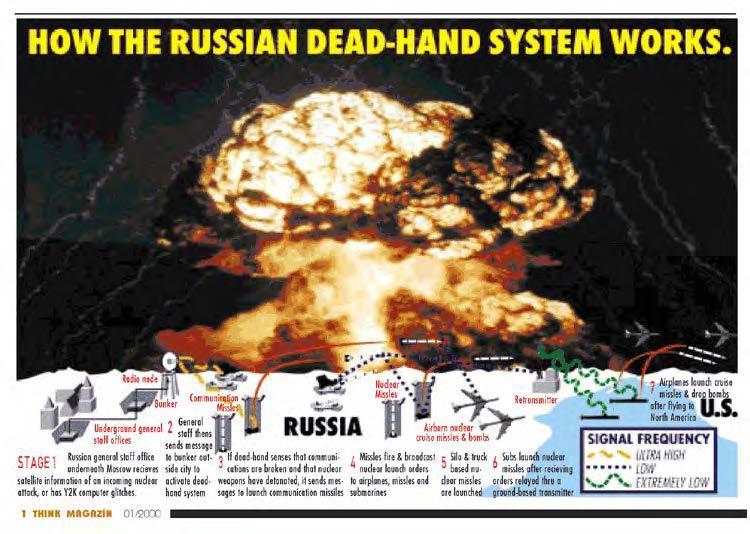 General speculation from insiders alleges that the system remains in use in post-Soviet Russia. An example of failsafe deterrence, it can automatically trigger the launch of Russian intercontinental ballistic missiles (ICBMs) if a sufficient number of parameters indicating a nuclear strike, as measured by seismic, light, radioactivity, and pressure sensors, are met.
The major components of the system are as follows:
System command posts,  which contain necessary control equipment and communications;
Command missiles, among them the 15A11, one of the most well-known missiles;
Communication devices providing commands and code exchanges with command missiles;
An autonomous control and command system–the most mythical component, the key element of the Doomsday;
Machine, a complex system equipped with number of communication devices and sensors monitoring the combat environment (not confirmed to be operational at this time)
Perimeter, in essence, was designed to be an alternative command system for all military bodies with nuclear warheads at their disposal.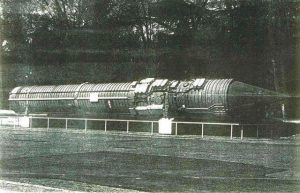 Command missile complex 15P011, with missile 15А11, was in combat readiness until mid-1995. Command missile complex 15P011 was withdrawn from service in accordance with the Strategic Arms Reduction Treaty. Known as START I, it was a bilateral treaty between the USSR and the US signed on July 31, 1991, and which took effect on December 5, 1994.
The treaty barred its signatories from deploying more than 6,000 nuclear warheads atop a total of 1,600 ICBMs, submarine-launched ballistic missiles, and bombers. START I expired on December 5, 2009. On April 8, 2010, US President Barack Obama and Russian President Dmitry Medvedev signed a new START treaty in Prague. Following ratification by the US Senate and the Federal Assembly of Russia, it took effect on January 26, 2011.
In 2011, the commander of the Russian Strategic Missile Forces, Sergey Karakaev, described in an interview with a Russian tabloid the operational state of Perimeter's assessment and communication systems, but these data are not confirmed and are considered to be a stretch by some military experts. That is, it is not currently confirmed that Perimeter is fully functional.
Another threat to US and Europe if the defense industry of Ukraine is not integrated with the US and EU industries is the brain drain of key specialists together with technologies. Putin is trying to lure Ukraine's defense industry specialists to Russia. The Russian President said that the Russian government will provide funding for the relocation of Ukraine defense industry specialists to the enterprises of the Russian military industrial complex. Putin said this at a meeting with members of the legislature of the Federal Assembly of the Russian Federation, a UNIAN correspondent in Russia reports. The Russian president's strategy, it seems, is to try to move the Ukrainian defense industry to Russia in case his plan of controlling Eastern and Southern Ukraine ("Novorossiya") fails.
"As for the possibility of moving specialists from Ukraine to Russia, if they are willing we will help you [Russian regional authorities] to accommodate them,"  Putin said in reply to the questions of the member of the Voronezh Regional Duma Vladimir Pliushchenko at the meeting on April 28, 2014.
"All the necessary funds from the federal budget will be provided to you. I have to say that this process has already started.  There is more than one family, more than one specialist that has moved to Russia. Of course, in this case I mean those specialists of the Ukrainian military industrial complex who are in high demand within our [defence industry] enterprises," said the Russian president. Putin noted that Ukraine has a very high potential and excellent defense industry specialists. "Welcome to Russia. We are looking forward to seeing you at our enterprises," he said.
Earlier, Pliushchenko said that three years ago the team of the Ukrainian state aircraft manufacturing plant Antonov offered to move with their families to Voronezh, but then it was no so important.
Failure to support Ukraine's defense industry, and Pivdenmash in particular, could result in a brain-drain of top-notch Ukrainian defense industry specialists and the transfer of sensitive military technologies from Ukraine to Russia. This would allow Russia to successfully complete re-armament, despite US and EU sanctions.
The Dnipropetrovsk Oblast State Administration supports the reorientation of Pivdenmash to the US and EU for the restoration of the glory of Pivdenmash as a major space and missile-building industry, the domestic leader and once a major player in the world, PIC News reported on May 8, 2014.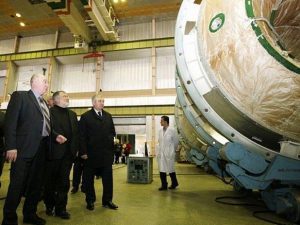 Ihor Kolomoisky, the current Governor of Dnipropetrovsk Oblast, and Serhiy Voight, acting CEO of Pivdenmash, the southern machine-building company, have signed a memorandum of cooperation to this effect.
"Because of the situation with Russia, some of Pivdenmash's projects and contracts were on the verge of collapse, but now the situation has been stabilized. Pivdenmash has kept its old contracts and will soon begin negotiations on new projects," their joint statement said.
According to the memorandum, the Dnipropetrovsk Oblast State Administration will be responsible for all political issues relating to Pivdenmasn and will contribute to the establishment of a non-partisan industrial territory. The Oblast Administration will also support the unconditional fulfillment of international agreements and long-term contracts with foreign and domestic customers alike.
On its part, Pivdenmash is committed to developing the missile and space capabilities of both Dnipropetrovsk and Ukraine, participating in development programs in the oblast, and providing jobs for specialists and graduates of technical universities.
The memorandum of cooperation will be valid for all of 2014 and automatically renew for another three years.
An example of work on the integration of the Ukrainian defense industry into the EU is twinning projects. Twinning is an instrument for the cooperation between the Public Administrations of EU Member States (MS) and of beneficiary countries. Beneficiaries include candidate countries and potential candidates to EU membership, as well as countries covered by the European Neighborhood Policy.
As reported by the State Space Agency of Ukraine (SSAU), European experts visited Dnipropetrovsk on May 12-16, 2014 in the framework of the Twinning project. The aim of the visit was to demonstrate Ukrainian space industry potential for European representatives. Sergiy Zasukha, Deputy Chairman of the SSAU and Ukrainian Twinning Project Leader, was the head of the Ukrainian Working Group while Manuel Mulero Valenzuela, Spanish Project Leader, was the head of the EU representatives delegation.
Project participants visited Pivdenne Design Bureau, Pivdenmash Plant, the National Aerospace Educational Center of Youth, and SPF (Scientific Production Frim)  Dneprotechservice. The Ukrainian side made European experts familiar with designation and the main activities of the mentioned enterprises and showed presentations on international projects they are involved in.
Besides, European experts had an opportunity to see rocket space technique production, testing facilities and the main products of the companies (launch-vehicles, spacecraft and their components, engines, aggregates, launch systems and technical complexes).
One of the promising international projects with participation of Pivdenne and Pivdenmash is the Ukrainian-Brazilianc Cyclone-4 project. The project provides for the development of a new Cyclone-4 space carrier vehicle in Ukraine, as well as construction of the ground complex for its launches at Alcantara Launch Center in Brazil. The project is aimed at provision of spacecraft launch services for the benefit of Ukrainian and Brazilian space programs, as well as for third countries on a commercial basis. Alcantara Cyclone Space (ACS), a binational Ukraine-Brazil company, was founded in December 2007.  Alcantara Cyclone Space (ACS) involved the development and operation of the Launch Complex and launching the Ukrainian Cyclone-4 Launch Vehicle from the Alcantara Launch Center in Brazil to provide space launch services for the Governments of Brazil and Ukraine, as well as for commercial customers. The Alcantara Launch Center located on Brazil's Atlantic coast outside of Sao Luis.
Cooperation between Ukraine and Brazil in the area of space activities started in November, 1999 after signing of the Framework Agreement on Cooperation in Use of Space for Peaceful Purposes. On October 21st, 2003, a treaty between Ukraine and the Federative Republic of Brazil on long-term cooperation in utilization of the Cyclone-4 launch vehicle at the Alcantara launch center was signed. According to the treaty, the Ukrainian party is responsible for the development of the Cyclone-4 launch vehicle, whereas the Brazilian side develops general infrastructure necessary for Cyclone-4 launching. In 2004, the treaty was ratified be the parliaments of Ukraine and Brazil.
In April 2010 Alcantara Cyclone Space (ACS) obtained an environmental license in Brazil, and in September 2010 a license for construction the of Cyclone-4 ground complex. In 2010, the area was cleared for construction at the Alcantara launch site, and the contract with the construction organization was concluded for building of communications and facilities. In June 2012 the initial batch of support equipment for the Cyclone-4 ground complex was shipped from Ukraine to Brazil for further assembly at Alcantara Launch Center. In September 2013, the Ukrainian Parliament (Verkhovna Rada) approved the State Scientific and Technical Space Program of Ukraine for the period of 2013-2017, and accepted for consideration the Draft Law on Financial Support of the Cyclone-4 Project Implementation. As of September 2013, the planned approximate total amount of the program financing is UAH 2.58 billion [$316.4 million], of which the Ukrainian State Budget share was planned to be UAH 1.12 billion [$137.3 million]. Using Cyclone-4 launcher vehicles at Alcantar can bring Ukraine USD 100 million in annual profits.
As reportedby Alcantara Cyclone Space, the current events in Ukraine have not impacted the Cyclone-4 Project development. Currently, the launch vehicle development is progressing as scheduled, and it will be ready for delivery to Alcantara in the second half of 2015. A significant portion of the Launch Site civil construction activities has been completed as well. Most of Ground Support Equipment has been contracted, and some has already been received in Alcantara.
On January 27 2014, Alcantara Cyclone Space (ACS) and Von Karman Institute (VKI) signed a launch service contract for the QB50 Project co-funded by the European Commission within the 7th Framework Program. The contract was signed by Oleksandr Serdyuk, Ukrainian ACS General Director, and Jean Muylaert, VKI Director. QB50 will place into low earth orbit a combination of 50 double and triple CubeSats for atmospheric science and in-orbit demonstration of space technologies. The mission, conducted by an international consortium of partners, will facilitate access to space for educational, technology and scientific purpose involving the worldwide CubeSat community. The launch is planned for 2016.
Due to the current political situation, reorientation of the Ukrainian space and missile industry towards US, EU and other international projects will be essential to compensate huge losses related to the end of co-operation with Russia in the defense industry. Participation in US and EU projects could reduce Ukraine's dependence on Russia, while allowing Ukraine to retain its high-tech military potential, maintain and create jobs by having access to the US, EU and international markets.
Some experts have asked if the US and EU are willing or able to provide a sort of 'Marshall Plan' for Ukraine? Are they ready to have one more strong player at the international armaments market and integrate this player with the US and EU defense industries?
There are huge industrial capacities in Eastern and Southern Ukraine which are in urgent need of restructuring. It is essential that the restructuring be in compliance with EU technical standards. Of urgent attention shall be energy efficiency Ukraine by introducing EU energy saving technologies. Currently Ukraine's GDP energy consumption remains at a very high level, exceeding the average GDP energy consumption level of the rest of the countries in the world by 2.6 times, which inevitably leads to substantial technological gap in the majority of economic sectors in comparison to the developed economies. As was noticed by Carl Bildt, Sweden's foreign minister: "If Ukraine improved its energy efficiency to reasonably EU levels, I doubt it would need to import any energy at all." Similar opinion has Luc Vancraen in his op-ed in Kyiv Post "The highest gain in energy saving can be made in Ukraine. If Ukraine was anywhere near Germany in energy efficiency it would not need to import energy from Russia".
In order to achieve this, a large-scale financial assistance program, as well as a technical assistance program for Ukraine, are vital. You can not just close these industries, as they provide hundreds of thousands of jobs. To close them would result in a dangerous and unpredictable social upheaval that could lead to the disintegration of Ukraine. Ptero Poroshenko announced during his speech at Ukraine's independence day on August 24, 2014 that he would raise military spending by 40 billion hryvnia ($3 billion) through 2017, an effective 50 percent increase from current budget targets. But only boosting defense spending by Ukraine itself can not save Ukrainian defense industry if it will not be integral part in US and EU space, missiles and other defense industrial projects.
Therefore Vladimir Putin's likely new strategy to achieve control over Ukraine and to maintain access to the Ukrainian defense industry is to protract conflict, play on internal disagreements in Ukraine, hoping that economic collapse with ensuing public unrest in Ukraine occurs earlier than Russia collapsing due to Western sanctions.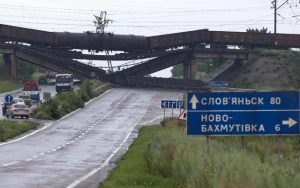 According to report published in Reuters on August 1, 2014, "mathematically Russia has enough reserves to hold out for at least two years before Western sanctions start to choke the economy." On the other hand Ukraine's hryvnia is in freefall and is in the middle of a two year-long recession, Ukraine needs to pay war bills and may be needs sovereign debt restructuring, because as supposed by FT Alphaqville, Russia is also the owner of Ukrainian sovereign debt. As mentioned by The Financial Times in the article 'The country's finances have worsened, raising pressure on the International Monetary Fund': "At best, the International Monetary Fund and other western backers are likely to have to step in with more loans to help the government staunch its fiscal deficit." On top of that terrorists are deliberately destroying the infrastructure of the Donbas, and the amount of damage is already worth billions of dollars, Prime Minister Arseniy Yatseniuk said at the opening session of government, Thursday, August 20, 2014. As most probably supposed by Russia, Ukraine without Western financial aid, without reforming the current oligarchic system and introducing reforms against crony capitalism and corruption, without introducing reforms in energy sector and  increasing energy efficiency of Ukraine, without restructuring of sovereign debt could collapse as early as October – November 2014.
By protracting the conflict in Eastern Ukraine this goal could be achieved. Huge public unrest with an unpredictable outcome could occur if the West does not help Ukraine, the current oligarchic system and crony capitalism remain unchanged, wars between Ukrainian oligarchic clans go from cold to hot, currency speculations in form of refinancing of banks (made twice in 2014) resulting in rapid Ukrainian currency devaluation continues, and a rapid decline in Ukrainian living standards reaches dangerous levels. The main Russian strategy could be to protract conflict as long as possible including possible organization of guerilla warfare after the military victory of the Ukrainian army. Economic meltdown resulting in massive unrest could be a far stronger and more dangerous threat for Ukraine then military intervention.
One of the factors to avoid such a scenario, besides the military one, is Ukraine's participation in US and EU projects to retain Ukrainian high-tech military potential, maintain jobs, and create new jobs by having access to the EU and US markets. In order to start wide-scale co-operation in exchange of defense technologies and receive substantial military aid, Ukraine should either become a NATO member or at least receive non-NATO ally status.
Russia's aggression against Ukraine has moved beyond the bilateral relationship; it violates international law and threatens global security, said President Petro Poroshenko during a military parade in Kyiv for the 23rd anniversary of the Independence of Ukraine, reports Ukrainska Pravda.
"Our enemy has trained long and hard to attack Ukraine. And then (after Maidan and the change of government) we were not ready for such cunning treachery," he said.
Poroshenko regrets Ukraine formerly gave up its nuclear weapons: "Twice in a century Ukraine's political elite, influenced by pacifist illusions, underestimated the importance of strengthening defense. In the years 1917-20 of the last century, neglect of the military threat led to aggression from the east and the loss of Ukrainian independence," he said.
"At the turn of the century, we again fell into the same trap. We again believed that the world had supposedly become vegetarian and we even willingly gave up our nuclear weapons. But war came to us again from that side of the horizon where, out of habit, we did not expect it," he said.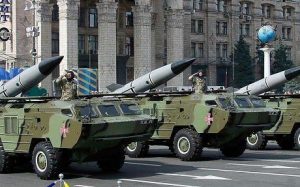 Poroshenko reminded his listeners of the ancient Roman adage: "Si vis pacem, para bellum — If you want peace, prepare for war."
"The destruction of the Malaysian airliner. The murder of the honorary consul of Lithuania. The arrival of international mercenaries in the service of terrorists — all this once again demonstrates that aggression against Ukraine has moved beyond bilateral relations," he said. "It is destroying the foundations of world order. It is violating international law. It threatens European and global security."
The president pointed out that in the center of Europe, in the XXI century, " a blatant attempt was made to violate the borders of a sovereign state without declaring war."
"It is as if the world has returned to the 1930s of the past century, on the eve of World War II. In a week, by the way, it will be 75 years since the beginning of that war. The centennial of the First World War was marked less than a month ago. We must not allow the third one," he said.
"It is clear that in the foreseeable future, unfortunately, a constant military threat will hang over Ukraine [from Russia]. And we need to learn not only to live with this, but also to be always prepared to defend the independence of our country."
The United States of America is just considering the possibility to grant Ukraine the status of an ally without NATO membership.  US Congress members introduced a bill in the US House of Representatives recognizing Ukraine as a main non-NATO ally, as well as providing the country with direct military assistance, as reported by the press service of Republican Jim Gerlach on July 24, 2014.  It is very important that this bill be passed as soon as possible.  Major non-NATO ally status would entitle Ukraine to broad financial aid from the US to buy military equipment and weapons.  It confers a variety of military and financial advantages that otherwise are not obtainable by non-NATO countries.  EU and NATO states should follow the US initiative and pass similar legislation to provide military equipment and weapons to Ukraine.  The country can become the stronghold of the free world in Europe.  It can happen once the most modern, trained, well-equipped army imbued with a western perspective and values is created with the help of the US, Canada, the EU, and NATO member states.
Written by: Dr. Vitalii Usenko, MD, MBA, expert of the Center of Military-Political Studies in the sphere of psychology of communications and Dmytro Usenko, student at Rotman School of Management, University of Toronto
Edited by Michael Garrood