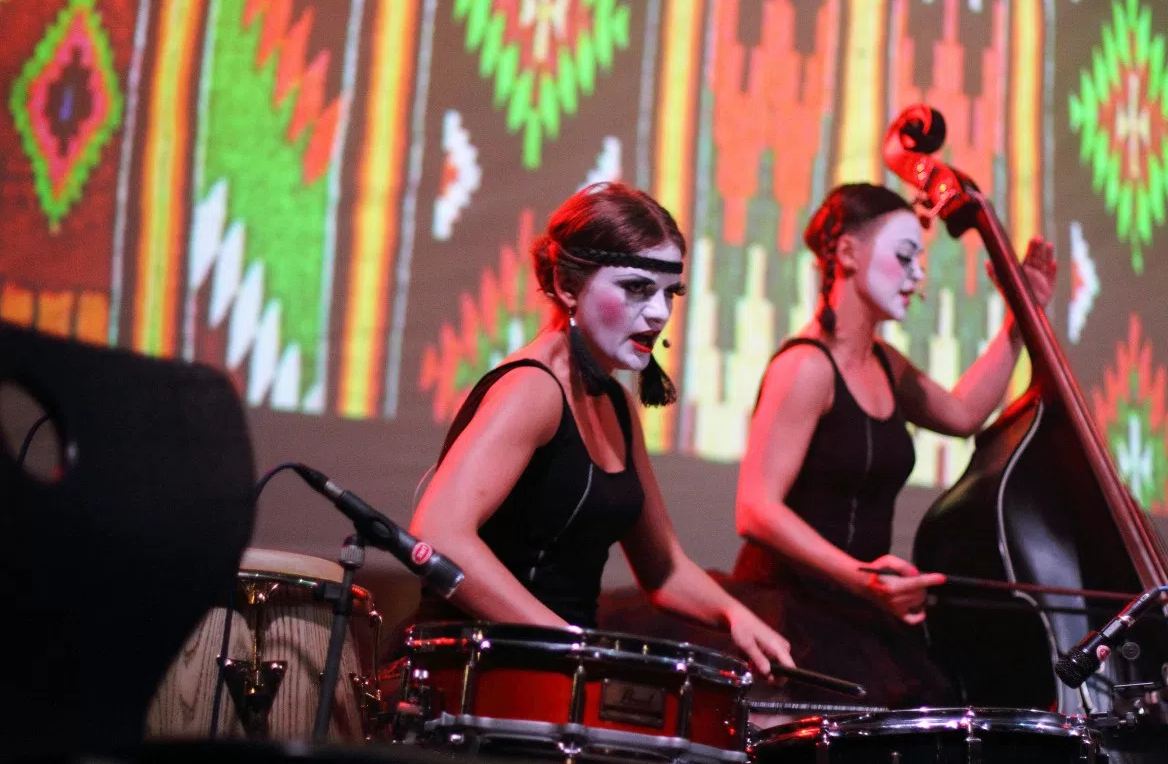 Ukrainian band Dakh Daughters live at Rudolstadt-Festival 2016. Photo credit: Schorle 
In the 19th century, Ukrainian culture was often perceived by its neighbors, like the Poles or Russians, as a land of deep-rooted folk traditions, where music, stories, and dance were driving humanity to its ancestral roots.
This is how Taras Shevchenko, Ukraine's most famous poet of the 19th century, was perceived in imperial Saint-Petersburg, how Mykola Hohol was reviving demonic Ukrainian folklore for a Russian audience, and how Polish poets like Wacław Zaleski were presenting Ukrainian popular songs, or how Austrian writers like Sacher-Masoch were depicting Galicia, the borderland of his imperial motherland.
In the 20th century, the Soviet regime was busy trying to erase this "national" element. The search of national "depth" was marginalized and then openly persecuted from the 1930s. After World War II, the nostalgia for past traditions sometimes broke through the wall of censorship, creating interesting phenomena, like Ukrainian "poetic cinema" by Sergei Paradzhanov (his world famous film "Shadows of Forgotten Ancestors" is a classic example), Yuriy Illenko, Leonid Osyka, Ivan Mykolaychuk and others; but its creators often paid a high price for their dissidence.
After Ukraine became independent in 1991, and especially in the 2000s and 2010s, this repressed element returned with unprecedented vigor. In order to understand this phenomenon of going back to the past together with searching for modern forms of expression, one has to keep in mind an important insight of the post-independence decades. As national traditions were suppressed for decades, these traditional roots now had a strong emancipatory and freedom potential, which attracted so many artists. It was, therefore, not so much conservative as modern and looking to the future.
Let's look at the ways in which contemporary Ukrainian culture is looking for this mixture of tradition with modern form and language.
Music
DakhaBrakha, one of the most famous Ukrainian music projects of recent decades, is one example of this traditional-modern mix. Calling their style "ethno-chaos" music, DakhaBrakha was born from the avant-garde theatre Dakh in Kyiv in the early 2000s. It combines traditional Ukrainian song with ecstatic rhythms, bringing a substantial dose of archaism into contemporary music. It is becoming increasingly popular around the world; even David Beckham used it recently in advertising for his brand.
Watch it being performed at BBC Music at Glastonbury:
Another group born from Dakh theatre, and which often swaps performers with DakhaBrakha is called Dakh Daugthers. Their style is different: a "freak cabaré", full of artistic and visual provocation, possessing a strong theatrical element. Watch their famous composition Rozy/Donbas, which has over 1.3 million views on YouTube.
Maryana Sadovska is another famous example of Ukrainian re-invention of musical traditions. Engaged in collecting songs from various regions of Ukraine, she is now re-interpreting them in her unique performance. This performance is unusual in two ways: first, as she accompanies her singing with an Indian harmonium, giving her music a strong meditative mood; second, as she uses modern rhythms, electronic music and DJ-techniques in her latest works.
Khorea Kozatska is looking for a more traditional approach towards national music, maintaining a strong commitment to genuine heritage; the group's leader, Taras Kompanichenko, plays numerous Ukrainian national instruments like the kobza, bandura, kolisna lira and others.
Among other interesting ethno-rock and ethno alternative music one can mention Folknery, which is famous not only for its musical but also travel and ethnographic work; The Doox, which combines rock rhythms with traditional Ukrainian wind instruments like the sopilka, trembita, duda, dvodentsivka and others; Perkalaba or Hych Orchestra.
Folk is also entering pop and electronic music. The most famous examples is, perhaps, Onuka (the name of the group means "granddaughter"), that combines ethnic melodies and instruments with electronic music, a futurist dressing style, and songs in the English language.
Other interesting examples of this ethno-pop are PaniValkova,
Illaria, Go-A, and Zapaska.
Some musicians are also experimenting by mixing Ukrainian folk music and jazz. Look at Ulyana Horbachevska and Ultramarine project, the group KoloYolo, kolomyykas from Ukrainian jazzman Ihor Zakus or jazz experiments from Illaria.
Theater
Contemporary Ukrainian theater also often experiments by mixing tradition with modernity, introducing traditional dance, music or costumes into theatrical performances.
We have already mentioned the Dakh theatre, one of the most famous and influential Ukrainian theatrical projects. Launched by Vlad Troitskyi in the 1990s, it became a laboratory for many artists, music groups like DakhaBrakha and Dakh Daughters, art festivals like GOGOLFEST, etc.
The Lviv-based Les Kurbas theatre is another interesting example of how tradition is being combined with modernity. Take a look, for example, at its play Lisova Pisnya (The Forest Song), based on Lesya Ukrayinka's classic drama.
Interesting mixtures of genres can be found in a project called Antonych Udoma ('Antonych at home', a tribute to Ukrainian poet Bohdan Ihor Antonych) organized by Ulyana Horbachevska (singer and artist), writer Yurii Andrukhovych and Ukrainian musicians.
Cinema
Ukrainian cinema began to show signs of revival in the 2000s and in the current decade,  especially after the Euromaidan revolution (2013-2014), following several decades of decline.
One of the first examples of a new cinema searching for national roots was the picture Mamay by director Oles Sanin. The film tells the story of a Cossack called Mamay (an archetypal figure for Ukrainian culture) and his love for a Crimean Tatar woman.
Ukrainian documentary cinema also pays attention to folklore. Zhyva Vatra (Living Bonfire) by director Ostap Kostyuk tells the story of a little boy by the name of Ivanko, who is involved in old hutsul traditional sheep breeding work. The language used by peasants, their songs and traditions sound authentic and exotic even for a Ukrainian audience.
Ukrainian folklore tradition is also present in animation, in an elegant artistic animated movie based on Taras Shevchenko's Prychynna (Причинна), set to be released in 2018.
Another interesting phenomenon is "horror animation" based upon Taras Shevchenko's work; its authors said they tried to move away from the usual image of Shevchenko and create a modern provocative interpretation.
A more mainstream animation called Mavka, that is based on Lesya Ukrayinka's Lisova Pisnya, is trying to use Ukrainian folkloric and literary traditions to create an animated story for a wider audience.
Fantasy cinema is also exploring old traditions; look at Storozhova Zastava (Stronghold), which tells the story of a boy who accidentally travels in time to find himself in Medieval Kyivan Rus fighting against nomadic tribes.
Fashion
Ethnic traditions are also inspiring the creativity of Ukrainian fashion designers.
Some of them, like Roksolana Bohutska, Chernikova , Serebrova, Oksana Polonets and others either produce their dresses in the traditional embroidery style (that of vyshyvanka) or create their own new collections inspired by Ukrainian decoration traditions. Handmade or mass-produced vyshyvankas are easy to buy in Ukrainian towns and cities; some projects like Zerno Fashion also make interesting and tradition-inspired clothes available to a wider audience of consumers.
These are just a few examples of how today's Ukrainian culture is combining tradition and modernity. A similar trend is also present in visual arts, literature, education, design, video games, and comics.
An interesting thing about this phenomenon is that it erases the difference between "archaic" and "modern". It makes national traditions "fashionable", taking them through a filter of contemporary or avant-garde form.
But it also performs an interesting enterprise: by re-establishing the link between the present and the past it also modernizes the past, making it less archaic than it was before.
---
Read more:
Tags: fashion, theater, Ukraine, Ukrainian cinema, Ukrainian culture, Ukrainian music, Ukrainian traditions