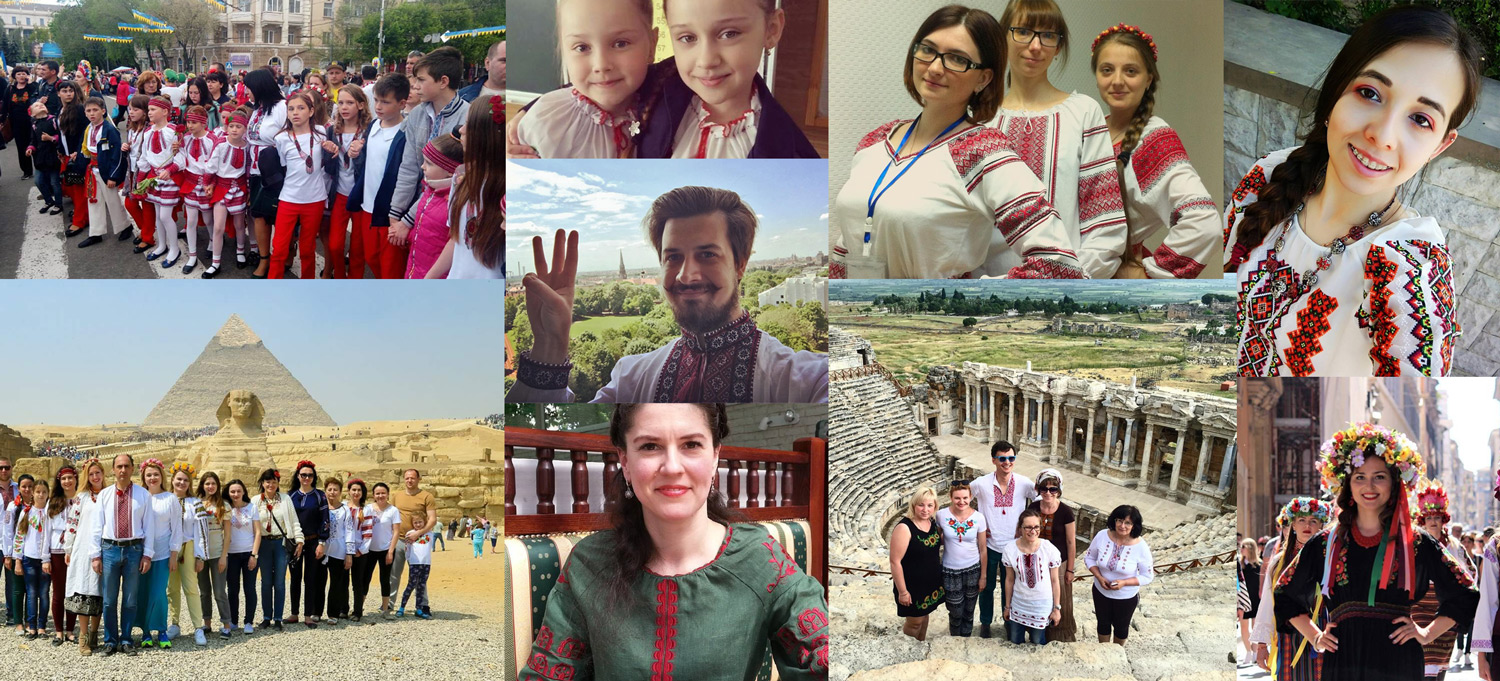 On 18 May 2017, Ukrainians all over the world celebrated the day of the national embroidered shirt, or Vyshyvanka. The event, celebrated on the third Thursday of May, has turned into a global cultural diplomacy opportunity for the numerous Ukrainian communities around the world, and a national statement inside the country. The Vyshyvanka Day emerged as a flash mob not attached to any public holiday.
On this day Ukrainians wear vyshyvankas to demonstrate adherence to the idea of national identity. The day unites Ukrainians regardless of their gender, social status, religious beliefs or political opinions.
A huge photo gallery of the flashmob saluting the Vyshyvanka Day (80+ photos)
This slideshow requires JavaScript.
The holiday in Popasna, a frontline town in Luhansk Oblast, on May 18:
Vyshyvanka Day in the city of Chernivtsi:
//platform.instagram.com/en_US/embeds.js
Canada's Minister of Immigration, Refugees and Citizenship Ahmed Hussen demonstrated his solidarity with Ukrainians:
Proud to don a Vyshyvanka to celebrate Ukrainian culture and demonstrate solidarity with the people of Ukraine. pic.twitter.com/xOYJRId4WU

— Ahmed Hussen (@AhmedDHussen) May 17, 2017
On 14 May, Ukrainians held a vyshyvanka march in Rome:
This slideshow requires JavaScript.
Many events marking the Vyshyvanka Day are planned for the following weekend.
Vyshyvanka in history
Archeological discoveries in Ukraine indicate that embroidery has existed there since prehistoric times, it dates back to the Neolithic–Eneolithic Trypillian culture. The elements of ornaments used by Trypillians, Sarmatians, and Scythians are found even in the modern national embroidery.
Among the earliest are the finds dated to the 6th century, found in Cherkassy Oblast, one of the silver plates depicts a man dressed in long, wide patterned shirt with embroidery on the chest. The Ukrainian peasants wore the same clothing just a century ago.
Cloth embroidery was first inspired by faith in the power of protective symbols and later by aesthetic motives.
In a country with a history marked by foreign invasions, embroidery has been "symbolically linked to national identity and unity," said Dr. Oksana I. Grabowicz, an anthropologist and research associate at the Ukrainian Research Institute at Harvard University.
Vyshyvankas have been festal clothes for Ukrainians all over the world for a long time, nevertheless, Vyshyvanka Day emerged as a holiday not long ago.
Poetess Lesya Voronyuk told Ukrinform that the first Vyshyvanka Day was celebrated 11 years ago in the city of Chernivtsi, where she was a student at a local university. "I have come up with the idea when I noticed that not I alone but also other students often wear vyshyvankas attending classes. But it didn't happen that all did it together. So I suggested to all one day gather at the university in embroidered shirts. For the first time several scores of students took part in the event," said Lesya Voronyuk.
Read more:
Tags: diaspora, flashmob, holiday, international, Ukraine, Ukrainian cultural heritage, Ukrainian culture, vyshyvanka, Vyshyvanka Day