Euromaidan Press presents its fourth video dealing with Russia's propaganda tactics. Our 
first video
 was about how Russian propaganda impacts Russians, the 
second
 was about whataboutism, and the
third
– about rapid fire conspiracy theories.
The Russian propaganda machine produces endless streams of fakes and manipulative stories. While at times they may seem outrageous or silly, they are far from being random. Russian propaganda for both domestic and foreign audiences follows techniques that stem from Goebbel's times. Ultimately, it is a weapon of war. In our series A guide to Russian propaganda, we examine how propaganda works, and how one can avoid falling for it.
Russian propaganda can be confusing. The fakes and manipulations are endless, often outrageous, and differ depending on their target audience. Russian propaganda for Russians differs from Russian propaganda for Ukrainians, Americans, Germans, or Georgians. With all the crazy fakes, it's easy losing track of what this coordinated hostile information campaign is pursuing altogether, which makes finding the proper reaction more difficult.
It needn't be so. Russia's Minister of Defense Sergei Shoigu has called mass media "but another arm of the armed forces." Russian state-controlled media and social media trolls are serving the government's military interests, pursuing strategies that have been developed by the Soviets during World War II. It's easier understanding them if you knows how media operate by law of war.
Pro-Kremlin media have been operating this way since 2014, when Russia occupied Crimea and started its covert war in eastern Ukraine. Then, well-known Russian journalist Yury Saprykin noted that "Russian media… are in a state of war, live and act according to the law of war."
But in fact, Russia is at war not only with Ukraine, but also with the West. And so is its media.
Media at a time of war have two main goals:
1. raise the morale of your own side;
2. demoralize your opponent.
Propaganda raising the morale of Russians
To help their own side win, during World War II  the Soviets raised the battle spirits of their side and created an image of the enemy.
They raised the battle spirits of their own to increase confidence and send the message "we are strong." As a result, soldiers were encouraged and emboldened to kill more of the enemy and capture territory, and the home front, with lifted spirits, supported the action on the battlefield.
These images boosted the battle spirits of the Soviet Army during World War II
Today, Russia raises the "battle spirits" of Russians in massive military parades featuring nukes, in PR campaigns threatening nukes in response for sanctions, and in TV shows showing playful plans to invade Europe and nuke the UK and USA. As a result, Russians support their authoritarian leader, strong country, and valiant army which is engaged in at least two conflicts on the ground, in Syria and eastern Ukraine. So what if the world is against us, so what if life is lousy. We are a strong nation and we will win. 
This T-shirt campaign insisting that Russia's nuclear weapons are not afraid of sanctions offered Russians solace after Russia's invasion of Ukraine was met with economic punishment, and a plan to nuke the UK and USA sends the message that their country is strong
During WWII, the Soviets created the image of the enemy to make killing easier for soldiers by removing moral restraints. The enemy was shown either to be evil, devious and nefarious, provoking anger, or, conversely, ridiculous, to provoke scorn and make killing the enemy not as scary. Often, the enemy is dehumanized and shown as an animal or monster. This, too, is intended to drive up hate and scorn, remove moral restraints, and facilitate killing.
These Soviet World War II posters depicted the Nazis as either bloodthirsty all-mighty monsters or ridiculous, weak creatures. The contradictory messaging was necessary to, first, give the soldier a sense of moral righteousness to kill something absolutely evil, and, second, to make him less afraid of this absolutely evil entity
Today, this is being used in Russia's hybrid war against Ukraine. Like this staged video purporting to show Ukrainian soldiers crucifying and burning a Russian-backed militant, with the goal of portraying Ukrainian soldiers as inhumane creatures, and keeping up the feeling of rightful rage which gives Russia's hybrid army the motivation to either go to Ukraine and kill people who are very similar to them, or take up arms and fight against compatriots molded into an enemy. 
Fakes about the Ukrainian army's supposed inhumane actions are a regular topic for Russia's propaganda accompanying its undeclared war in Ukraine
But since Russia tells its citizens that its real "enemy" is the "evil West", particularly the USA, Ukraine is portrayed as only its puppet state, until recently personified by Barack Obama.
The USA is mocked and demonized in Russian propaganda. So is the EU: it is shown to be either aggressive and interventionist, or decadent and falling apart.
These memes give Russians the image of an enemy to hate. Ukraine, because they are at war with Ukraine, the USA which is shown to be its evil puppetmaster, and the EU. Similarly to the images of the enemy during World War II, the enemy is either devious and all-mighty, or ridiculous, weak, and falling apart. Memes are a convenient visual representation of a narrative prevailing in Russian news and opinions. Russians are being taught to hate the West via these narratives.
Propaganda demoralizing Russia's opponents
In WWII, the Soviets created propaganda for Germans that aimed to create divisions, destroy unity, and alienate people from the leadership, convince them that they are doomed to fail, and urge them to capitulate to the benevolent enemy.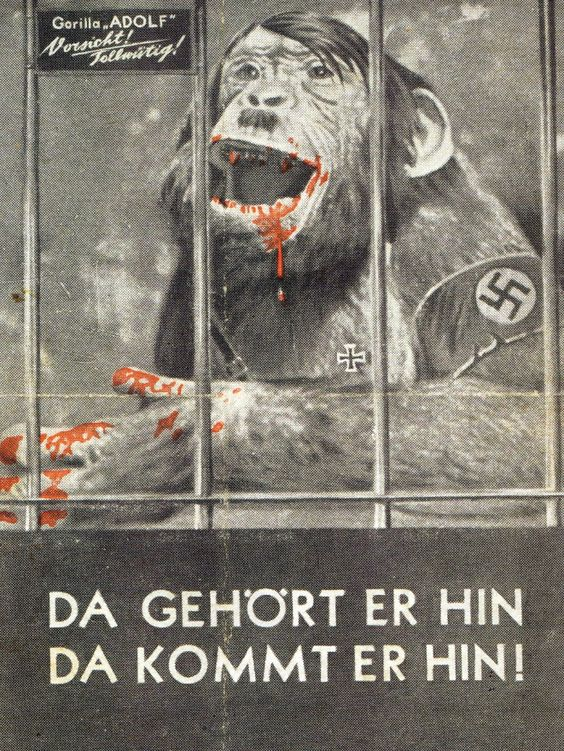 Soviet poster mocking Hitler - 1 million copies distributed. 
"Gorilla Adolf. Attention! It's mad! That's where he is. That's where he will be!"
Poster aiming to destroy the trust of Nazi soldiers in their leader. Hitler is shown with a necklace of human skulls. 
"My soldiers are always close to me"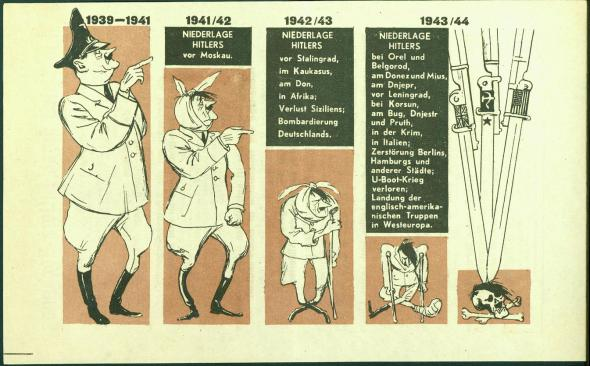 Demoralizing postcard depicting Hitler's imminent doom
Postcard urging German soldiers to capitulate.
Rough translation: These stupid ones stayed behind and fought, now they're dead; The smart ones surrendered, after the war they'll come home
Today, Russia's hybrid war is different from WWII. It's a war on democracy. But its propaganda messaging uses the same tactics.
It aims to
weaken and destabilize the West, undermine the public discourse 
by providing a warped view of the world, where Russia can do no wrong, and the USA and EU are corrupt dystopias that are tearing themselves apart.
It achieves this by exacerbating existing divisions or creating new ones.
In Ukraine, Russia tries to persuade Ukrainians their choice of Eurointegration was a mistake and there is no alternative to returning under Russian hegemony.
These Russian propaganda memes send Ukrainians the message "Just give up on your EU idea and return under our sphere of influence"
In the EU, pro-Kremlin outlets try to convince that the Union is doomed and should disintegrate, fulfilling the Kremlin's dream of a weak and divided Europe, persistently implying that Europeans need to be afraid – of Muslims, of migrants, of their leaders, which opens the door to populism while closing it to reasonable debate.
It also tries to justify Russian aggression abroad and increasingly totalitarian policies at home, implying that Russia's occupation of Crimea, Russia's claims to Ukraine, and Putin's crackdown on his own citizens should be accepted. 
Both in Ukraine and the EU, Russian propaganda aims to create divisions, destroy unity, and alienate the people from the leadership. In Ukraine, it incites Ukrainians to overthrow its post-Euromaidan leaders in a "Third Maidan" and suggests that the EU has ignored Ukrainians' European aspirations and abandoned them, while in the EU it undermines trust in leaders, stokes up fear, anger, resentment, sending the message that the existing leadership doesn't represent the people's interests and must be overturned.

Here are some examples of Russian propaganda from all the categories we mentioned, courtesy of the collection of disinformation of EU vs Disinfo. NOTE: These are all titles of fake news reports, conjured to create a false image of reality.
Propaganda raising the morale of Russians

Propaganda demoralizing Russia's opponents

A. RAISE BATTLE SPIRITS OF RUSSIANS

B. CREATE THE IMAGE OF THE ENEMY 

The evil enemy

The ridiculous enemy

A. CREATE DIVISIONS, DESTROY UNITY

B. CONVINCE THEM THEY ARE DOOMED TO FAIL 

C. URGE THEM TO CAPITULATE TO THE BENEVOLENT ENEMY

Note. While Russia aims to create divisions and discord in all its targets, items B & C are reserved for societies with links to Russia, which had been under Russian rule and have made steps towards the West.
Remember: pro-Kremlin media in your country use war tactics to help the Kremlin win and the West lose. Don't be duped. Check your facts.
Video designer: Ganna Naronina; Script: Alya Shandra; Narration: Bradford Betz
Tags: Disinformation, Featured, Russian propaganda