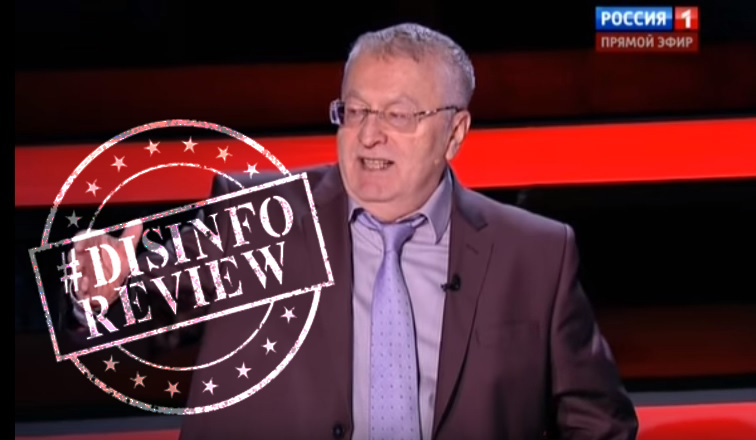 European Union's special Task Force StratCom East collects examples of the Russian disinformation attacks and publishes them in a weekly "
Disinformation Review
." Euromaidan Press chose Top 5 of the most absurd and outrageous fakes of 
issue 16
 of the booklet, released on 23 February 2016.
Fake #5: Israel does not recognize Crimea as a part of Ukraine
On February 14 a statement about Israel not recognizing Crimea as a part of Ukraine appeared during the TV show Voskresnyi vecher s Vladimirom Solovyovym on Rossiya channel (at 2:47:34).
The Ambassador of Israel to Ukraine Eliav Belotsrkovski states the contrary. "We have a very clear position regarding Crimea and we are constantly spreading the information that companies or individuals that enter Crimea violating Ukrainian law and which perform some actions there are committing a crime due to the laws of Ukraine," he said during a meeting at information agency Ukrinform on 20 January 2016.
The official position of Israel is that violating Ukraine's laws in Crimea in unacceptable.
Fake #4: WTO could block the Association Agreement between EU and Ukraine
In the article of Russian Izvestiya outlet is stated that Venezuela, Argentina, Nicaragua, Equador, Cuba and Russia issued a compliant to the WTO regarding the Association Agreement of Ukraine and the EU.
The reason is alleged violation of the norms of WTO regading equal opportunities. Russian outlet claims that the EU gave preferences to Ukraine.
Ukrainian outlet Europeiska Pravda consulted regarding this issue with the diplomat working for WTO and received a refutation. He stated, that Russian journalists misinterpreted couple of the paragraphs from the WTO Annual Report 2015.
"The reporter publish his own interpretation of this information, without any consultations with the experts," the trade diplomat said.
The diplomat working for WTO dismissed this information.
Fake #3: Latvians and NATO special forces are preparing a massacre of the Russian speaking minority in Latvia. Russia will have to save them the same way they saved massacred Russians in Crimea
This one has also appeared in the same Solovyov's show. Scandalous leader of Russia's LDPR party Vladimir Zhirinovsky repeated the old narrative regarding "massacred Russians in Crimea" (that has already been debunked many times) and blamed Latvians and NATO providing no evidence.
No evidence to the old and new propaganda claims.
Fake #2: Clashes between armed forces and activists on Maidan. Activists are burning bonfires in barrels, photo as a proof
On 20 February Russian information agency RIA Novosti published news about clashes on Maidan between radicals and the National Guard. The agency also tweeted it. The image used to illustrate was dating back to 2014.
Later RIA changed the illustration of their article which yet did not prove that there were bonfires on Maidan on 20 February 2016.
The image used to illustrate "the clashes on February 2016" dates back to 2014.
This is how Maidan looked like on 20 February 2016:
Fake #1: 67 dead during clashes in Kyiv
On 20 February Russian Lenta.Ru reported about "67 dead during clashes between 18 February and 20 February". The information, Lenta reports, is taken from Ukrainian agency UNIAN and press service of Kyiv city hall (not giving links to publications, of course). Not only there were no clashes and no deaths between 18-20 February 2016, there haven't also been any reports about this in any of Ukrainian media.
The only possible "source" of such information could've been information from both UNIAN and Kyiv city hall… from year 2014.
Tags: Disinformation, Russia