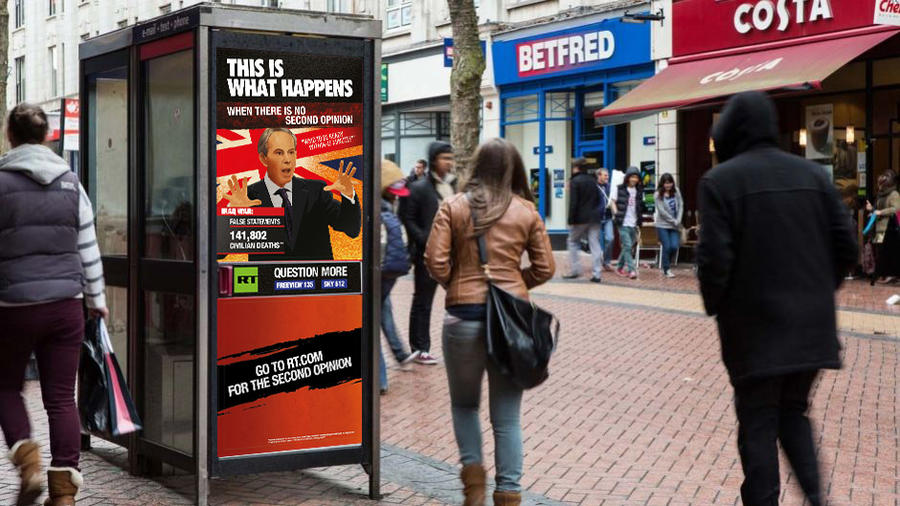 RT Second Opinion ad campaign. Photo: geschichtedergegenwart.ch 
The fact that right-wing populist parties copy their rhetorical strategies from the Russian propaganda broadcaster RT is nothing new. But their purpose in doing so certainly is.
A few days ago when the Swiss SVP (Swiss People's Party) politician Claudio Zanetti inquired via Twitter at #RT and #Sputnik whether an article about media censorship in Russia published by infosperber.ch was accurate, this single tweet exposed the full extent of the comedy currently being staged by the masters of disinformation: a right-wing politician asking journalists paid by an authoritarian state about the truth regarding freedom of the press. What did he want to learn from RT und Sputnik? Whether perhaps it's true that, as elaborated by infosperber, 360 journalists have died in Russia since 1990? That TV stations have been shut down? That journalists in Russia are organizing a trade union and are not only critical of their own censorship and propaganda but also fear a possible wave of counterpropaganda from Western Europe?
So here is someone who alternatively describes his own country's public television as "state television financed by compulsory fees," as a "journeyman's piece of political propaganda," or as a "socialist do-gooder's medium," asking a foreign state television station about the truth. And in so doing, he announces that nowadays in Switzerland or even all of Europe, you can't trust your own press when you want to know the truth about Russia; but rather you can trust the state broadcaster of Russia's authoritarian regime.
The Good of One's Own and the Evil Other; and Evil of One's Own and the Good Other
RT provides an excellent opportunity to research the most current media propaganda.
So let's take Zanetti's question seriously and take a look at what
RT
(German version) reports with regard to journalism in Russia. First of all:
RT
has no reports about the restriction of press freedom, censorship, or the persecution of journalists in Russia. A search with the keywords "freedom of the press" primarily calls up articles on the "Western lying press," press censorship in Europe and Ukraine, the "ideological blindness" of the NGO Reporters Without Borders, and
Breitbart
's "media alternative." In other respects, however, the readings are actually enlightening. This is because
RT
– formerly
Russia Today
, a Russian state television broadcaster founded in 2005 and directed toward audiences outside Russia, which since 2014 maintains a multilingual web portal and multichannel news network on YouTube in Arabic, German, English, French, and Spanish – provides an excellent opportunity to research the most current media propaganda.
How RT works is shown most candidly by a conversation between RT Editor-in-Chief Margarita Simonyan and the political scientist Dmitry Kulikov. Both agree that the West is committing "treason against its own values" and that the "fascistization in so-called 'liberal democracies' is advancing." According to them, this is revealed among other things by the European parliament's initiation of a "resolution" on the "fight against Russian propaganda," which in "form and content" brings back "memories of a plenum of the Central Committee of the Communist Party of the Soviet Union." Simonyan further claims that Western freedom of expression is under threat, respectively, that the West has long abandoned freedom of expression. Because, according to Simonyan, as soon as "a real manifestation of freedom of expression appears" – meaning media like RT and Sputnik – "that expresses actual dissenting thought and divergent opinion, they [that is, the EU] start passing such resolutions and try to stifle us."
The Medium is the Message
RT was established as a counter media to the Western press so that in the same move one could describe the latter as a "lying press."
RT
always describes its disinformation as a "second opinion" or "different perspective," as a "counter-public sphere" vis-à-vis the "censored" press in Western Europe. Anyone who opposes
RT
also opposes freedom of expression in itself. However,
RT
only deploys this strategy for the West; in its reporting on Russia, freedom of expression remains a black hole. Reports on activists fighting for freedom of expression in Russia – such as Ildar Dadin, for example, sentenced to a three-year term in a penal colony for his one-person protests – don't appear on
RT
.
In contrast, the Western European press – according to RT – dances to the tune of a "central power" that "determines what is true according to political opportunity." "A future," says RT's editor-in-chief, "that George Orwell had urgently warned us against in his work 1984."
In an adaptation of McLuhan's slogan, at RT the medium is itself the message. The message is not contained by the individual reports, which are sometimes more and sometimes less accurate; rather, the message is the existence of RT itself: RT was established as a counter media to the Western press so that in the same move one could describe the latter as a "lying press."
Even RT's promotional posters insist that RT is the "second opinion." But these poster campaigns also provide a typical example of a different strategy: they criticize – sometimes quite rightly – the mendacious justification of the Iraq War by the United States, for example, in order to thereby conclude that RT and Russian policy are the only alternative. It is precisely this practice that presumably ensnares above all many people on the left.
With RT, together with the Russian government one is supposed to be able to hate Clinton, Merkel, the EU, and neo-liberalism and at the same time forget that Putin's policies are not left-wing but rather nationalistic, xenophobic, homophobic, ultra-religious, corrupt, and authoritarian.
RT also naturally sympathizes entirely in this sense with Breitbart, which it portrays as an opportunity to "'liberate' the anti-Trump German media market from outside" and "to create" another "counter-public sphere." In so doing, RT's journalist has no qualms about comparing the liberation of the German press from its supposed ideology to the liberation of 1945: "Readers by the thousands vented their anger about what they view as extremely biased reporting. Some even maintained that the German media landscape is so uniform that liberation from its underlying consensus could only come from outside like earlier in 1945."
Reversals into the Opposite
RT also makes excessive use of the reversal into the opposite, a favorite rhetorical strategy of right-wing populists. We can identify at least three functions of the reversal into the opposite.
First, RT wants to be able portray Russia as the last advocate of Western values and as a liberal country; and to portray Western Europe – particularly the EU – as a Soviet-style dictatorship.
Second, the reversal targets the media itself, whereby propaganda is presented as a counter-public sphere and the independent press is alternatively described as the "lying press," "so-called free press," or censored press. This allows RT to depict criticism of RT itself as an organized threat against the last "counter-public sphere." With all of these reversals, it is no coincidence that RT has appropriated a vocabulary originating with the non-conformist movements of the Soviet period: "counter-public sphere," "dissident thinkers," "new perspectives," etc. are the buzzwords it uses to fuel its governmental resistance against opposition at home and against the West. In the meantime, right-wing populist parties have also claimed this vocabulary for themselves (AfD as dissident thinkers, SVP as the opposition, etc.).
Third, there is a reversal of "real" and "medial," because the people who in practice are destroying liberal values are the same people who celebrate those values in their propaganda. This split between medial representation and reality pursued by RT was tested over a long period in the Soviet Union, where "realistic" representations of the country in the press always resembled a utopian novel. It is a classic example of propaganda.
Displacements
Criticism of Russia is thereby read as hatred toward a nation, culture, or ethnicity
The aforementioned discussion between the political scientist and
RT
journalist reveals yet another typical strategy:
displacement
. For years, Russian state media have described criticism of their political system as Russophobia. In 2009, for example, the Russian author Viktor Yerofeyev was charged with "Russophobia" by members of the radical right-wing Movement Against Illegal Immigration (DPNI), founded in 2002, who view themselves as scent hounds for tracking Russophobia (the charge was later dropped).
Describing criticism of the political system as Russophobia facilitates a subtle displacement: criticism is thereby read as hatred toward a nation, culture, or ethnicity.
RT has fully mastered this ethnicization of the political: it emphasizes to foreign readers that the criticism, which previously was still harmlessly described as Russophobia, is now – in the West – turning into racism: "With universal approval, they [the Western media] are also sliding into a form of racism. Apart from the Russian nation, I know no other nation in the world against which this degree of hatred toward national characteristics is permitted."
This is also reflected by the fact that organizations in Russia that criticize the regime are defamed as "agents" of the West and opposition is generally portrayed as paid for or controlled by the West.
This is an old secret service strategy, which was also used in the GDR, where it was called PID (political-ideological diversion). As the Lexikon der Staatsicherheit (State Security Lexicon) has it, the term arose in 1956/57 in the GDR "when Ulbricht believed he could detect new enemy methods of ideological 'softening and disruption' in the conflict with supporters of inner liberalization."
Those who criticized the state were categorized as "supporters" of PID. This is how they dispensed with any critical confrontation with their own system.
"Clash within Civilizations"
The displacement of criticism from the field of politics to those of ethnicity and nationality is supposed to blind people to the political instrumentalization of "cultures" and to the cultural dimension of politics. A political instrumentalization of cultures always occurs when, for example, slogans like "clash of civilizations" (Samuel Huntington) are used to conceal the fact that nations, states, or societies do not first become heterogeneous just because of "foreigners." They have always been heterogeneous, if one considers that differences are evoked above all by political or religious convictions and economic disparities, and not by ethnic membership – which in any case is a highly fluid category.
While the good of one's own and evil of the Other usually belong to the rhetorical arsenal of nationalist sentiment, Russia has now elbowed its way into this favorite binarism of right-wing populist politics and shifted the coordinates: RT is quasi working on creating for foreign readers a good Other or good Foreigner – a flourishing, cosmopolitan Russia – and, on the other hand, depicting Western societies – especially Germany – as the forecourt of hell.
RT is thereby reactivating the medial front line between East and West. And Europe's right-wing populist parties are appreciatively shifting this front line into the interior of their societies. That is the actual displacement we're dealing with. Right-wing populists are exploiting what RT represents in order to stage themselves in their own countries as the "opposition" or "alternative." The result is a "clash within civilizations" that is supposed to transform democratic heterogeneity, which is fundamental for open societies, into a simultaneously internal and external culture war. At the same, using every instrument of propaganda and disinformation, these right-wing populists need to mask the fact that the democratic order and liberal ways of life are threatened not by refugees from dictatorships but by supporters of authoritarian forms of government and totalitarian factions. Regardless of where they come from.
Tags: Disinformation, Featured, Moscow, RT (Russia Today), Russia, Russia's hybrid war, Russian propaganda