Dmitry Skorobutov is 39 years old and a Russian journalist. He joined the major Russian state TV channel, Rossiya-1, in 2001 and became editor of its morning news programs. After a conflict with his employer, his career came to an end when he was fired in August 2016.
According to Mr Skorobutov, the management put pressure on him not to report an alleged attack by a colleague in the workplace, fearing that the incident would cast a negative light on the channel's reputation. Mr. Skorobutov has chosen to speak to two media about his work experience at Rossiya-1, among them Radio Svoboda.
More and more restrictions
In Mr Skorobutov's own words, when he joined Rossiya-1 network, Russia and Russian state TV were "another country and another channel with much more objective reporting." However, following the wave of protests after the parliamentary elections in December 2011, journalists working for Rossiya-1 began to face "more and more restrictions". Dmitry Skorobutov says that every news program had to include an item about the Russian president and prime minister.
He also recalls how, as editor, he took out a news story produced by a trainee, which described how protesting Russian sailors had carried a sign saying "Putin, we want our money back!" "You work for a state channel," Mr Skorobutov recalls telling the trainee, "try to think with your own head why do you want to show such political matters?" "Well, if these are the facts?", the trainee replied. "This is state television, financed by the state, it is not an option to show our country's leaders in this kind of light," was his response.
Checking news
The real scoop in Mr. Skorobutov's testimony are the documents planning the channel's news production. On the bottom of the page there is a list of general instructions, reminding staff to "call [Russia Today's editor in chief Margarita] Simonyan! OBLIGATORY!" concerning stories.
This is particularly interesting since Mrs Simonyan does not actually work at the Rossiya-1 network, but she is editor in chief of RT (Russia Today) and Rossiya Segodnya. The latter is the parent organization of Sputnik, Russia's mouthpiece abroad, headed by CEO Dmitry Kiselev who has been called the "Kremlin's chief propagandist". And Mrs Simonyan has, reports the Financial Times after interviewing her, "a direct line to the Kremlin on her desk."
Euromaidan Press note: It seems that the quoted instruction mentions Artur Simonyan, not Margarita Simonyan. The reference to Kiselev's agency is nonetheless pertinent as another editorial document explicitly demands the journalists reproduce the rhetorics of Rossiya Segodnya when speaking about the situation in Ukraine.
Read also: Inside RT and Sputnik: What is it like to work for Kremlin's propaganda media?
What we don't talk about
The most interesting paragraphs in the documents appear with the Russian abbreviation "ND", meaning "What we don't talk about" (in Russian: "Ne davat'" or "Ne dayem"). These no-goes include topics and people who should not be mentioned, not even negatively, in the output. Among these editorial lines, we find the following examples as shown by RFE/RL. Punctuation and underlining are as in the Russian original:
23 June 2016:
– The BOEING!!! [i.e. Malaysian Airlines flight MH17, which was downed over Eastern Ukraine in July 2014 using a Russian BUK anti-aircraft missile launcher]
– SAVCHENKO!!! [i.e. the Ukrainian female pilot Nadiya Savchenko, who was released a month earlier after almost two-year imprisonment in Russia]
– The US and SAUDI ARABIA — be careful!
– Crimean Tatars!
11 April 2016:
– The Ukrainian Library [i.e. the case with allegations against the head of the Library of Ukrainian Literature in Moscow for promoting "extremism"]
– We don't promote the English Queen's anniversary!!!
19 May 2011:
– In case of any popular unrest regarding any issue, call [editor in chief] Voronchenko.
15 December 2010:
– Discuss with management before showing representatives of Russian police!
– Important: Regarding all important Russian political news, call [editor in chief] Voronchenko!!! Always only quote official [i.e. Russian state-controlled] sources!
– We don't talk about [popular Russian pop singer] Kirkorov!!
Read also: How Russian TV channels promote pro-Kremlin narratives in talk shows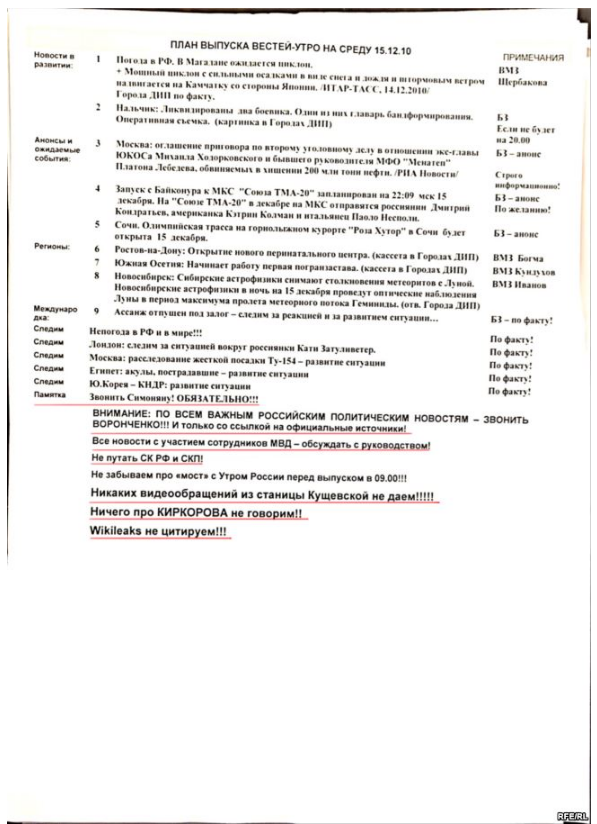 RFE/RL asks the whistleblower to reflect on his job before being forced to leave Rossiya-1. Mr Skorobutov does not identify himself as a propagandist, claiming that real propaganda was more prevalent during the evening news programs and talk shows. But he also says that he felt genuinely loyal to the Kremlin's political line:
"I thought that the situation around us was difficult, if not dangerous, and that an information war was being waged against Russia, and that this could be a preparation for a real armed conflict."
He describes the conflict with his employer as an eye-opening moment where his "parallel reality" collided with "real life," as he calls it.
Mr. Skorobutov's account also confirms the practice of guidelines handed down from the Kremlin to Russia's dominating media, as EU Stratcom have earlier reported in its Disinformation Review here and here.
Read more: Inside the Kremlin's media machine
Related: