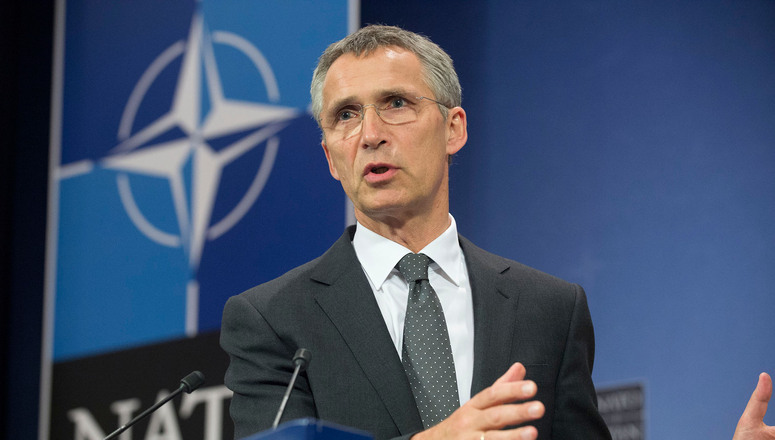 NATO Secretary General Jens Stoltenberg. Credit: nato.int 
The North-Atlantic Alliance supports the aspirations of Ukraine to get a full-fledged NATO membership in NATO, Secretary General of NATO
Jens Stoltenberg
told a media briefing in Brussels on Tuesday, 7 November, replying to the question asked by
Yevropeiska Pravda
.
"Ukraine is a close partner of the Alliance. We support Euro-Atlantic aspirations of Ukraine," Mr.Stoltenberg stressed.
However, the Secretary-General did not answer the question whether Ukraine is included on the list of so-called "aspiring nations," the nations declaring aspirations to become full-fledged members of NATO.
Reportedly, only three countries were mentioned on this list in official statements of NATO – Macedonia, Bosnia and Herzegovina, Georgia. In 2017, Ukraine informed the Alliance of the goal to get NATO membership, but the updated list of the aspiring countries still wasn't pronounced on behalf of the NATO. For now, it is still unclear whether the Stoltenberg's account puts Ukraine on this list.
Read also:  Support for joining NATO at a historical high in Ukraine | Infographic
Regarding the further cooperation of the Alliance with Ukraine, the Secretary-General has asserted that reforms are its priority.
"Now we are focused on reforms, leading Ukraine to NATO," he highlighted.
As previously reported, NATO Assistant Secretary General for Public Diplomacy Tacan İldem emphasized in September that the Alliance maintains the open-door policy toward Ukraine.
"We should keep the perspective of joining NATO for Ukraine as a European nation, disallowing any other country, including Russia, from vetoing the membership," he said.
---
Read more:
Tags: NATO, News, Stoltenberg