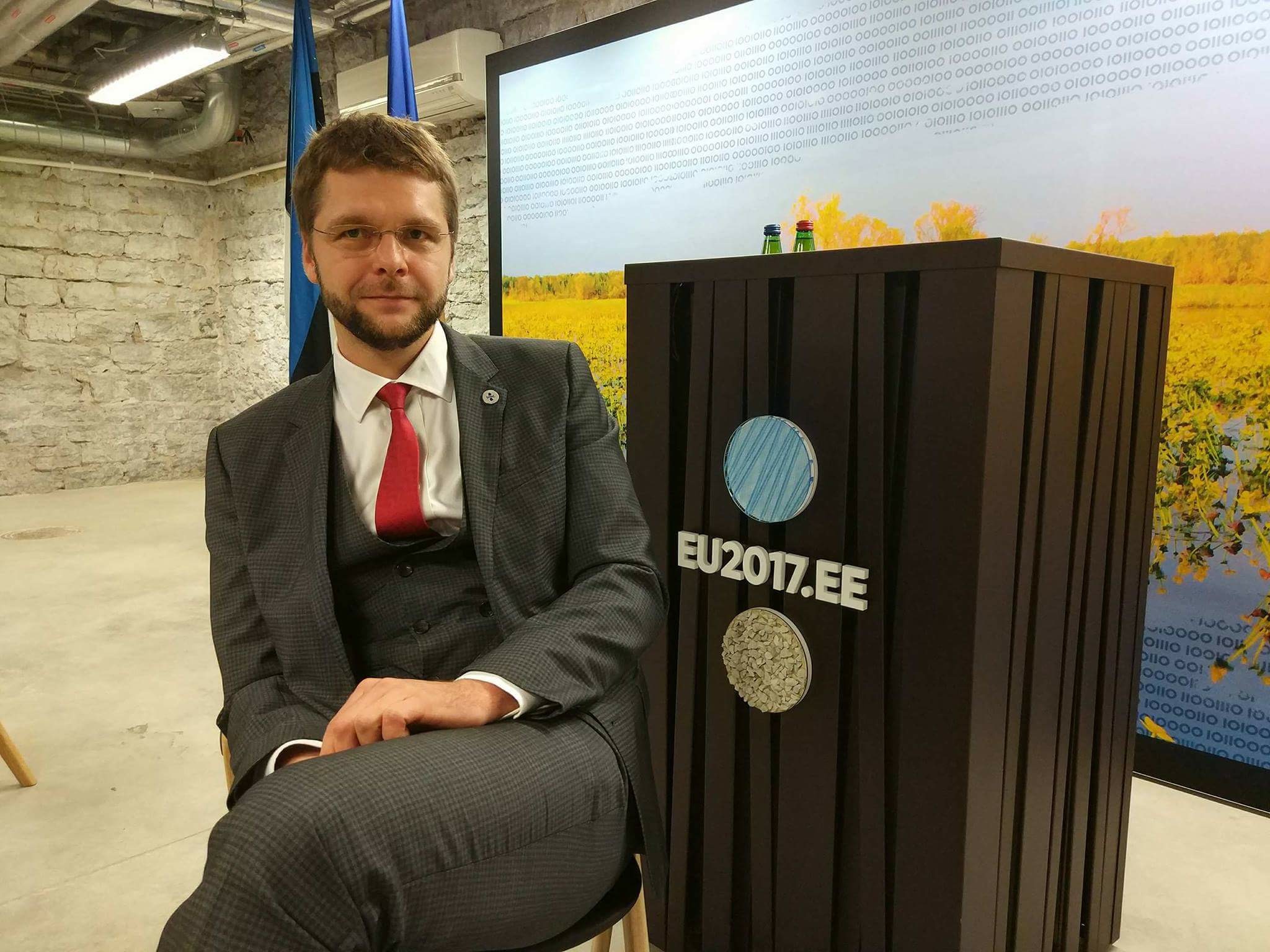 Jevgeni Ossinovski, the Minister of Health and Labor of Estonia. Photo: Euromaidan Press 
Over the last month, Ukraine adopted two important reforms which raised a lot of discussions within Ukraine and outside its borders – education and health-care. We decided to take a look at what Ukraine can learn in these directions from a country which already faced similar transformations. For that, we talked to Jevgeni Ossinovski, the Minister of Health and Labor of Estonia. As an innovative country, Estonia attracts many Ukrainian IT specialists. Starting this year, Estonia made their stay in the country easier:
There are not only IT specialists. Many citizens of Ukraine live and work here. And the trend is accelerating during the last years. A part of them comes for seasonal work during the summer. However, there are people with higher qualification as well.

Talking about the IT sector – it is indeed one of the most dynamic sectors of the economy in Estonia. So the highest salaries are in this sector. There is lack of a qualified labor force in it, so of course, we are interested in specialists from different countries, including Ukraine.

We have a common migration quota. However, IT specialists are not part of it. Starting from this year we made their stay here much easier. The general quota is 0.1% of population, but as I said, IT specialists are not considered as a part of it, so their movements are independent.
Let's talk about Estonian reforms. Now, the Ukrainian educational system is under the process of reformation and moving away from Soviet habits. How did Estonia reform its education sphere?
It's clear that big social transformations take time and often cause an opposite reaction. In general, I would say that the Estonian educational system has never experienced radical changes. It is an ongoing process. In our understanding, its success is based on 3 main aspects:
First, the quality of teachers. You have to have a masters degree to be a teacher in Estonia. Of course, the question of wages of teachers is deeply related to it. And this is a hot topic. Estonia's new government allocates money to raise the average pay of teachers to a level equaling 120% of Estonia's average salary to raise the status of teachers.
Second, the freedom of schools. We were used to an educational system where every detail of educational program and every lesson is written on the governmental level. However, as our and world experience shows during the last 20 years, the more autonomy schools have to teach lessons a certain way, the better the results. And every teacher can choose by himself how to reach the goals of the programs. On the government level, we do not write it in that much details as we used to do before.
Third, the question of a better connection with entrepreneurs and the real economy to contribute to it and to give a precise labor task that the educational system can fit into.
Russian schools are closing in Estonia during the last years. Who made the decision on it? What are the options for Russian-speaking pupils?
These decisions are being made by parents first of all. Second, it is demography. Third, self-government. On the governmental level, no such decisions have been made. Parents of Russian-speaking pupils can choose between the 3 educational models:
First, a Russian-language school.
Second, a school of language immersion — the specialized program for children for whom Russian is the native language. However, the language of instruction here is Estonian.
Third, an Estonian-language school.
In the last 20 years, the proportion of those who enroll their kids in Estonian schools or to schools of language immersion is constantly rising.
As well, Estonia's population in general is shrinking and so is the number of children. So not only Russian schools are closing, but Estonian ones too. A reform of schools networks is taking place. The parents and local self-government make decisions about the school network.
So no pupils – no schools?
We know that in many countries these strategically important decisions are postponed because they are not always politically popular. But if we take a look at the number of children in different schools during the last 10 years, it is falling. Not only in Estonia, but in the whole region.
If we do not implement the optimization of school networks, it means we will waste a lot of resources on gray buildings and heating of half-empty constructions, instead of investing in the things which are really important for education.
Jumping to the topic of the health-care: is it free in Estonia? How do you implement innovations in the area?
In Estonia, health-care is free for everybody who has health insurance. It means that the system is financed not directly from the state budget, but separately from the health insurance fund. Every working person of Estonia pays 13% of their salary to this fund. The fund finances hospitals, family doctors etc. Comparing to other EU countries, Estonia does not invest enough in healthcare.
In general, the system is mostly free for patients, but with a few exceptions.
Talking about innovations, we see a big potential here. On the one hand, from the point of view of effective health-care, it is about using technology to treat people better. On the other hand – this is an opportunity for an efficient economy in this sector. If we can identify particular services people need more carefully, we will avoid existing unnecessary expenditures. For example, there is a group of scientists at the University of Tartu who work on genetic data. Now, approximately 50,000 people gave their genetic data to this fund.
In the nearest future, we want to increase this figure to about a half of the population of the country and to use this science for health care directly. We know that the genetic risk of diseases directly influences the way we treat it. For example, today we can say that there is a high genetic risk for a person to get diabetes. If during the next 10 years this person will be able to keep his weight under control, probably he will not get diabetes. If he does not get it, the system of health care will save tens thousands of euros on the one hand. On the other hand, a person will be healthy and live longer. From the viewpoint of technologies, we can evaluate the risk. Our next step is that every family doctor will have an opportunity to send a person to pass a genetic test so the doctor can receive the data. During the next years, a doctor can follow the weight of the patient.
This is only one example. We have hundreds of them. Since 2007 Estonia uses a single database of patients. It means that in any hospital in Estonia any patient has written documents. They all are in the electronic database and on the Internet. I can take a look at it from my mobile phone. Every doctor has to submit data of patients there. So if I go to another city and have treatment there, local doctors will know what I faced before.
Tags: Education, Estonia, healthcare, reforms in Ukraine