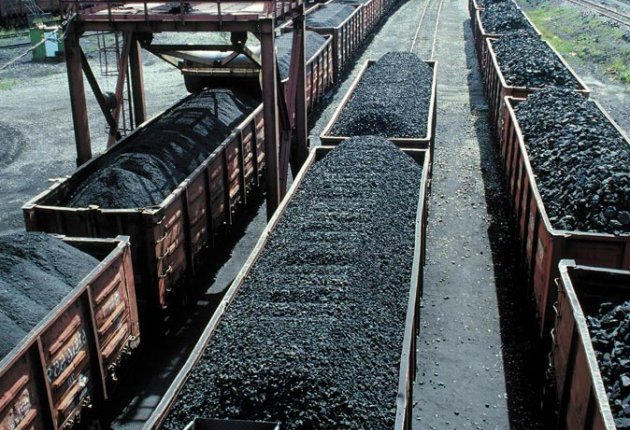 Illustrative photo: politeka.net 
Anthracite from the occupied Donbas comes semi-legally to Poland thanks to Russian documents, the Polish outlet Dziennik wrote, Yevropeiska Pravda reported. Profits from its sales end up in the pocket of Igor Plotnitskyi, leader of the "Luhansk People's Republic" ("LNR"), a Russian proxy statelet in Ukraine's Donbas.
The coal is delivered from occupied Donbas to Poland by the company Doncoaltrade, which had been registered in 2012  is the city of Katowice. Its president and main shareholder is Oleksandr Melnychuk, who for some time was the deputy "minister" of fuel, energy, and coal industry of the so-called "LNR."
Journalists of the outlet managed to find out how exactly the anthracite gets to Poland.
"Melnychuk sends coal coming from Russain-controlled territories ['LNR' – ed] to Russia, as well as coal purchased in kopankas [small illegal private mines – ed]. Mafia representatives who own the kopankas sell anthracite at $22 per ton, while its official prices at the Polish border is $140," the outlet writes.
Russians treat coal as import from Ukraine because the company that is engaged in its export is formally registered in Kyiv. Ukraine sees this as smuggling because it has no control either over the border, nor exports from Luhansk.
The head of the Eastern Human Rights Group Pavel Lysyansky, who once was deputy director of two mines in the Luhansk Oblast, confirmed the scheme of getting coal from the occupied regions of Donbas to the EU. According to him, for every ton of coal sold by Melnychuk to Poland, Plotnytskyi earned UAH 500 ($18.7).
The outlet recognizes that it is difficult to estimate how much coal has made its way into Poland in the past or continues to do so now under this scheme. The calculation is complicated by the fact that it is difficult to clearly recognize this scheme as smuggling since the prohibition of exports from Ukraine concerns only occupied Crimea.
Polish Energy Minister Krzysztof Tchórzewski has confirmed that Poland has received coal from occupied Donbas, placing its amount at 11,000 tons, or one power block. Ukrainian Energy and Coal Industry Minister Ihor Nasalyk had stated that this is not a "partner-like" move and that he expects a reaction from Polish structures and society during a meeting with Polish business representatives in Warsaw. He added that it's easy to verify the origins of the coal by checking its chemical characteristics.
The Ukrainian government had imposed an official trade blockade on the "LNR" and its counterpart, the "DNR," on 15 March 2017, as a retribution to the illegal seizure of Ukrainian state assets in the occupied territories, which in its turn was a retribution to an unofficial blockade of the territories launched by Ukrainian Donbas war veterans. The blockade has caused problems for Ukraine's energy sector, as roughly half of its heat power plants run on anthracite coal which is mined in occupied Donbas. To make up for the loss, Ukraine had concluded an agreement to import coal from the USA and the South African Republic.
Russia helps sell coal from its proxy statelets abroad to minimize the costs of maintaining the "people's republics." There have been media reports that Russia is planning to cut its funding of occupied Donbas starting from 2018.
Read more: