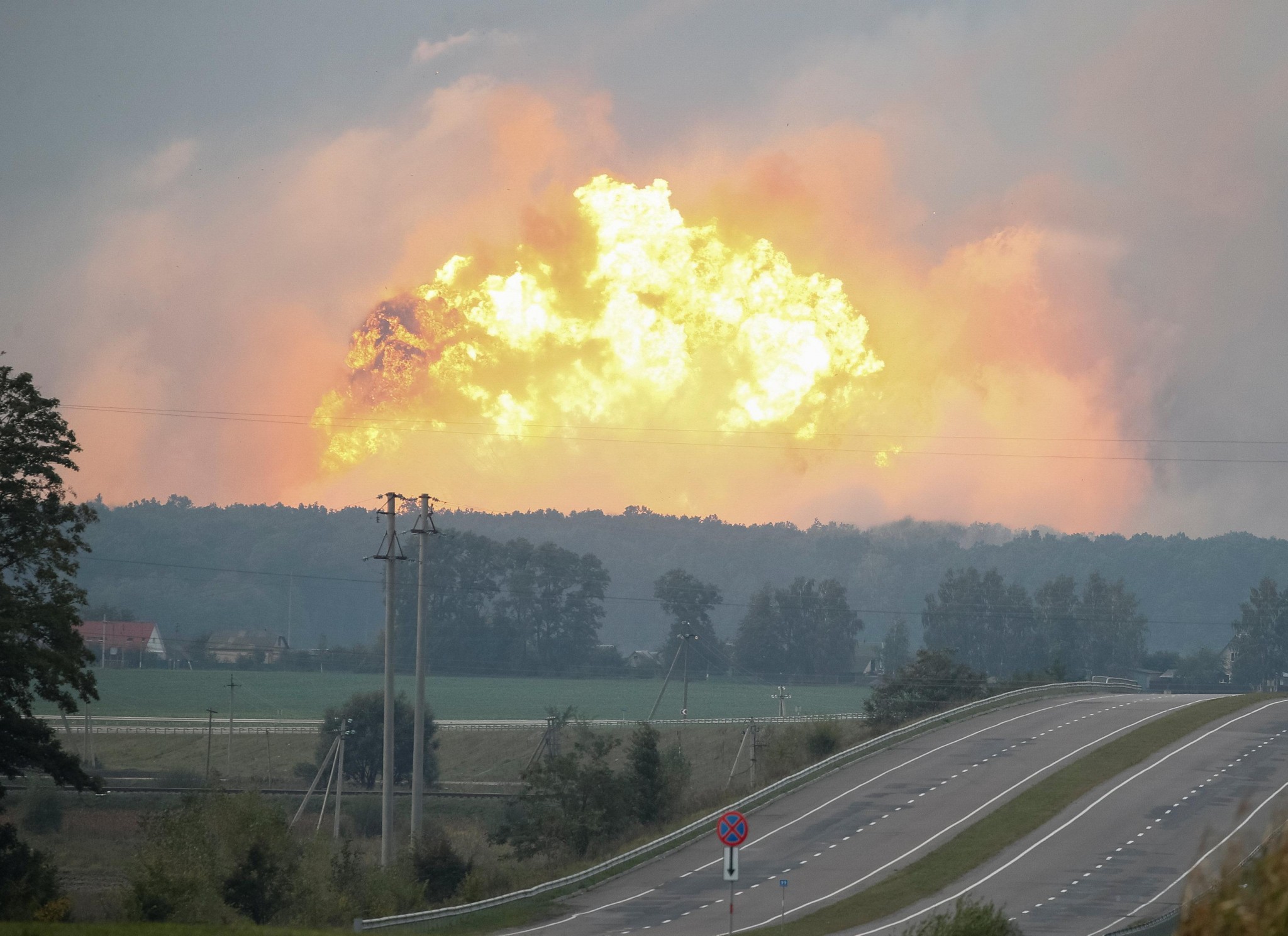 An explosion at the munitions depot in Kalynivka, Vinnytsia Oblast. 27 September 2017. Photo: espresso.tv 
On 26 September about 22:00, military ammunition started detonating as a fire had broken out at a major 
Ukrainian artillery and rocket munitions depot
near the village of Kalynivka about 20 km north of Vynnytsia, a capital city of an oblast, bordering on the Russia-controlled Transnistrian region of Moldova southwest of Ukraine.  This the second largest ammunition depot of Ukraine's armed forces after Balakliya, which faced the very same tragedy this March.
As the State Emergency Service (SES)

reports

, over 30,000 have been evacuated as of 13:00 today from the nearby villages situated in the 10-kilometer zone around the burning depot. The evacuation is still underway.

The SES reports on two people who were brought to a hospital with moderately severe injuries. There are

unconfirmed social media reports

on two killed.

Emergency response workers extinguished fires in four residential houses, which were set alight by projectile impacts.

Airway and railroad connections near Kalynivka were closed. Yuriy Lavreniuk, Ukraine's deputy infrastructure minister, announced a 50-kilometer no-flight zone and noted that all the trains which go through Kalynivka were stopped. At the moment, the routes of 47 trains were changed due to the incident.
The fire at the munitions depot near Kalynivka, Vinnytsia Oblast, broke out at at 22:00 on 26 October, the birthday of Ukraine's President Petro Poroshenko. Remarkably, the city of Vinnytsya is considered the Poroshenko's "political motherland," where he started his political career. 
This fact made the internet community suggest that the fire might have been a Kremlin-backed arson and its main motive was to keep Ukraine from getting lethal weapons from the international community.  Reportedly, the ammo depot in Kalynivka was the second largest in Ukraine. The largest was situated in Balakliya, Kharkiv Oblast and it was destroyed by a blaze this March. 
According to unofficial information, the 60 hectare-large open depot at Kalynivka stored projectiles for multiple launch rocket systems, in particular, for Grad, Smerch, Uragan, artillery, aircraft shells, and others. The Defense Ministry informed that the depot contained 82,000 tons of ammunition. According to military journalist Yuriy Butusov, this is way too much – the storage standards were exceeded several times. Media reports about its bad state appeared already in 2007. In 2010, the depot was demilitarized, with 9К72 "Scud" complexes being exported to Russia together with the melange propellant required for them. As well, rumors about chemical weapons being stored in the depot were refuted by the General Staff.
Butusov stresses that this fire has dealt a major blow to Ukraine's defense capabilities, as this was the second-largest depot after the one at Balakliya. He supposes that this was a Russian attack and says that it was possible to predict the tragedy, and that Ukraine's program to disperse its ammunition stores has been so far unsuccessful despite the dedicated program and multiple previous attacks on depots, and bemoans Ukraine's lack of measures taken against the military officials guity of negligence in those incidents.
Ukrainian social network users were outraged how easily such an attack can be conducted in the territory of Ukraine. It's also noteworthy that anti-terrorist training was planned for 26-27 September in Vinnytsia.
https://twitter.com/olex_scherba/status/912825104249352192
At night, the Emergency Response headquarters were formed.
As of 06:00 today, 28,300 have been evacuated from Kalynivka Raion, 20,000 of them used personally-owned vehicles, 8,300 more were evacuated by emergency services from the evacuation assembly point.
As of 08:00, 691 servicemen and 149 pieces of hardware ahave been engaged in emergency response to the situation, including an aerial firefighting plane Antonov An-32P and two firefighting tanks.
Firefighting plane An-32P on the way to Kalynivka https://t.co/WqlhUEQcjJ pic.twitter.com/7OlxkL069c via @olarhat

— Liveuamap (@Liveuamap) September 26, 2017
Today, on 27 September, Ukrainian Security Service (SBU) spokeswoman Olena Hitlyanska said that Ukraine's military prosecutor's office is treating the fire as sabotage. According to Hitlyanska, SBU investigators will be involved in the inquiry launched into the fire.
Ukrainian authorities have already started the investigation. Viktor Muzhenko, the Head of General Staff of the Armed Forces of Ukraine has set out to the site of the incident and took charge of the investigation. Volodymyr Groysman, Ukraine's PM, headed out to Kalynivka as well. Olena Hitlyanska, a spokesperson of Ukraine's Security Service (SBU) told Hromadske that military prosecution investigates the incident as possible subversive action. Moreover, President Poroshenko announced that a military council will be gathered to deal with the aftermath of the incident. It will consist of Ukraine's PM, the defence minister, National Security and Defence council head, SBU head, as well as chiefs of National Police, National Guard and State Emergency Service.
Hell on earth for residents of nearby villages
The videos filmed by the residents of Vinnytsia show the fire in Kalynivka munitions depot, accompanied by constant explosions.
In this footage, we can see the fire when the detonations have just begun:
https://www.facebook.com/100007875275139/videos/vb.100007875275139/1955218968083927/?type=2&theater
Another footage of the fire shortly after its beginning:
This 30-minute footage is a record of a live stream started about 01:00 a.m., the cannonade of explosions has been intensified by that time:
The video by Reuters shows the explosion at Kalynivka munitions depot this morning:
Как взрываются склады боеприпасов под Винницей (видео Reuters) pic.twitter.com/DaTNWLwVrV

— Крым. Реалии (@krymrealii) September 27, 2017
As of noon, ammunition is still detonating at the depot:
https://www.facebook.com/sosvinkal/videos/1580705571949502/
Residents of Vinnytsia gave more insights into the blaze at the military facility:
01:09 #Vinnytsia: "…Just now I've reached a customer from Medvidka on phone, he fled 40m ago, his home's w/o windows now" https://t.co/ey4ggltQLD

— English Lugansk (@loogunda) September 26, 2017
01:32 #Vinnytsia: A blast wave has shuttered windows in the Emergency HQ https://t.co/dpWBv0uFFb

— English Lugansk (@loogunda) September 26, 2017
01:18 #Vinnytsia: Now the strongest blast wave reached Vinnytsia. Windows shaked, car alarms went off. It's the opposite side fr/#Kalynivka https://t.co/IKcpIKrL1m

— English Lugansk (@loogunda) September 26, 2017
02:02 #Vinnytsia: Cannonade still continues. Intensity isn't decreasing https://t.co/VUgnDVsL6l

— English Lugansk (@loogunda) September 26, 2017
08:24 #Vinnytsia: In all, the explosions lasted all the night through, the doors were abt to be teared off the hinges. It's rumbling now too https://t.co/5Nhxa0ZXOV

— English Lugansk (@loogunda) September 27, 2017
As of now, the evacuation of local residents is taking place. According to a report by Hromadske, more than 30,000 people in the 10-kilometer zone were relocated so far, but the process is still ongoing. National police from Vinnytsia, Zhytomyr and Khnelnytskyi oblasts handled the evacuation. So far, there have only been rumors of casualties, and according to official information, two people have been injured.
Not the first fire at a Ukrainian munitions depot
The incident in Vinnytsia is the fourth fire at a military munitions depot over the last year.
On 22 September, the explosions started at an arms depot in Maloianysol near Mariupol. A fire on a farmland near the village of spread to a field storage of ammunition causing detonations, the Defence Ministry  said. This incident has also been investigated as possible subversive action, but no conclusions were announced so far.
In March 2017, the Ukraine's reportedly biggest depot of ammunition was destroyed by fire in Balakliya, Kharkiv Oblast, killing 1, injuring 4. 265 buildings, including 231 residential, were damaged. The Ukraine's Defense Ministry called sabotage as the main reason for the tragedy.
In the evening of 17 February 2016, a military depot in Zaporizhzhia oblast was bombed with incendiary objects dropped from unmanned aerial vehicles, the fire was extinguished, however there were over 50 pits of fire recorded across the territory of the warehouse, according to the spokesman for the General Staff, Vladyslav Selezniov.

Back in October 2015, a military arms storage approximately 3,500 tons of ammunition caught fire in Svatove. Officially, negligence of duties was named as the main reason for the incident.
According to Yuriy Butusov, nobody carrying direct responsibility for the explosion in Svatove was brought to responsibility, with uninvolved officials being fired, and in Balakliya, where the guilt of the General Staff and Ministry of Defense was obvious, nobody was removed from office at all.
---
Read more:
Tags: Donbas war (2014-present), fire, News, Russo-Ukrainian War (2014-present)