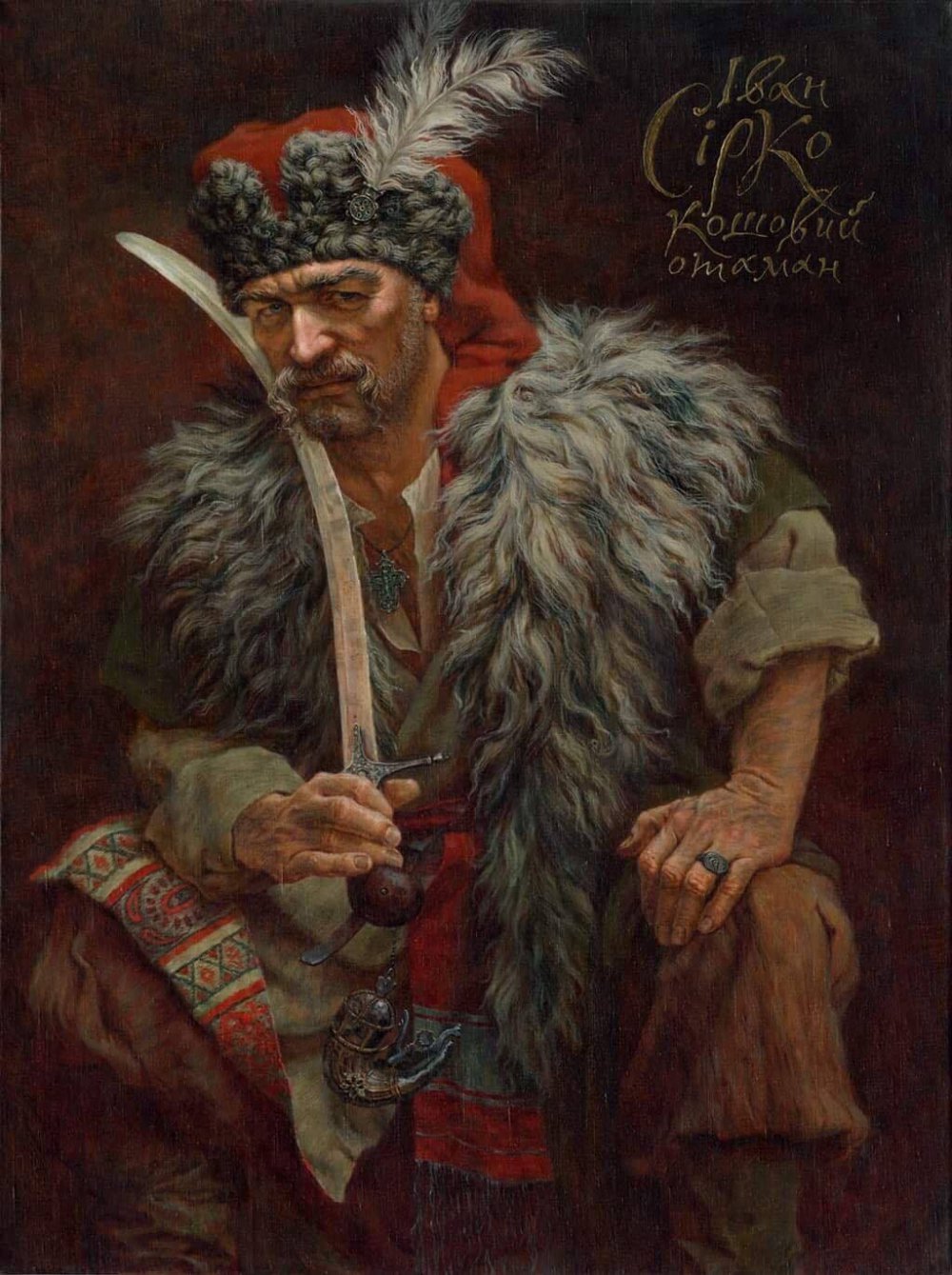 Kozak Camp Commander Ivan Sirko 
An exhibition dedicated to the "Heroes of Kozak Ukraine" opened at the Museum of Hetmanship in Kyiv. Kyiv artist Natalia Pavlusenko has recreated portraits of Ukrainian Hetmans from old images and literary descriptions.
"When I looked through my son's textbooks, I was surprised to see how realistically Polish kings and Russian tsars were portrayed. However, there were very few images of Ukrainian Hetmans, and often articles about them were just illustrated with pictures of a "bulava" (mace). I decided to create portraits of the most famous Kozak leaders, so I started collecting images, and reached out to several historians for advice."
The exhibition includes seven portraits: Severyn Nalyvayko, Ivan Pidkova, Bogdan Khmelnytsky, Petro Sahaidachny, Petro Doroshenko, Ivan Mazepa and Camp Commander Ivan Sirko.
"Ivan Sirko's portrait is based on an anthropological study by Halyna Lebedynska. I wanted the posture of these Hetmans to look as natural as possible, so I invited actors from Ivan Franko Theatre to pose for me.

There was no likeness of Cossack leader Severyn Nalyvayko, so I painted him according to two descriptions, one of which by "shistdesyatnyk" poet, writer and actor Mykola Vinhranovsky. He wrote that Sirko was as handsome as a god, black-haired, with long slim fingers and a refined bearing.

When the war started in Eastern Ukraine, photos of our fighters began appearing in different social networks. On Facebook, I saw a photo of the Hero of Ukraine Oleksandr Moroz who looked a lot like Nalyvayko. His face reflects peace and quiet, and he carries himself proudly. No actor could portray a national hero as faithfully as a soldier who's actually held a weapon in his hands. This soldier was my inspiration for Nalyvayko, but I changed the colour of his eyes and hair.

Petro Doroshenko's portrait is based on a very old image of the Hetman – an 18th century engraving by the artist Lerch – which was not of very good quality. Later portraits are very different – the Doroshenko that we're used to has distinct features. In order to faithfully reproduce his image, I worked with costume historian Serhiy Shemenkovy."
Natalia Pavlusenko has been working on historical reconstruction for over twelve years. The Hetman series took two years to complete.
Tags: History, Kozaks, portraits, Ukraine, Ukrainian Hetmans