Mothers look at their sons returning from the war and don't recognize them – aggressive animals standing before them. Wives look at their husbands and see men who are angry at the whole world, who don't believe in anything except death. Yesterday's soldier belongs neither to his parents nor to his closest family. He belongs to the war, from which only his body, or its miserable remains, have returned home…
His heart and soul are still over there, far away, with the war… But, the body has returned home. At first, the war inside fades slowly, retreating layer by layer, piece by piece … Slowly, very slowly, yesterday's soldier turns from an inanimate mannequin with empty eyes and a burnt-out soul into a semblance of a human being. The unbearable nervous tension subsides, aggression and hatred recede… But, fear persists – the animal fear of death, but eventually, it also passes…
He begins to learn and to live in this world all over again… Learning to walk without looking at the ground under his feet; learning to get up on a village well hatch and stand fearlessly in the open. Learning to buy food, talk on the phone and sleep on a bed. Learning not to be surprised by hot water spurting from the faucets, by lighting in all the rooms and by the warmth emanating permanently from home radiators. Learning not to shake or jump at the slightest noise…
He begins breathing and living… because that's the way it happened and he's still alive… But, he feels no joy, thinking that life has been granted to him as a bonus, something that foolish destiny has chosen for him…
But then he gets involved in life… He becomes more and more interested in this game of daily living, which is not so real to him any more… He acts like a full-fledged member of our society. A mask of complete normality has grown over his face, and his body no longer rejects it… And people around him believe that he's like everyone else… But, no one knows his true face … No one knows that he's no longer a human being. People walk around him, laughing, eyeing him as one of their very own… But, he's unable to tell anyone the truth.
How to explain the war to someone who's never fought? It's like trying to explain how the colour green feels to a blind person. It's like… a husband who can never understand what it means to bear and give birth to a child. But, he continues to wait … Why and for what? He himself doesn't know the answer…
He can't believe that it's all over and there are no consequences… He's probably waiting for an explanation… Waiting for someone to come up to him and say: "Brother, I know where you were. I've been there and I know why you fought." It's so important – to know why… Why have so many of his brothers died in the war? Why did they have to kill so many other people? But nobody talks about it…
And then, suddenly, he, yesterday's soldier – begins talking… He takes a pen and paper and writes the first sentence… The words come pouring out… He doesn't yet know what it will be – a story, a poem or a song…
But, each sentence causes profound pain; each word is like the fragment of a shell torn from his feeble body. He feels this pain deeply. The war itself bursts from within his body and falls on the paper before him. The words lash out, shake him, whip him… he no longer sees letters, words or sentences… he's no longer here – he's there again, and again, and again…
Death is everywhere, and the room is filled with whispers, loud cries, agony and fear; the wounded cry out for mercy, people burn in raging fires, and the maddening endless whistling of shells continues overhead…
Then he sees them… hundreds and hundreds rising from their graves, and there are so many of them, so very many.
He sees everyone that he's ever loved; he watches as his fallen brothers slip quietly by before his eyes… They lean toward him, and their whispering fills the room: "Come on … Come on, brother, tell them how we burned alive in the trenches! Tell them how we wept when the checkpoints were totally surrounded and the mortars exploded around us! Tell them how our bodies jerked and shook when bullets hit us. Tell them! You survived because we died – you owe it to us! You must tell everyone! They should know! No one can leave without knowing what war really is!"…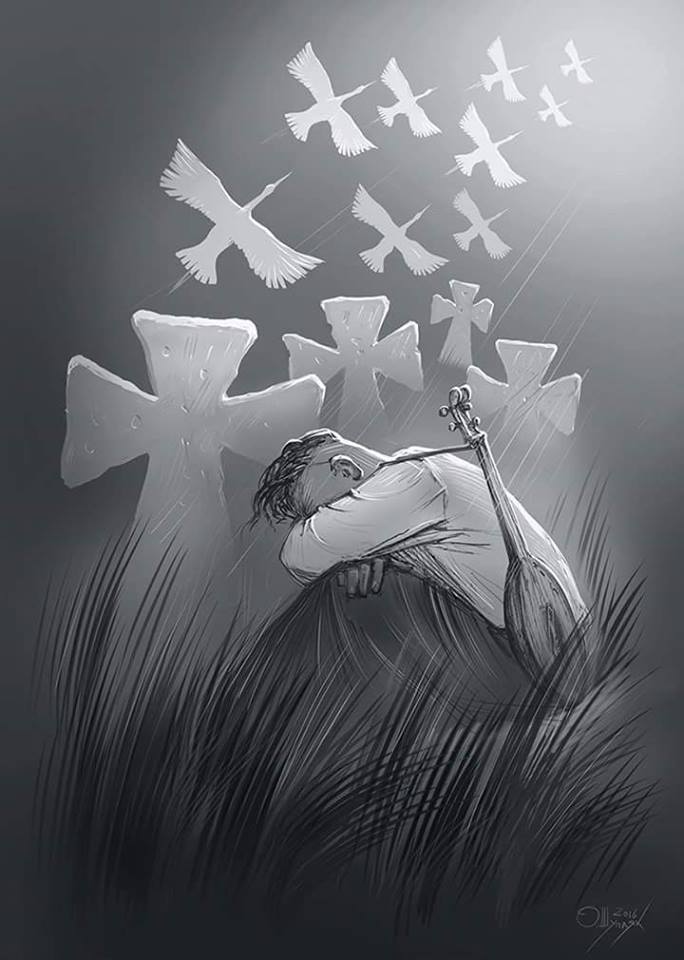 And the words, soaked in blood and suffering, pour forth, one after the other, and the bottle of horilka drowns them out in the still darkness… and death and insanity embrace him, pushing him to the edge, correcting every one of his words… And so, yesterday's soldier – shell-shocked, confused, patched up, half-mad, dulled and exhausted – sits in the shadows and writes and writes…
He moans weakly as grief overcomes him, and tears flow down his cheeks and settle in his stubble beard…
And then, finally, he understands that he should never have returned from the war…
Tags: Donbas war (2014-present), PTSD, soldier's lament, Stories from the Front, trauma, Ukraine