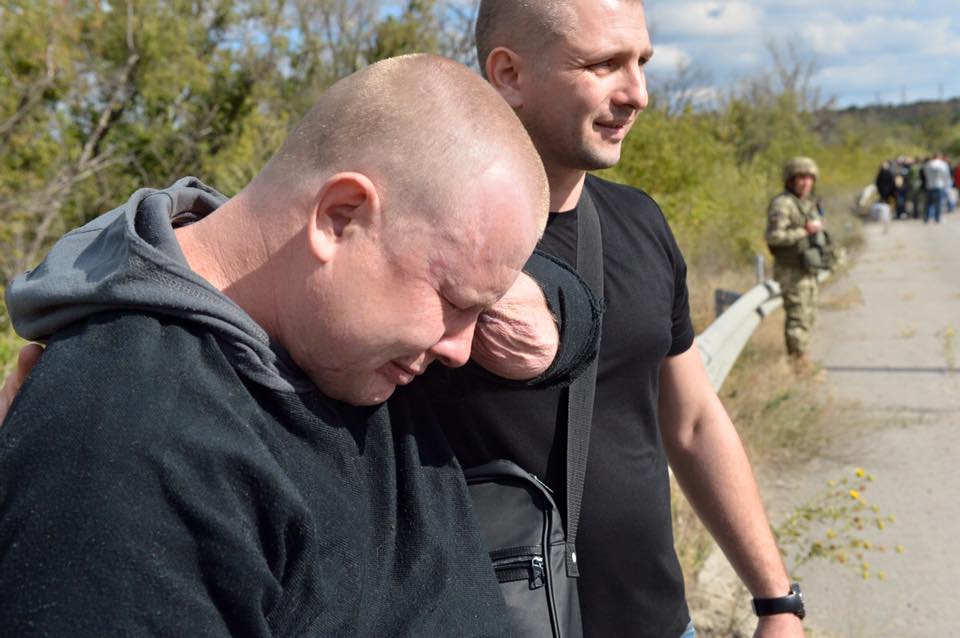 Ukrainian PoW Volodymyr Zhemchugov during exchange of hostages near Shchastya, Ukraine, 17 September 2016. Photo: Oleksandr Klymenko, published at facebook.com/iryna.gerashchenko 
British videoblogger Graham Phillips, known for his cooperation with Russian occupation regimes in Ukrainian Donbas staged out a crooked provocation at an exchange of hostages, tormenting and humiliating a mutilated prisoner of war. Ukrainians are now addressing UK officials with a demand to punish Phillips for psychological torture and cooperation with terrorists.
Mocking an armless PoW
"Who brainwashed you? You speak like a brainwashed zombie… Who needs you now, with no arms?" These are not the phrases a maimed prisoner of war is supposed to hear minutes before reuniting with his family after almost a year of captivity. Neither could such questions be qualified as a part of an interview by any war correspondent working on a story about the release of hostages.
However, this is exactly what Ukrainian soldier Volodymyr Zhemchugov had to go through as he was waiting for his release by the "Luhansk People's Republic" ("LNR") on 17 September in Russia occupied Donbas.
Odious British blogger Graham Phillips, known for cooperation with the Russian-backed separatist "republics" in Donbas, was deported from Ukraine back in 2014. On 17 September, he found himself in an ambulance that brought a seriously ill soldier to exchange of hostages. In a five minute video uploaded to Phillips' YouTube channel the blogger repeatedly addresses the soldier as a "zombie," claims he is "no intelligent man," and insults Ukrainian journalists present at the exchange. Zhemchugov, who has spent almost a year in captivity, states he is an educated man, a patriot, and assures that "Ukraine doesn't leave its own people."
For Phillips, such an approach to "journalism" (as he calls it) is no exception. For instance, on 22 January 2015, he was filming a "parade of prisoners" of the military personnel of Armed forces of Ukraine, with a couple of "active citizens" shouting and throwing something at the POWs. In fact, the scene turned out to be a plot – the few "active citizens" were driven in specially to be filmed by the Russian media, and filmed at angles to make their number appear larger than they were.
The video with Zhemchugov, however, doesn't seem to have received an expected reaction from YouTube audience. As of 21 September, it received 3,829 "dislikes" compared to 1,341 "likes" and got bombed with pro-Ukrainian comments. "What a miserable 'journalist,' I think he will be prosecuted as a terrorist after the liberation of Ukrainian territories, in case he won't be eleminated by Russian terrorists, or it will run away terrified by punishment for its crimes," a comment by Kolya Shcherbina states.
Suicide attempt to avoid "LNR" captivity
On 28 September 2015 Volodymyr Zhemchugov, who calls himself "a Luhansk partisan of Ukrainian underground" got injured due to an accidental tripwire detonation. A local of Luhansk with Russian citizenship, he decided to join Ukrainian Armed Forces as an intelligence agent and later went on as a partisan fighting Russian soldiers in an occupied Luhansk oblast.
After detonation, Zhemchugov started crawling towards the road nearby hoping to get run over by a car. There he was found by "LNR" militants who put him into reanimation, under interrogation and under arrest.
Read more: Kremlin-backed militants demand amnesty, put hostage without arms or eyesight on trial
"There is a route Krasnodon-Luhansk there, and at night Urals [freight vehicles – ed.] from Russia carrying shells for… [separatists' – ed.] warehouses follow that route. At night those convoys are being redeployed further here, to Luhansk, to Stakhanov. Indeed, when I realized I wasn't dying, I decided to commit suicide. I crawled to the road not to be saved, but to be killed. I didn't want to be taken captive," he explained in an interview for TSN.
Graham Phillips shouting insults to Ukrainian PoW, OSCE monitors and Russian mediator behind him. Photo by: Iryna Gerashchenko
Gerashchenko helps seriously ill Zhemchugov stepping over mines on his way to reuniting with family after almost a year-long captivity. Photo by Oleksandr Klymenko
In captivity, both of Volodymyr's arms were amputated, he almost lost sight after a retinal detachment, was suffering a damaged eardrum, part of his intestine was removed, and shrapnel still remained in his body. As a hostage, he only received emergency treatment and was constantly under psychological pressure such as threats with a gun or threats of killing his family.
Volodymyr's wife pleaded to the European court of Human Rights, the EU delegation to Ukraine, to the heads of the Normandy Four, President Poroshenko, and even to the Pope and Queen of Great Britain to help her husband be exchanged while still alive and finally on 17 September 2016 the exchange was arranged.
Zhemchugov will now undergo medical treatment and rehabilitation. However, his slim chances of regaining vision are severely undermined by nearly year he spent in "LNR" prisons without treatment. Had the exchange taken place on 17 November 2015, as it was planned before the arrangement was disrupted from the side of the "LNR," those chances would be much higher, Gerashchenko said.
Punishment for Graham Phillips
"When Zhemchugov came out of an ambulance and leaned on our guys from Security Service of Ukraine, a humanlike creature jumped dancing towards him," Ukraine's First Vice Speaker of Parliament Iryna Gerashchenko wrote on Facebook after an incident with Phillips. According to Gerashchenko, "'LNR's' negotiator was happily laughing at the scene behind Phillips' back, and OSCE monitors present at the exchange didn't intervene in the provocation. The Vice Speaker stated that Phillips' goal was to disrupt the exchange.
On 19 September, Ukrainian parliamentarians and journalists presented Phillips' video at a PACE session. According to Gerashchenko, such behavior of Phillips can be classified as forbidden methods of influence, mockery of a hostage, and psychological torture. Volodymyr Ariev, Ukraine's MP and the chairman of the Ukrainian delegation to PACE, is of the same opinion. Gerashchenko has suggested filing an appeal to the British Court regarding torturing of a war prisoner.
A similar initiative came also from outraged Ukrainian citizens. On 18 September, Ukrainian activist Ludmila Elbourne living in London addressed the new British prime minister Theresa May, commenting on a post on May's Facebook profile.
"Given that Mr. Phillips is proud to identify himself as a UK journalist, and that the UK Government is providing support to the legitimate Ukrainian Government, maybe it is possible to withdraw Mr. Phillips' travel documents? His avowed support for terrorism in East Ukraine alone surely makes this possible?" Elbourne requested.

Within three days, the comment collected up to 20 thousand likes and sparked further angry comments by Ukrainians demanding punishing Phillips for his behavior, serving Russian propaganda, and shaming the British Crown. May has not yet addressed this issue neither on Facebook, nor in an official statement.
One more call for bringing Phillips to responsibility came from a Pentagon officer David Jewberg. On 20 September, he posted a letter addressed to the British officials urging them "to investigate and prosecute Mr. Phillips to the full extent of UK laws for his terrorist ties and unlawful activity in the occupied Ukraine."
On 21 September, Ukrainian police reported that 1,5 thousand people went missing since the beginning of the conflict in eastern Ukraine. In the beginning of September, Gerashchenko said that 498 people still haven't been found. According to official information of the Security Service of Ukraine, as of 14 September, 112 Ukrainians remain in captivity of the so-called "LNR/DNR."
If you wish to donate towards Volodymyr Zhemchugov's recovery, you can do so here:
For donations in EUR:
Bank name: ACCENT-BANK, SWIFT CODE: UKCBUAUK
Corresponding bank: PJSC CB PrivatBank,
Swift Code: PBANUA2X
Intermediary bank: Commerzbank AG
SWIFT CODE: COBADEFF
Account number in intermediary bank: 400886700401
Payment note: Zhemchugov Volodymyr
INN 2581705837
Card number 5351 4527 0048 2935
Tags: Donbas, Donbas war (2014-present), Hostages, International, News, Russia, Torture, Ukraine, Zhemchugov